Some of the biggest mayhem at NATO summit so far is disorganized protesters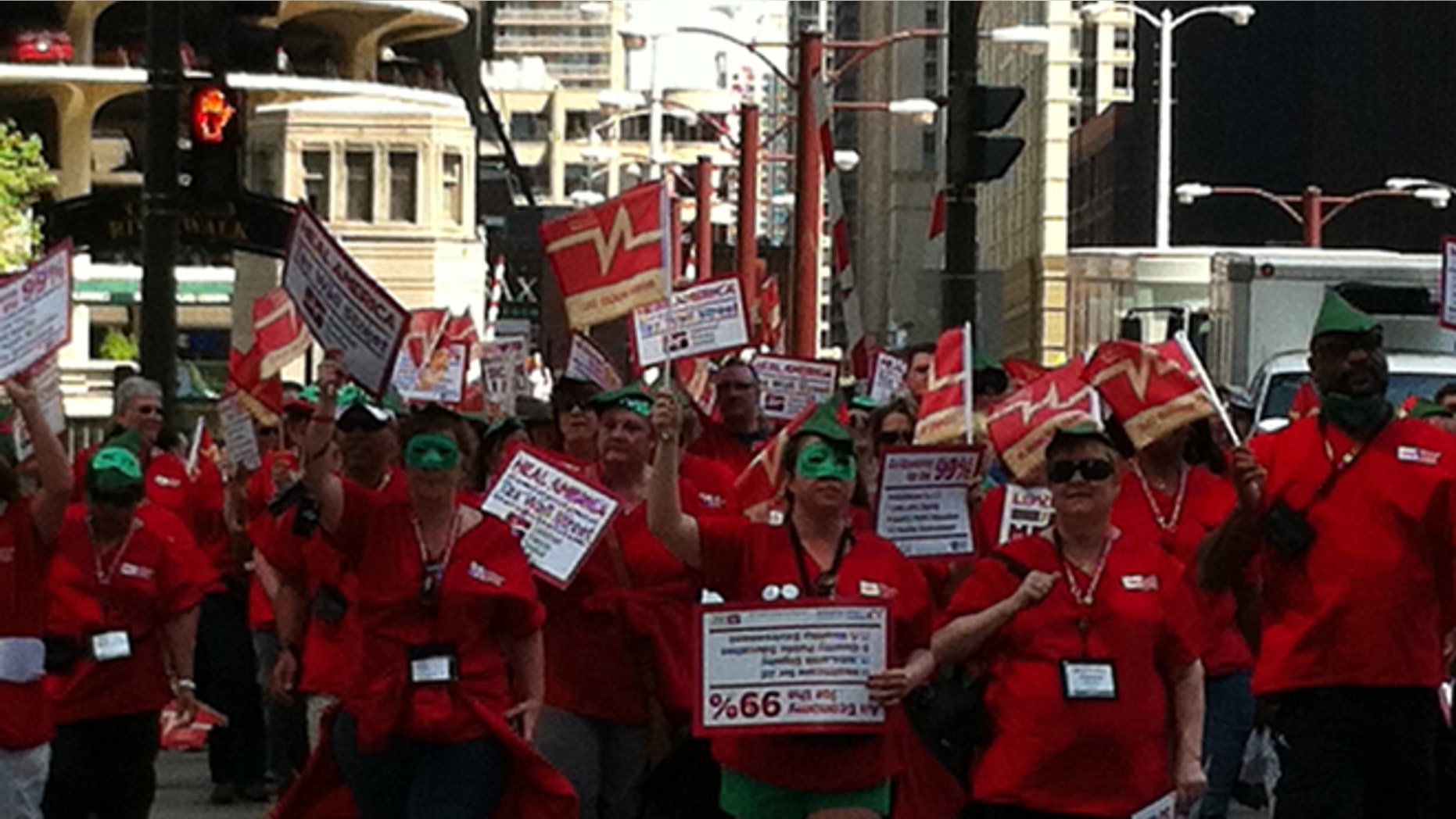 CHICAGO – Thousands of protesters have arrived in Chicago knowing they are there in part to make a little noise during the weekend NATO summit, but myriad groups, special interests and causes have also resulted in internal turmoil.
"Where's our leader? Who's supposed to be speaking?" a woman said into a microphone Friday during the National Nurses United protest on Daley Plaza.
Those are the same questions that have been asked several times at protest marches over the last week, as about a dozen different groups converge on the city for the summit.
In addition to "Occupy Chicago," and the nurses' group, such groups as "Iraq Veterans Against The War," "LGBTQ," "ClownBloq" are also holding meetings and press conferences.
It's a mixed group of people who might not normally stand together in the same protest lot, if not for the NATO Summit and the hundreds of international journalists covering the international event.
Some causes don't even pertain to NATO but were intended for the G8 Summit that was moved to Camp David, about 90 minutes away from the White House in western Maryland.
"It's a little hard to figure out who's got what message around here," added one demonstrator.
The nurse's protest brought together an exuberant crowd of about 2,500 people, the largest gathering of any protest so far this week.
Group members were calling for a "Robin hood tax on Wall Street," which would provide money to social programs. The message has nothing to do with NATO, but group leaders acknowledged they "wanted to take advantage of this event for the chance for us to be heard."
Amid the sea of nurses, protesters clad in red shirts and green Robin Hood caps marked with feathers. There were also small groups of people dressed in khaki and carrying signs that read "Say No to War."
Some people dressed in all black with bandanas hiding their faces paced the perimeter of the crowd, then began yelling and swearing at police, trying to provoke a battle.  One person got arrested.
"We just want theses world leaders to know we're here. We want them to get to our message" said David Brown, an "Occupy Nation" member who said he drove from Atlanta.
But others questioned just how much of their message is getting out, amid all the chaotic noise and other messages vying for attention.
"It's too much" said Vietnam veteran Dave Hancock. "There's no one message in this group."
Hancock said he came from New Jersey to see his son and daughter in-law, but decided to attend the protest while he was here.
He hopes that at the very least the main point, in his view, gets out.
"The message overall is that we're dissatisfied," he said. "I hope that's getting back to the people in Canada, in France, in Germany. It doesn't matter that things are screwed up if that message is getting out."
Several websites have been set up to direct supporters and the media to the various activities. And regular e-mails are being sent out with updates. But there appears to be a lack of coordination on some fronts.
Fox News went to see a planned "training event" Thursday night for one group of protestors, yet very few people showed up.
In another location, a scheduled meeting intended to inform people about a plan for protestors to shutdown Boeing's Chicago headquarters never happened.
Several more protests are planned for the weekend, some being held at the same time but in different locations, which means media will have to choose which one to cover.
One supporter admitted he's worried that the disorganization and lack of focus might drive away supporters.
"If the intention is to sway the public's attitude and have them join the movement, then I think the very splintered nature … can be a turn off to participants," he said.