Sink Fires Adviser Who Sent Message in Violation of Debate Rules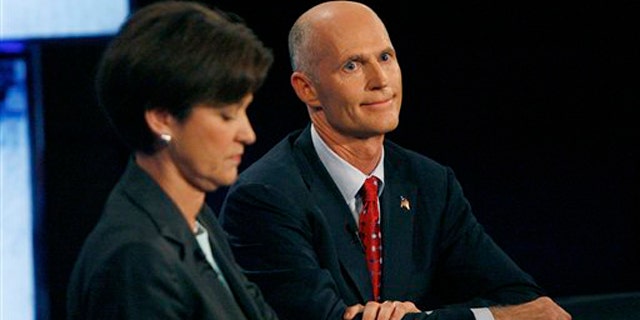 Florida gubernatorial candidate Alex Sink has fired an adviser who sent the Democratic candidate a message in the middle of a debate with opponent Rick Scott in violation of the rules.
A make-up artist delivered the brief message on a cell phone during a commercial break in the middle of the CNN/St. Petersburg Times-hosted debate held Monday evening.
Republican Scott noticed the infraction and called it to the attention of somebody on stage. When the debate resumed, Scott publicly criticized Sink for taking the message.
"First, Alex, you say you always follow the rules. The rule was no one is supposed to give us messages during the break, and your campaign did with an iPad, all right, an iPod," he said.
Click here to watch the video.
The message was apparently in response to claims Scott made about Sink's work a decade ago with call-center company Sykes -- Scott accused her of "falsifying" records. CNN reported that the cell phone message said: "The attorney who (w)on the Sykes suit said alex sink did nothing wrong. Tell not to let him keep talking about her."
Sink said in a written statement that she "removed" the adviser after the debate, acknowledging it violated the ground rules.
"After the debate tonight, one of my campaign advisers admitted he tried to communicate with me during one of the breaks. While he told me it was out of anger with Rick Scott's repeated distortion of facts, it was a foolish thing to do," she said.