Shutdown Aside, Immigration And Consular Services Still Up And Running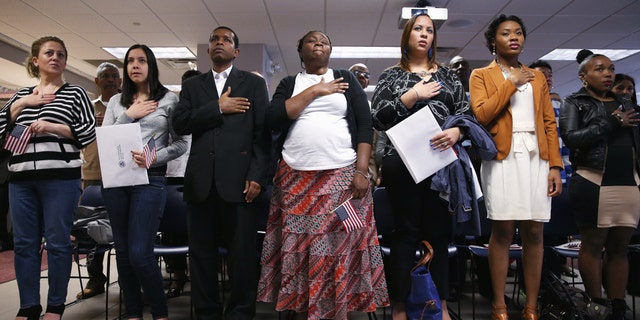 Many immigration services will continue through the government shutdown, but others will be affected, mainly by paperwork delays.
Border security and customs are expected to remain unchanged as the government seeks to keep services running that are essential to national security, according to The National Law Review.
However, Customs and Border Protection is giving a furlough to more than 10 percent of its staff, said the Christian Science Monitor.
The newspaper said that while agents will be kept at the border, employees who manage paperwork and other members of the staff will not report to work during the shutdown.
"If you ask me, it's all essential," said Agent Chris Cabrera, vice president of National Border Patrol Council Local 3307, according to the Monitor. "Because if it wasn't essential, they wouldn't have a job in the first place."
The United States Citizenship and Immigration Services (USCIS) division of the Department of Homeland Security relies on user fees to operate, so it plans to keep processing applications, according to the publication.
Some delays may occur, however, since employees who provide support services may go through furlough. The USCIS also uses the help of some non-essential agencies, which could be affected, according to The National Law Review.
A service employers use to verify a potential worker's eligibility to be employed in the United States will be shut down. The service, called E-Verify, will be inaccessible, Homeland Security announced.
"Citizens and U.S. businesses will not be able to access E-Verify, the Internet-based system that allows employers to voluntarily determine the eligibility of prospective employees to work in the United States."
The agency said it would extend some deadlines for employers affected by the E-Verify shutdown. Employers are still expected to file Form I-9 forms no later than the third business day after a new hire begins to work for pay, the agency said.
"Employers may not take any adverse action against an employee because of an E-Verify interim case status," the agency warned, " including while the employee's case is in an extended interim case status due to a federal government shutdown (consult the E-Verify User Manual for more information on interim case statuses)."
Department of Labor certifications will be affected, the National Law Review said, noting that the agency will likely not accept any new online applications during the shutdown.
Consular services in the United States and overseas will continue working, according to the National Law Review.
"However, this is only expected to last for a few days," the publication noted, "after which consular posts will focus solely on diplomatic services and emergency services for American citizens. We expect delays in processing visas, and if there is a prolonged shutdown, we expect a cessation of visa processing. During previous shutdowns, business reasons have not qualified for emergency visa processing."
Follow us on twitter.com/foxnewslatino
Like us at facebook.com/foxnewslatino