Senators talk of 'refugee crisis,' but divided on reasons why Central American migrants come to US
Two senators on different sides of the political divide agreed on Sunday that the issue along the border is a "refugee crisis" and not an "immigration crisis," but were split on why thousands of families are fleeing Central America for the United States.
Sens. James Lankford, R-Okla., and Angus King, I-Maine, agreed that the people attempting to cross the U.S. southern border illegally were coming here for a better life, but the former believes it is for economic reasons while the latter says it's because of violence in Central America.
"They're fleeing violence," King said on NBC's "Meet The Press." "This is different from the waves of illegal immigrants coming 15 to 20 years ago mostly from Mexico, simply looking for jobs."
Lankford countered that assertion by arguing migrants are coming to the U.S. and not going to other, less violent countries in Latin America.
"The vast majority of these individuals are coming for economic reasons," Lankford said. "They're coming from Central America, that's why they're not going to Belize or Ecuador -- who also have great asylum laws. They're coming to the U.S. because they want to have economic opportunities, not just asylum."
The number of families entering the U.S. illegally at the southwest border jumped six-fold in May to 9,485, compared with the same month in 2017. Since October, more than 58,000 have arrived, the bulk from Guatemala, followed by Honduras and El Salvador.
Feelings of desperation are being felt throughout Central America, where the lawlessness, endemic poverty and levels of gang violence akin to war zones that have driven so many families from their homes show little signs of abating.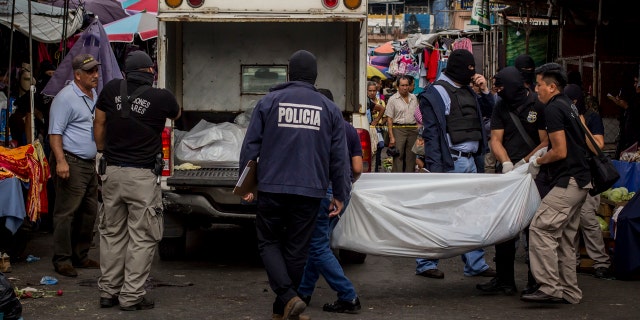 The rate of violent death in El Salvador is still higher than all countries suffering armed conflict except for Syria, with a murder rate of 99.7 per 100,000 inhabitants in 2016, according to the most recent global study by the Switzerland-based Small Arms Survey. The number of people displaced in the nation of 6.5 million by turf battles between the country's two biggest gangs, MS-13 and Barrio 18, skyrocketed last year to 296,000, according to the Norwegian Refugee Council.
In neighboring Honduras, one of Latin America's poorest and most violent nations, adding to the sense of insecurity is the country's role as a major transit point for South American cocaine as well as the political turmoil and civil unrest that have followed hard-line President Juan Orlando Hernandez's re-election last November amid allegations he stole the vote.
In Guatemala — the third of the so-called Northern Triangle countries of Central America — criminal activity is also spreading, adding to the discrimination and abuse long faced by the indigenous communities that are among the largest groups fleeing poverty.
"This isn't about immigrants chasing the American dream anymore," said Sofia Martinez, a Guatemala-based analyst for the International Crisis Group and author of a recent report on gang violence in Central America, "Mafia of the Poor."
"It's about escaping a death sentence," she said.
The Associated Press contributed reporting to this piece.