Senators Demand Changes After Airport Security Breach Caused 6-Hour Delays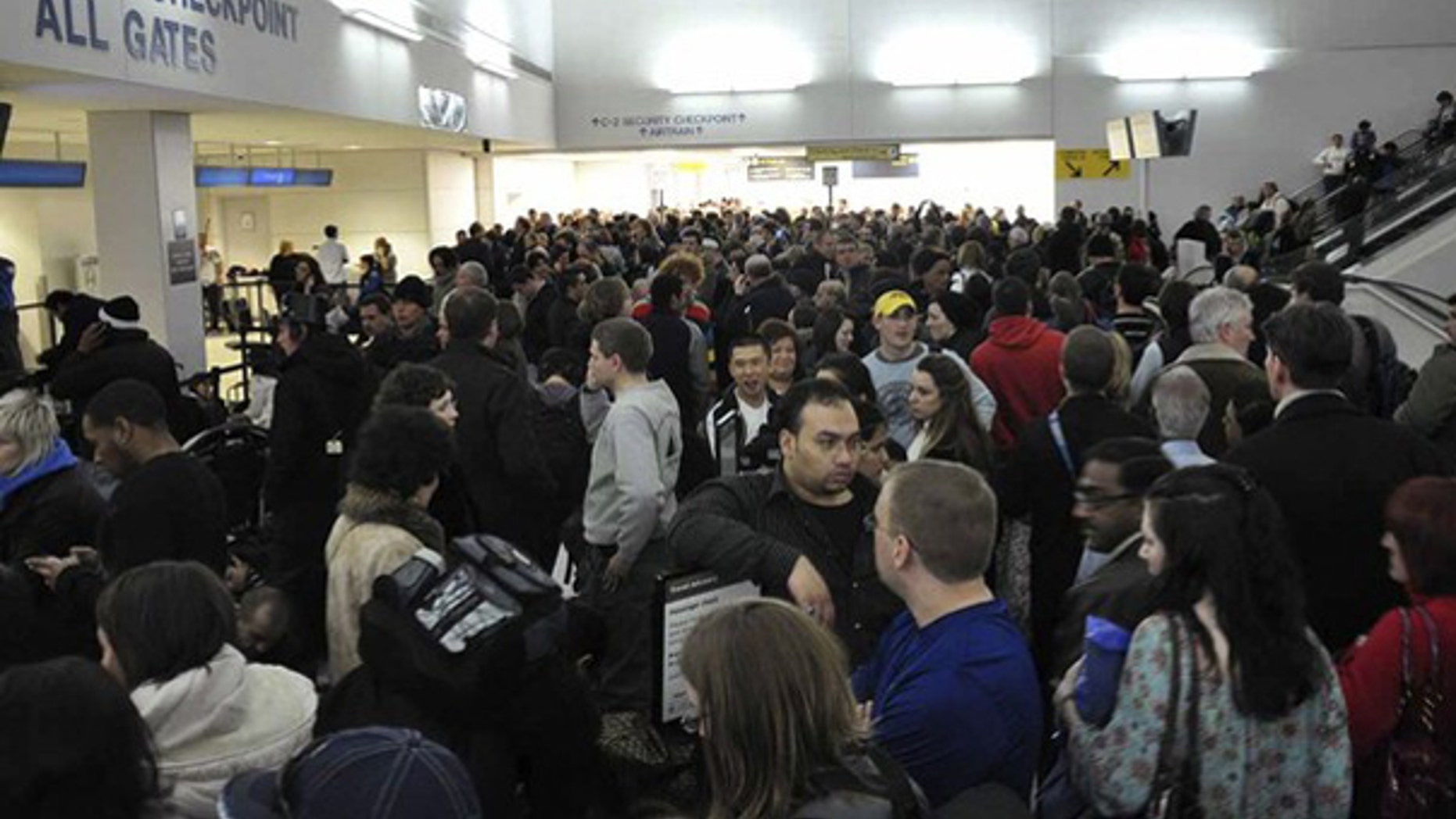 A security breach at Newark International Airport that left travelers stranded for hours on Sunday has "shaken the confidence" of the American public, New Jersey Sen. Bob Menendez said Tuesday.
Menendez and fellow New Jersey Sen. Frank Lautenberg have been briefed by federal officials about Sunday's incident and are now criticizing the Transportation Security Administration's response, demanding upgrades in security after a  man walked in through an exit door at Terminal C and then exited without being identified or located.
The breach resulted in a halt to flights for more than six hours and the re-screening of all travelers, even those who had already boarded planes. The problems were compounded by the failure of security cameras, which delayed the TSA's response to the breach. Significant time passed between the breach and the terminal's closure.
The breach was caused by a single TSA guard who left his position for less than two minutes, allowing a man to enter the terminal's "sterile area" without clearing security, ABC News reported Wednesday.
The shutdown follows a failed Christmas Day attempt to blow up a plane flying between Amsterdam and Detroit that left TSA facing severe criticism about its inspection procedures and new stringent guidelines for airlines scheduled to arrive in the U.S. from international destinations.
"The recent incidents here and in Detroit underscore the need for us to be 10 steps ahead of terrorists, not one step behind," Menendez said at a press conference held at Newark Airport.
In a letter sent Tuesday to TSA Acting Administrator Gale Rossides, the senators demanded that terminal exit points be reinforced with adequate personnel levels to ensure constant monitoring, a "continuously operational" video surveillance system be frequently checked and communication and information-sharing among the TSA, Port Authority police, airlines and other law enforcement be improved.
"While thankfully nobody was injured or killed as a result of the serious and unacceptable breach of security at Newark Liberty, we cannot count on being so lucky next time," they wrote.
The TSA responded Wednesday by listing a number of security steps it has taken following Sunday's breach.
"The circumstances surrounding the incident at Newark Airport on Sunday are under full review," TSA public affairs manager Ann Davis said in a statement. "Clearing Terminal C's concourses and rescreening all passengers was necessary given the fact an individual violated access controls and entered the sterile area. TSA regrets any inconvenience this may have caused travelers."
David said that the TSA has since sent a notice to all federal security directors "instructing them to review and exercise their airport access event response plans." She also said the TSA is working with the Port Authority to "ensure consistent performance and confirm operational readiness."
"TSA is committed to working with our airline and law enforcement partners at Newark Liberty Airport to determine together how overall coordination and response can be improved during an incident," she added.
The recent breaches have heightened sensitivity among the public as well as TSA officials. In the week following Christmas, TSA reported that 28 passengers were arrested after investigations of suspicious behavior or fraudulent travel documents, 12 firearms were found at checkpoints, four "artfully concealed prohibited items" were discovered at checkpoints and 24 incidents have involved a checkpoint closure, terminal evacuation or sterile area breach.
Among some of TSA's challenges -- in Philadelphia, bomb-sniffing dogs failed a test and were taken out of service. Two TSA officers in Bakersfield, Calif., reported nausea after opening a bag that tested positive for explosives and found some jars containing an amber-colored liquid. Those jars turned out to be honey.
Fox News' Brian Wilson contributed to this report.