Senator Inouye's Wife in Tokyo When Earthquake Hit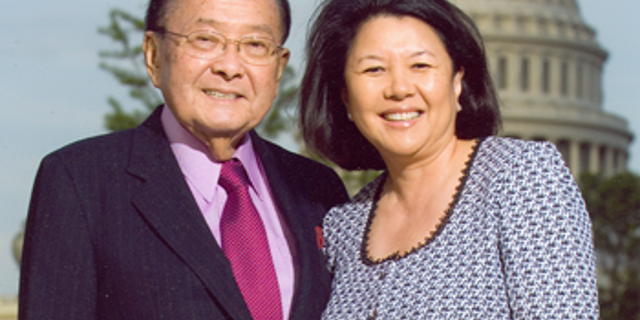 NEWYou can now listen to Fox News articles!
As often happens with catastrophes like the violent earthquake that shook Japan, the event touches the lives of many in its wake in an indiscriminate way, young, old, rich, poor. At 4:30 a.m. in Washington, D.C., the phone rang at the home of the powerful chairman of the Senate Appropriations Committee, Daniel Inouye of Hawaii. It was his wife, Irene Hirano, calling from Tokyo.
"She said, 'Something happened here - an earthquake," the soft-spoken Democrat recounted to Fox, saying he also spoke with his wife again at 11 a.m. Peter Boylan, the senator's spokesman, said that "Rene", who is president of the U.S.-Japan Council, is unharmed. She was "in Tokyo leading a delegation of Japanese-American community leaders." According to a Tweet from the Council, "Irene Hirano and the...Delegates are safe in Tokyo. We are thinking of our friends and colleagues throughout Japan."
The delegation, according to the Council website, had just met with Japan's new foreign minister, Takeaki Matsumoto, Thursday.
Inouye was in town for a scheduled meeting Friday with the Japanese ambassador to talk about the upcoming Cherry Blossom Festival, but the meeting was abruptly canceled as news of the 8.9-magnitude earthquake came to light.
Inouye and Hirano were married in 2008. The two met through their work with the Japanese American National Museum.
The chairman, a Japanese American and decorated World War II hero, said he was certain his home state of Hawaii was prepared for the tsunami waves pounding the island's beaches. "We've had some practice," Inouye responded, knowingly.
Hawaii so far has had no casualties, Inouye noted, though it was still night there when he received his last information.
The chairman of the spending panel echoed the words of President Obama regarding U.S. financial assistance to Japan. "I'm certain, as the president indicated, we are prepared to assist, and we have done that with every country - whether it's Indonesia, Malaysia, Pakistan."