Senate Republicans to Keep Focus on Medicare Cuts in Health Care Bill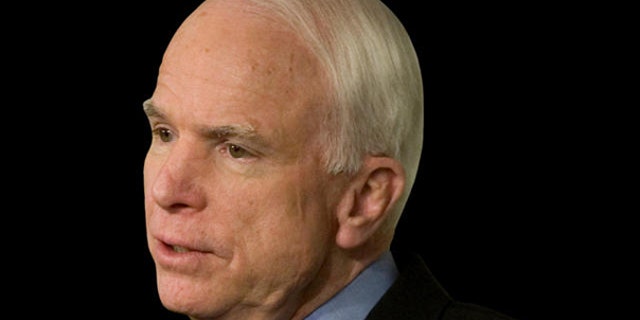 John McCain did not look like a man who had just lost a vote in the Senate.
Casting its first votes on revamping the nation's health care system, the Senate voted 58-42 to reject McCain's bid Thursday to stave off Medicare cuts and approved safeguards for coverage of mammograms and other preventive tests for women.
The Republican senator's amendment would have stripped more than $400 billion in Medicare cuts from the nearly $1 trillion measure, and it would have sent the entire 2,074-page bill back to the Senate Finance Committee for a redo.
When asked what the next Republican amendment would be, McCain smiled ruefully and said, "Medicare."
Republicans clearly believe they have the political advantage on this issue despite the nation's largest seniors' lobby, the AARP, endorsing the Medicare cuts and opposing McCain's amendment.
Republicans said the proposed cuts to health insurance plans and medical providers mean seniors in the popular Medicare Advantage program will lose benefits. And they predicted lawmakers will ultimately back away from the cuts, once seniors start feeling the brunt.
"Medicare is already in trouble. The program needs to be fixed, not raided to create another new government program," said Senate Republican leader Mitch McConnell of Kentucky.
Democrats said seniors will not lose any guaranteed benefits. The cuts -- amounting to a 2 percent slowdown in spending -- will help keep Medicare solvent by making it more efficient, they contended. And they pointed out that the health care overhaul bill improves preventive care and prescription coverage.
"My colleagues on the Republican side have resorted to the politics of fear to preserve a broken health care system," said Sen. Tom Harkin, D-Iowa. "What we're hearing are scare tactics designed to mislead seniors."
The votes Thursday came after three days of angry debate in which Democrats accused Republicans of stalling to try to kill the bill, and Republicans protested that they were only exercising their right to give the complex legislation full scrutiny.
An amendment by Sen. Mike Bennet, D-Colo., who is up for re-election next year, quickly materialized as an alternative to McCain's. It expressly guarantees no cuts will be made to Medicare beneficiaries' benefits. That amendment was accepted unanimously.
"Guaranteed benefits, there is not a single guaranteed benefit that will be cut under this bill. I defy anyone to find one," Sen. Chris Dodd, D-Conn., shouted on the Senate floor, as he, too, faces a re-election race in 2010.
McCain, also up for re-election, merely mocked the endorsement by "that liberal Democratic group," referring to AARP, and noted the group has in the past opposed cuts to Medicare. McCain has also proposed cuts to the program in the past.
The Arizona Republican, once his party's standard-bearer, would not offer any more detail about Republican strategy, but Sen. John Thune, R-S.D., a member of GOP leadership, offered a hint to Fox News.
"I'm not sure I can say what the next (amendment) will be exactly, but it's safe to say we believe the debate about Medicare cuts has not been fully debated yet," he said.
More than $100 billion in cuts to Medicare Advantage in the Democrats' bill, including hospice care, home health care and skilled nursing, are all areas of focus for GOP amendments related to Medicare, a senior Senate GOP leadership aide told Fox News.
Thursday's Medicare vote went to the heart of seniors' concerns that cuts from the program used to finance coverage for the uninsured will undermine the quality of their care.
Furious with opposition from AARP, McCain railed on the Senate floor and delivered a message to seniors:
"Take your AARP card, cut it in half and send it back. They've betrayed you," he said.
Underscoring the political stakes, McCain, recorded "robocalls" in states that are home to key moderate Democrats asking voters to support McCain's amendment stripping the bill's Medicare cuts. The calls, paid for by the National Republican Senatorial Committee, targeted Sens. Bennet, Ben Nelson of Nebraska and Blanche Lincoln of Arkansas.
"On Monday, I introduced the first Republican amendment to the massive health care bill, which would send the bill back to the Senate Finance Committee and stop the Democrats from cutting vital Medicare coverage for our seniors. I need Sen. Blanche Lincoln to join me in this effort," McCain says in the call heard by Arkansas residents.
He asks them to go to an NRSC Web site and sign a petition to Lincoln "urging her to join my effort to fight a Washington, D.C., government takeover of your health care."
The scripts in the other states were identical. Another call by a live operator was heard by voters in North Dakota, which prohibits robocalls, and it delivered the same message, targeted at Sen. Byron Dorgan.
Fox News' Trish Turner and The Associated Press contributed to this report.