Senate rejects 'skinny repeal' of ObamaCare as 3 Republicans vote no
Senate Republicans failed to pass Majority Leader Mitch McConnell's proposed "skinny repeal" amendment in a vote Friday morning, signaling what could be the end to any hopes of repealing and replacing ObamaCare.
As the clock neared 2 a.m. ET, the amendment proposal failed, 51-49, with Republican Sens. John McCain of Arizona, Susan Collins of Maine and Lisa Murkowski of Alaska joining Democrats in voting no.
"It is time to move on," McConnell said after the vote.
Added Senate Minority Leader Charles Schumer, D-N.Y.: "We are not celebrating. We are relieved."
Shortly after, President Trump took to Twitter to express his disapointment in the three Republicans who voted against the amendment, saying they "let the American people down."
"3 Republicans and 48 Democrats let the American people down. As I said from the beginning, let ObamaCare implode, then deal. Watch!" Trump tweeted.
House Minority Leader Nancy Pelosi, D-Calif., said Republicans will now have to work on improving the current health care legislation alongside their Democratic counterparts
"The American people have spoken loud and clear against the higher costs and monstrous cruelty of Trumpcare," Pelosi said.
The decision came after House Speaker Paul Ryan honored Republican senators' request that the body vote on a vehicle to continue moving forward with discussions to repeal and replace the health care legislation through a conference committee.
"Senators have made clear that this is an effort to keep the process alive, not to make law. If moving forward requires a conference committee, that is something the House is willing to do," Ryan said in a statement Thursday night.
Despite Ryan's assurance that the bill would go to committee, McCain said he was skeptical that the House would take the bill and approve it as is, so he voted no, dooming the "skinny repeal" after his triumphant return to Washington this week following a brain cancer diagnosis and surgery.

"We must now return to the correct way of legislating and send the bill back to committee, hold hearings, receive input from both sides of the aisle, heed the recommendations of the nation's governors, and produce a bill that finally delivers affordable health care for the American people," McCain said in a statement.
After McConnell's pared-down ObamaCare bill failed to receive enough votes early Friday, he took to the podium and delivered a somber message on the Senate floor.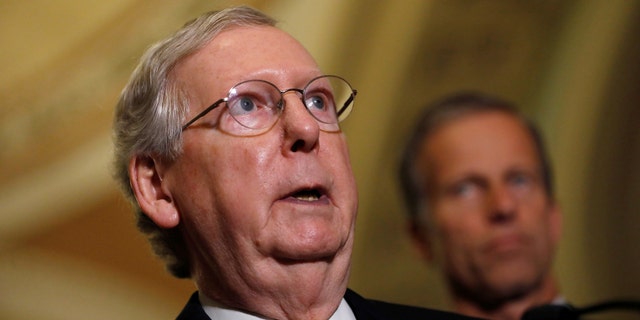 "This is clearly a disappointing moment. From skyrocketing costs to plummeting choices and collapsing markets, our constituents have suffered through an awful lot under ObamaCare," McConnell said. "We thought they deserved better. It's why I, and many of my colleagues, did as we promised and voted to repeal this failed law. We told our constituents we would vote that way. When the moment came, most of us did. We kept our commitments."
"So yes, this is a disappointment, a disappointment indeed," he added.
However, Sen. Ted Cruz, R-Texas, said he hasn't lost faith in the GOP's promise to ultimately repeal and replace ObamaCare, and believes "in time, we will honor our promise."
Cruz added that the focus needs to shift to lowering premiums in order to reach the majority.
Failure to pass the amendment underscored the ongoing struggle within the Republican Party between moderates and conservatives who can't seem to reach a consensus on their efforts to repeal and replace the Affordable Care Act, the 2010 law that is considered the signature legislation of President Barack Obama's presidency.
The GOP will now have to grapple with the real possibility of failing to deliver a full repeal and replace of the law, something the party has been promising its supporters for more than seven years.
Fox News' Chad Pergram contributed to this report.