Senate Leaders Say Appointment System Needs Change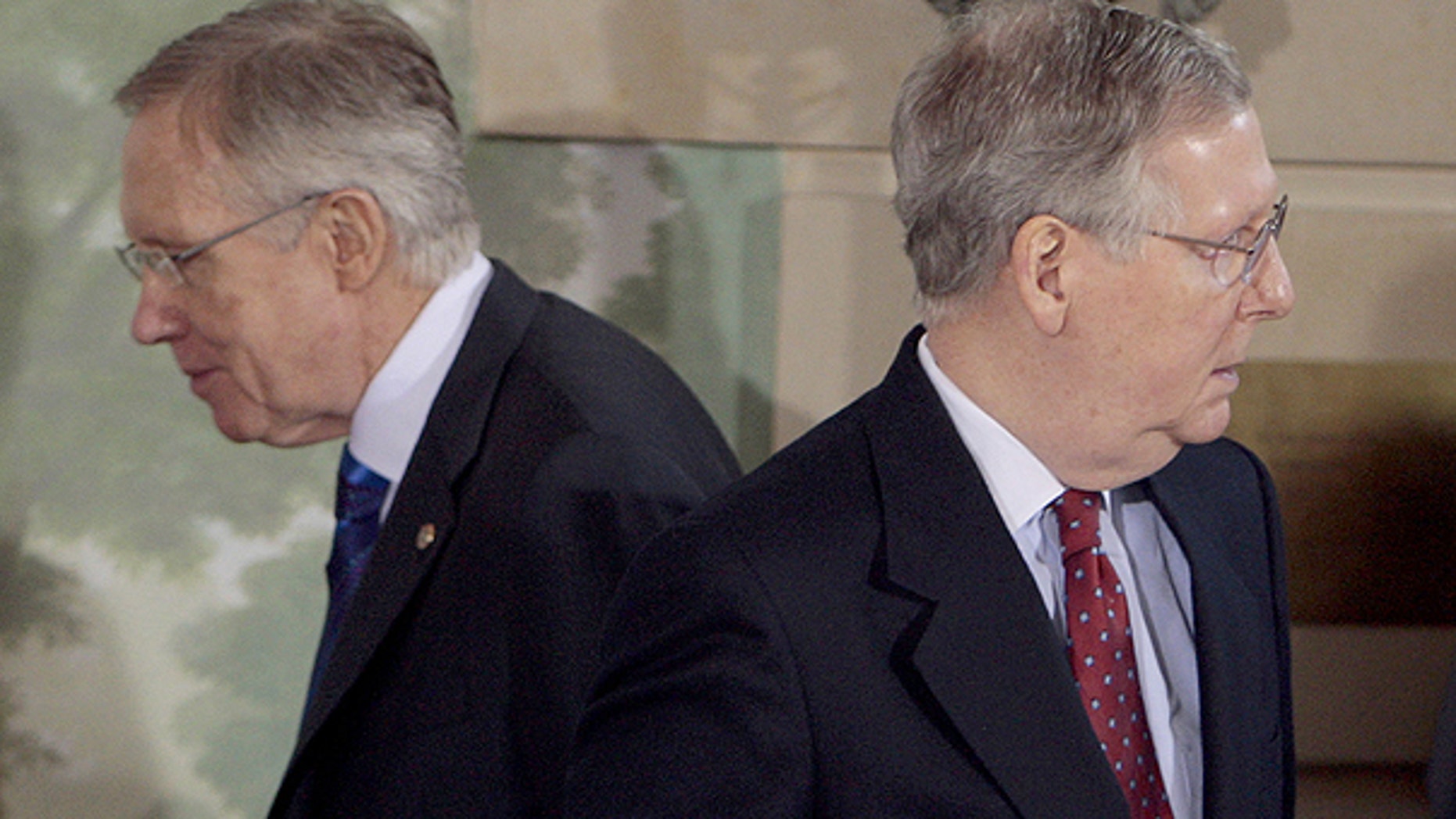 WASHINGTON -- The Senate, in its inaugural session, rejected George Washington's nominee to be a naval officer in Savannah because the two Georgia senators wanted their guy in the job. The way of naming and confirming the nation's top officials hasn't become much smarter in the years since.
It's become a lot more of a problem.
President George W. Bush had only about half his political appointees on the job at the time of the attacks on Sept. 11, 2001. Treasury Secretary Timothy Geithner in early 2009 found himself dealing with the worst economic crisis since the Great Depression without his team of deputies in place. The attempted bombing of an American airliner on Christmas Day 2009 occurred when the Transportation Security Administration was without an administrator.
Senate Majority Leader Harry Reid and Republican leader Mitch McConnell, in a rare moment of agreement, opened the new Congress this month by endorsing a bipartisan effort to find ways to improve an unwieldy, unproductive system.
It's a challenge because there are so many ways to bog down a nomination.
Reid noted that the slow-moving Senate is now responsible for confirming 1,215 executive branch nominees and the number keeps rising. Brookings Institution senior fellows E.J. Dionne Jr. and William Galston wrote in a study that the number of core policy positions the president must fill has risen from 295 when Ronald Reagan took office to 422 for Barack Obama.
Then there's the onerous screening process, even for lower-level appointees. It's meant that an administration can take months to send a nomination to the Senate for confirmation. Finally, there's the increasingly partisan Senate, where a single lawmaker has the power to bottle up a nomination for months or kill it, sometimes for reasons unrelated to the person in line for the job.
Like their Georgia counterparts of old, Louisiana's two senators stood in the way of nominations last fall to protest the freeze on offshore drilling after the Gulf of Mexico oil spill. The White House said there would be a one-week delay in making public the president's budget proposal this year, partly because Sen. Mary Landrieu, D-La., had blocked a vote on Obama's choice to be budget director, Jack Lew, for more than a month.
"Among the democracies, the United States has created -- without intending to -- what is almost certainly the most ungainly process of filling a government with qualified people," Dionne and Galston wrote.
A Commission on Public Service headed by former Federal Reserve chairman Paul Volcker recommended in 2003 turning one-third of all Senate-confirmed political positions into career jobs. The Partnership for Public Service, a nonprofit group that promotes service in the federal government, wants the Senate to commit to voting on the president's top 50 national and economic security officials immediately after inauguration and having the top 500-plus appointees in place by the summer recess.
Those studies dealt primarily with executive office nominees and not the equally vexing issue of judges. There are more than 90 judicial vacancies in U.S. district and appellate courts today. Chief Justice John Roberts complained in a year-end report that "each political party has found it easy to turn on a dime from decrying to defending the blocking of judicial nominations, depending on their changing political fortunes."
Reid, D-Nev., and McConnell, R-Ky., suggested that the chairman and the top Republican on the Senate Rules Committee -- Sens. Chuck Schumer, D-N.Y., and Lamar Alexander, R-Tenn. -- lead a working group to study ways to streamline the confirmation process. But progress probably depends on Democratic-led efforts to change Senate rules to make it harder for single senators to hold up legislation and nominees and to reduce the number of filibusters.
At the end of the last session of Congress, 43 nominees, including judges, awaited a vote by the full Senate. That compared with seven at the end of Bush's first two years in office, Reid's office said. Seven have been on the waiting list since 2009.
One result is that many competent people are dissuaded from accepting positions in government, said Max Stier, president of Partnership for Public Service.
"It's the rare individual who is both qualified and willing to run the obstacle course that is required," he said. Stier said there are examples of people, even those without background problems, who had paid hundreds of thousands of dollars in legal fees to get through the screening process.
Presidents sometimes turn to recess appointments -- putting people in the jobs temporarily when the Senate is not in session. Obama warned Republicans last February that he would resort to this strategy because of holds on nominations he said were "motivated by a desire to leverage projects for a senator's state or simply to frustrate progress. It is precisely these kinds of tactics that enrage the American people."
Among his recess appointees: Donald Berwick, a Harvard professor now heading the agency that runs Medicare and Medicaid; James Cole, the No. 2 official at the Justice Department; Craig Becker, as a member of the National Labor Relations Board.
Obama also avoided a drawn-out fight with Senate Republicans on Elizabeth Warren, his choice to head the new Bureau of Consumer Financial Protection, by naming her to oversee creation of the fledgling agency. That post doesn't require confirmation.