Senate health care bill: What are GOP senators' positions?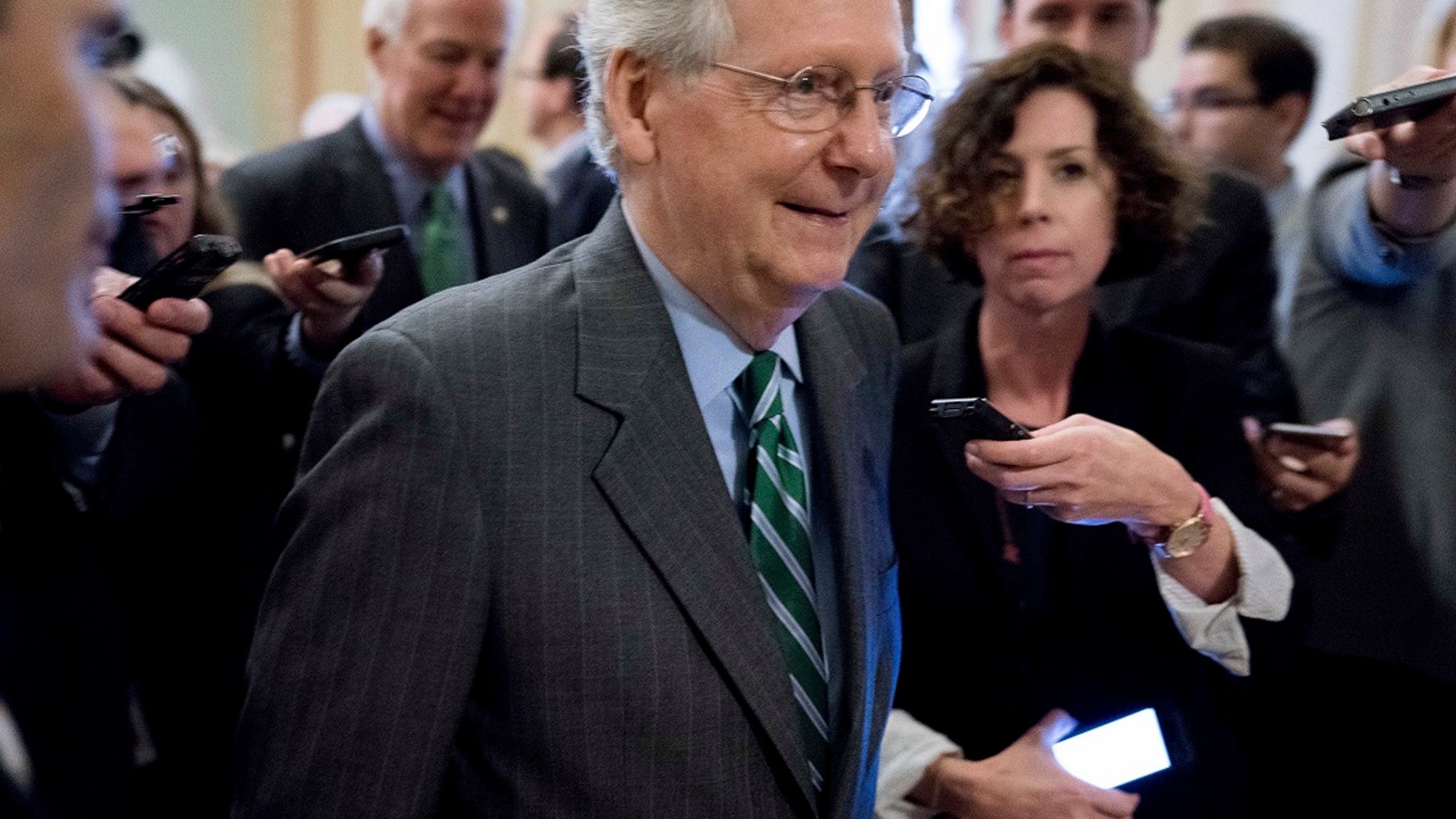 Senate Majority Leader Mitch McConnell last week unveiled the Better Care Reconciliation Act, Republicans' health care bill to repeal and replace ObamaCare.
A planned Senate vote on the legislation has been postponed to after the July 4 recess.
Democrats have already voiced their opposition to the bill, including top Senate Democrat Chuck Schumer, who called the proposed legislation "heartless." No Democrat is expected to support the legislation.
But which GOP members will vote for it? Here's a breakdown of Republican senators' positions on the bill.
Which senators are supporting the bill? 
Aside from McConnell, Sen. John Barrasso, R-Wyo., Sen. John Cornyn, R-Texas, and Sen. John Thune, R-S.D., all support the bill, The New York Times reported.
Sen. Roy Blunt, R-Mo., Sen. Orrin Hatch, R-Utah, Sen. Pat Roberts, R-Kan., Sen. Michael Rounds, R-N.D., Sen. Pat Toomey, R-Pa., and Sen. Roger Wicker, R-Miss., are backing the bill, the newspaper reported. Sen. Richard Shelby, R-Ala., is also supporting the bill.
A statement from Sen. Mike Enzi, R-Wyo., also appeared to back the bill.
Sen. Tim Scott, R-S.C., told Fox Business last week, "This plan, in a binary world, is a much better plan than Obamacare." Scott's office confirmed to the Post and Courier on Monday that he is reviewing the bill.
Sen. Lamar Alexander, R-Tenn., may also reportedly vote for the bill. He said he would review it, but that he saw it contained "benefits for Tennesseans."
Sen. Michael Crapo, R-Idaho, said he would review the bill, but may support it, the Times reported.
A statement from Sen. Richard Burr, R-N.C., appeared to support the bill, and said, "This draft legislation outlines a number of initiatives that are good for North Carolina."
Sen. Luther Strange, R-Ala., has said that he is "encouraged by key provisions in the Senate bill."
Sen. Lindsay Graham, R-S.C., may also support the bill. "I'm not gonna be the guy to take the bill down," he said Monday, according to the Post and Courier.
Notably, the Senate's healthcare bill also has the support of President Donald Trump.
Who opposes the bill? 
At least five GOP senators have said they would vote against even beginning debate, and the bill would be derailed if just three of the 52 Republican senators voted against it.
Utah's Mike Lee became the fifth Republican senator to oppose letting the chamber formally begin considering the proposal. Others include Sen. Susan Collins, R-Maine, Sen. Dean Heller, R-Nev., Sen. Rand Paul, R-Ky., and Sen. Ron Johnson, R-Wis.
Last week, Lee, Johnson, and Paul formed a group with Sen. Ted Cruz, R-Texas which expressed opposition but openness to talks. "Currently, for a variety of reasons, we are not ready to vote for this bill," the four senators said in a joint statement.
After the Senate vote's postponement, both Sen. Rob Portman, R-Ohio, and Sen. Shelley Moore Capito, R-W.Va., said they will not support the current bill.
Sen. Jerry Moran, R-Kans., said Tuesday, "The Senate healthcare bill missed the mark for Kansans and therefore did not have my support." Moran said he was "pleased with the decision to delay the vote."
Which senators have concerns or are uncommitted over the bill? 
Sen. Lisa Murkowski, R-Alaska, may also have some concerns, and said she intends to "vet this bill" to ensure Alaskans have affordable healthcare. "Today I don't have enough information, I don't have enough data in terms of the impact to my states to be able to vote in the affirmative," she told CNN on Monday.
Sen. Bill Cassidy, R-La., said Thursday that he would review the bill, but said it was "positive" that the bill featured parts of the Patient Freedom Act and the MAC act. The Patient Freedom Act, sponsored by Cassidy, was aimed at creating "market-based alternatives to the Affordable Care Act." The Medicaid Accountability and Care (MAC) Act, meantime, is a bill he reintroduced this year concerning Medicaid financing.
Cassidy told CBS' Face the Nation that he was "undecided."
Senators who are uncommitted include Sen. John Boozman, R-Ark., Sen. Thad Cochran, R-Miss., Sen. Bob Corker, R-Tenn., Sen. Tom Cotton, R-Ark., Sen. Steve Daines, R-Mont., Sen. Jodi Ernst, R-Iowa, Sen. Deb Fischer, R-Nebr., Sen. Jeff Flake, R-Ariz., Sen. Cory Gardner, R-Colo., Sen. Chuck Grassley, R-Iowa, Sen. John Hoeven, R-N.D., Sen. Jim Inhofe, R-Okla., Sen. Johnny Isakson, R-Ga., Sen. John Kennedy, R-La., Sen. John McCain, R-Ariz., Sen. David Perdue, R-Ga., Sen. Jim Risch, R-Idaho, Sen. Marco Rubio, R-Fla., Sen. Ben Sasse, R-Nebr., Sen. Dan Sullivan, R-Alaska, Sen. Thom Tillis, R-N.C., and Sen. Todd Young, R-Ind.
"Put me down as a solid undecided," Sen. James Lankford, R-Okla., told CNN.
The Associated Press contributed to this report.