Senate Health Bill Would Increase Premiums for Some, Report Says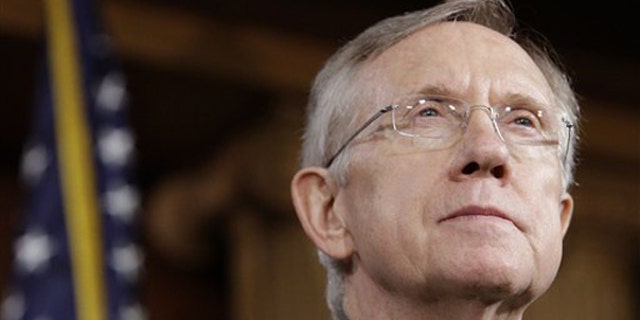 NEWYou can now listen to Fox News articles!
The Senate's health care reform package would drive up insurance premiums for people not covered through their jobs but taxpayer-footed subsidies would help bring those costs down for some, according to a new report Monday.
The nonpartisan Congressional Budget Office report also said the health bill would have a negligible effect on premiums for everyone else. Republicans seized on the estimate as more proof that Democrats' health care reform plan is a budget buster.
"Most people, according to the Congressional Budget office, will end up paying more or seeing no significant savings. This is not what the American people are asking for. And it's certainly not reform," Senate Minority Leader Mitch McConnell said.
The health care reform debate officially began in the Senate on Monday afternoon, with Majority Leader Harry Reid kicking off debate on the floor and Sen. John McCain, R-Ariz., expected to offer the first GOP amendment later in the day. The CBO report offered fodder for both sides of the aisle.
On one hand, the study showed that the sweeping changes would directly lead to higher premiums for those who purchase health care individually. It said that by 2016, that category of insurance buyer -- accounting for about 17 percent of the market -- would see premiums rise by between 10 and 13 percent.
Those with employer-based coverage would also see relatively little impact on their bills. Those with small group coverage -- plans with 50 or fewer workers -- would see between a 2 percent decrease and a 1 percent increase, according to the report. Those with large group coverage -- more than 50 employees -- could see premiums dip up to 3 percent. A $7,400 yearly policy would drop on average by about $100 per person, the report says.
Senate Republicans circulated a memo calling the report a "blow" to claims that the bill would lower costs.
But the report also showed that government-paid subsidies would play a significant role in bringing those bloated costs back down to earth.
In the non-group market, the report said 57 percent of individual plans would receive taxpayer-funded subsidies expected to reduce premiums by up to 59 percent. Those who do not receive subsidies would be stuck with the higher insurance bills.
In the small-group market, the report said 12 percent of policy holders would receive subsidies expected to reduce premiums by as much as 11 percent.
Senate Finance Committee Chairman Max Baucus, D-Mont., counted the estimates as a victory for Senate Democrats' health care plan, which seeks to not just lower costs for consumers but expand coverage and eliminate insurance industry practices like denying coverage over pre-existing conditions.
"The analysis we received today indicates that whether you work for a small business, a large company or you work for yourself, the vast majority of Americans will see lower premiums than they would if we don't pass health reform," he said in a statement.
"Most Americans will see lower premiums as a direct result of reform," Reid echoed, citing the report.
Sen. Evan Bayh, D-Ind., who requested the study, said the CBO numbers show reform will do more good than harm.
"This report alleviates a major concern that has been raised -- that insurance costs will go up across the board as a result of this legislation," he said. "This study indicates that for most Americans, the bill will have a modestly positive impact on their premium costs."
The logical gap between Democratic leaders' statements and McConnell's is yet another example of how the CBO reports, despite their high level of detail, have become the budgetary equivalent of Rorschach tests in the health care debate -- with both parties seeing what they want.
Senate Democrats' claims are potentially true. Under the best-case scenario offered by the CBO, premiums would go down for most Americans by 2016 after subsidies, which are to be raised according to the package by new tax revenues and Medicare cost-cutting, are factored.
But under the worst-case scenario, a little more than 10 percent of policyholders would see a decrease after subsidies. The rest would see either no effect or increases of up to 13 percent. Under the worst-case scenario, nobody would see a decrease before subsidies.
"This is the latest report to confirm that the current health care reform proposal fails to bend the health care cost curve and will result in double-digit premium increases for millions of Americans," said Robert Zirkelbach, spokesman for America's Health Insurance Plans, which represents the insurance industry.
The CBO report said that premiums would go up in some categories because insurance companies would be offering more benefits and Americans would opt to purchase more insurance in response to the promise of subsidies.