Senate Health Bill Totals $849 Billion, CBO Estimates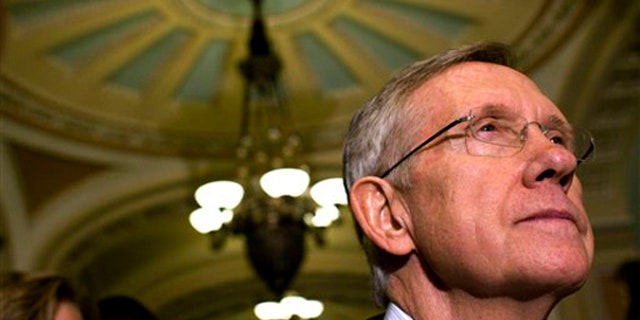 Senate Democrats on Wednesday gleefully unveiled their version of President Obama's sweeping health care overhaul plan that congressional budget analysts estimate would cost $849 billion over 10 years-- a figure in line with Obama's call for a price tag of no larger than $900 billion.
"We all acknowledge this legislation is a tremendous step forward," Senate Majority Leader Harry Reid said at a news conference, flanked by several other Democrats. "Why? Because it saves lives, saves money and protects Medicare, makes Medicare stronger."
"We've traveled really a long ways to where we are and tonight begins the last leg of this journey that we've been on now for some time," Reid added.
The Senate bill, which includes a government-run insurance plan that would allow states to opt out, would extend health care coverage to more than 94 percent of the population, or 31 million additional Americans. It also would cut the federal deficit by $127 billion over the first 10 years and as much as $650 billion over the next 10 years, according to the analysis by the nonpartisan CBO.
Republicans vowed a protracted struggle to block the legislation and deny the president a victory that would cap a tumultuous first year in office.
"This bill has been behind closed doors for weeks," said Sen. Mitch McConnell of Kentucky, the Republican leader. "Now, it's America's turn, and this will not be a short debate. Higher premiums, tax increases and Medicare cuts to pay for more government. The American people know that is not reform."
Reid released the bill and its price tag to his colleagues Wednesday afternoon. He has spent weeks merging two versions of the bill that passed out of two separate Senate committees.
Republicans have complained in recent weeks that Reid's bill was being drafted with the White House behind closed doors, kept secret from them and even most Democrats.
Reid plans to hold a procedural vote as early as Thursday to begin debate on Saturday, with a goal of passage by the end of the year.
Reid has been trying to muster the 60 votes needed to start debate. Senior Democratic leadership aides told Fox News they are confident Reid will reach that threshold. Though Democrats have a 60-vote majority, moderate Democratic Sens. Mary Landrieu of Louisiana, Ben Nelson of Nebraska and Blanche Lincoln of Arkansas were thought to be on the fence.
Nelson, though, released a written statement Wednesday afternoon saying he needs time to first review the bill that Reid unveils.
"I won't decide how I'll vote on the motion to proceed until I know what I'm voting on," he said.
An intense struggle is expected on the Senate floor, where Republicans have vowed to block the legislation, a top priority on Obama's domestic agenda.
Officials have said the measure would require most Americans to carry health insurance and would mandate large companies to provide coverage to their workers, as well as ban insurance company practices such as denying coverage on the basis of pre-existing medical conditions.
The bill would set up new insurance marketplaces -- called exchanges -- primarily for those who now have a hard time getting or keeping coverage. Subsidies would be available to help defray the cost of coverage for people with lower incomes.
The House narrowly passed its $1.2 trillion version of health care reform earlier this month with a 220-215 vote. If the Senate approves its version, it still has to be reconciled with the House bill before Obama can sign it into law.
Fox News' Trish Turner, Carl Cameron and The Associated Press contributed to this report.