Senate GOP Leader Promises Vote on Obama Budget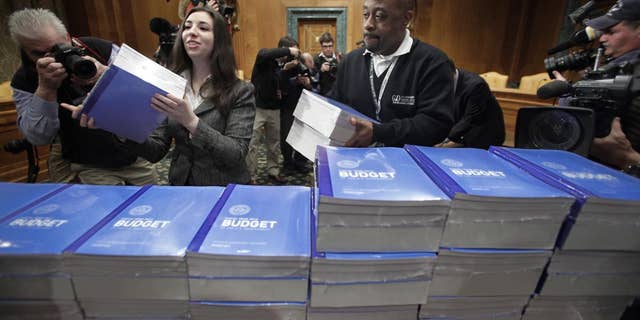 NEWYou can now listen to Fox News articles!
As Congress prepares for a bruising, partisan battle over whether to increase the country's $14.3 trillion debt ceiling, Senate leaders are already trading barbs over the budget.
Senate Republican Leader Mitch McConnell on Thursday promised Democrats that they would soon vote on President Obama's $3.7 trillion 2012 budget that trims the deficit by only $1.1 trillion over a decade, this after the leader's Democratic counterpart, Harry Reid of Nevada, told reporters a day earlier that Republicans would cast their own tough vote.
"Republicans seem to be in love with the Ryan budget," Reid said, "So we're going to have an opportunity in the Senate to vote on the Ryan budget and see if the Republican senators like the Ryan budget as much as their House colleagues did."
Reid's "Ryan" reference is to House Budget Committee Chairman Paul Ryan, R-Wisc., who introduced a plan to slash the debt by $6.2 trillion over 10 years, in part by converting Medicare to a voucher-style health care program.
"I understand that the Majority Leader would like to have a vote on the House-passed Ryan budget and we will," McConnell said in a statement. "But we'll have a vote on the President's budget at the same time. Since there is no Democrat budget in the Senate, we'll give our colleagues an opportunity to stand with the President in failing to address the problems facing our nation while calling for trillions in new spending, massive new debt and higher taxes on American energy, families and small businesses across the country."
Though McConnell did not specifically say in his statement how he would vote on the Ryan budget, Don Stewart, the leader's spokesman confirmed to Fox News that McConnell will vote for the House GOP plan.
To be sure, each plan, a nonbinding blueprint for annual spending, has items to make the other side squirm.
Raising taxes on the rich and cutting home heating assistance for the poor are two features that do not sit well with all Democrats, particularly the later point. Still others opposed what they saw as a meek approach to attacking the massive debt problem.
"What we have is a budget proposal from the President designed to get our attention, but given our fiscal challenges, it does not go far enough. This is not what the country needs or expects," Sen. Joe Manchin, D-WV, said in February.
Sen. Jeanne Shaheen, D-NH, called the Obama budget a "good starting point," but then added, "It is clear from the numbers that this budget alone does not address our deficit concerns. We must look at a comprehensive deficit reduction and tax reform package that tackles all aspects of this problem."
Senate Republicans have to be worried about the backlash from seniors in a number of key states, like Wisconsin, Pennsylvania, and Florida, where raucous townhall meetings have erupted with protesters decrying any changes to their federal health care benefit.
Sen. Susan Collins, R-Me., applauded Ryan for having "the courage to put forward a significant plan to significantly reduce the debt," but the centrist Republican added, in an interview on Portland's WCSH, "I don't happen to support Congressman Ryan's plan."
Indeed, raising the ire of a key voting population ahead of a presidential election year is a big risk, and Democrats know it.
"Senate Republicans could not be more defensive about having to go on the record about the House plan to end Medicare in order to give tax breaks to millionaires. All those negative town halls have clearly touched a nerve," Brian Fallon, a spokesman for the Senate Democratic caucus, told Fox.
One thing is clear, all of this will be an exercise in futility as neither plan is expected to get the necessary votes for passage. This partisan exercise does, however, could cause some serious angst in the ranks of those lawmakers, both Republican and Democrat, who are working overtime to find a bipartisan compromise for tackling the growing problem with the debt.