Senate Democrats Line Up GOP Votes for Financial Overhaul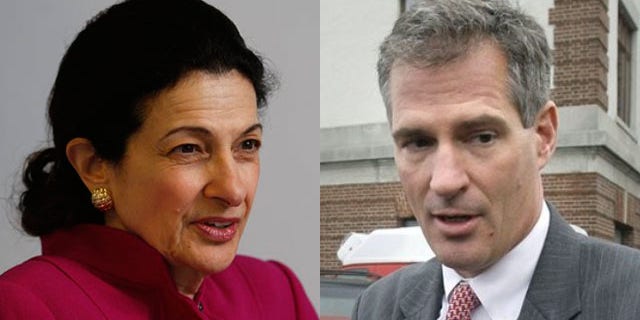 NEWYou can now listen to Fox News articles!
And then there were 60.
Democrats appear to have lined up enough GOP support to pass a sweeping financial overhaul through the Senate, after the timetable for approving the bill began to slip.
Republican Sens. Scott Brown of Massachusetts and Olympia Snowe of Maine signaled Monday they would back the financial bill, boosting its chances of passing this week. Sen. Susan Collins, R-Maine, also has said she will vote for the legislation.
And on Tuesday, Sen. Ben Nelson, D-Neb., who had been on the fence, announced his support for the bill. Together, that would give Democrats the 60 votes needed to pull the package through the Senate.
Without Nelson, Democrats might have had to wait for West Virginia Gov. Joe Manchin, who is a Democrat, to fill the vacancy created by the death of Sen. Robert Byrd. Manchin said Monday that he would fill the vacancy as early as Friday and no later than Sunday. Manchin's appointment would be expected to vote for the legislation.
A fourth Republican who voted for the Senate version in May, Charles Grassley of Iowa, has indicated he has reservations as well.
Wisconsin Sen. Russ Feingold is expected to be the only Democrat voting against it, saying it's not progressive enough. He says the new rules for Wall Street are so timid that passing them would do more harm than good, the Journal Sentinel reports.
Majority Leader Harry Reid of Nevada said the legislation would be wrapped up this week.
"We will finish our work on this bill this week to ensure that these critical protections and accountability for Wall Street are in place as soon as possible." Reid said in a statement.
The legislation attempts to rein in banks, police previously unregulated markets and provide a new array of consumer protections. It aims to avoid a recurrence of the 2008 financial crisis that helped drive the country into the worst recession since the Great Depression.
Like Snowe, Brown won concessions in the bill and said Monday that the legislation "is a better bill than it was when this whole process started."
"While it isn't perfect, I expect to support the bill when it comes up for a vote," he said in a statement. "It includes safeguards to help prevent another financial meltdown, ensures that consumers are protected and it is paid for without new taxes."
The Associated Press contributed to this report.