Senate Confirms Alejandro Mayorkas As Deputy Director Of Homeland Security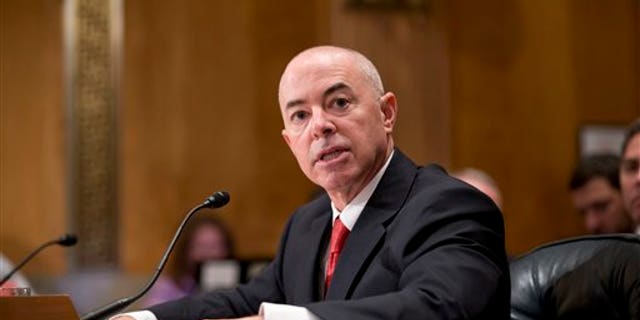 NEWYou can now listen to Fox News articles!
The former director of the United States Citizenship and Immigration Services (USCIS) is now the No. 2 official in that department's parent agency, the Department of Homeland Security.
The Senate confirmed Alejandro Mayorkas nomination on Friday. The position has been without a Senate-confirmed leader since April.
Senate Judiciary Committee Chairman Patrick Leahy, a Vermont Democrat, hailed the Senate's confirmation vote.
"The Department of Homeland Security is the leading agency for some of the most pressing issues facing our nation, from providing disaster relief to protecting our borders," said Leahy, who spoke on the floor after the nomination was confirmed. "To serve the American people, this agency needs a full complement of leaders. With the Senate's action today, the Department now has in place its most important leaders in Alejandro Mayorkas and Jeh Johnson."
Mayorkas' confirmation comes over GOP concerns that he remains the subject of an internal investigation into his decisions in a foreign investor visa program. Democrats say the probe has uncovered nothing improper. Mayorkas has denied any wrongdoing.
Stepping into Mayorkas' old role will be Leon Rodriguez, who was picked by President Barack Obama to be director of USCIS.
Rodriguez is leaving the post as the director of the Office for Civil Rights at the Department of Health and Human Services.
The 54-41 vote to confirm Mayorkas clears one of dozens of Obama's nominees to high government offices.
Under a deal struck only hours earlier, votes are expected to confirm John Andrew Koskinen to head the Internal Revenue Service and Brian J. Davis as U.S. District judge for Florida. The agreement calls for the Senate to vote on the confirmation of Janet Yellen to chair the Federal Reserve on Jan. 6.
The Associated Press contributed to this report.
Follow us on twitter.com/foxnewslatino
Like us at facebook.com/foxnewslatino