Senate blocks measure banning funding for sanctuary cities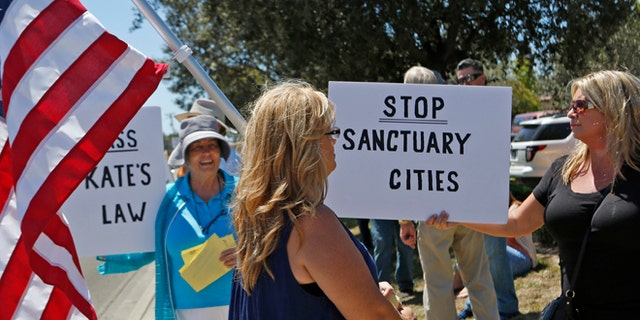 A measure that sought to prohibit federal funds from sanctuary cities – jurisdictions that resist turning over undocumented immigrants to federal authorities – has been blocked by a 53-44 vote in the Senate on Wednesday.
The measure, which stemmed from last year's deadly San Francisco shooting involving an immigrant living in the U.S. illegally, was one of two immigration measures that were blocked Senators in an election-year standoff.
The second measure would have increased the maximum sentence for illegal re-entry into the country, allowing for up to a 10-year penalty for an individual denied admission or deported at least three times. That failed on a 55-42 vote.
Both measures faced a 60-vote threshold.
Congressional Republicans have pressed for restrictions since the July 2015 shooting of Kathryn Steinle in San Francisco. The man charged in her death, Juan Francisco López Sánchez, was in the country illegally despite a long criminal record and multiple deportations. He had been released by San Francisco authorities despite a request from federal immigration authorities to keep him detained.
The Obama administration strongly opposed both bills, arguing that neither offered "comprehensive reforms needed to fix the nation's broken immigration laws." The Senate passed a major immigration overhaul in 2013, but the legislation died in the House as conservatives strongly opposed any path to citizenship for the 11 million immigrants living here illegally. The bill also would have boosted border security and increased visas for legal immigrants.
The sanctuary city bill was sponsored by Republican Sen. Pat Toomey, who is locked in a tough re-election race in Pennsylvania.
"Sanctuary cities are Orwellian in their logic — they give extra protection to dangerous criminals, just because they happen to be in the country illegally," the senator said after the vote.
The second measure was sponsored by Sen. Ted Cruz, R-Texas, who waged an unsuccessful bid for president this year.
"We are failing to adequately deter deported illegal aliens from illegally re-entering the country, especially those with violent criminal records," Cruz said.
Based on reporting by the Associated Press.