Sen. Ted Cruz presents detailed alternative to 'Obamacare' in the form of law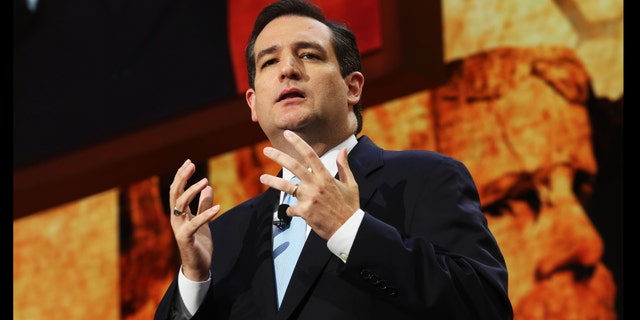 NEWYou can now listen to Fox News articles!
Sen. Ted Cruz is adding his own health insurance proposal to several others by fellow Republicans to counter President Barack Obama's Affordable Care Act.
The Texan's measure calls for people to be able to cross state lines to buy a health insurance plan, and would undo parts of the president's plan, known as Obamacare, The Hill reported.
Sen. Marco Rubio, a Florida Republican, is a co-sponsor of Cruz's bill.
Cruz offered his plan on Tuesday, as the U.S. Supreme Court prepared to hear arguments in a major test of Obama's health overhaul that threatens insurance coverage for millions of people.
Cruz's plan, called the Health Care Choices Act, would omit the mandate to buy insurance, among other things in the president's program.
The Hill says that Cruz, and other Republicans who have submitted their own alternatives to Obamacare, want to point to their plans if the Supreme Court takes aim at subsidies that allow some 8 million people in about 36 states to afford healthcare.
The Supreme Court is scheduled to hear arguments on Wednesday.
"The administration has done absolutely nothing to prepare for an upcoming Supreme Court decision that could leave millions of Americans unable to afford insurance thanks to this failed law," Cruz said in a statement quoted in The Hill. "Republicans must offer the American people alternatives that lower costs and break the status quo that favors big government and big health care business over hardworking Americans."
Other Republican-proposed plans would offer tax credits to people buying insurance and would not require states to comply by Obamacare mandates, The Hill said.
While the other proposed plans have been put forth mainly in rather vague terms, through op-eds, Cruz's proposal is detailed and laid out in the form of legislation, The Hill reported.
"Every last word of Obamacare must be repealed," Cruz said in the statement. "And while we continue that fight, we must also send bill after bill to the president's desk to stop its harmful effects."