Sen. Ted Cruz bashes confirmation of Loretta Lynch, then skips out on vote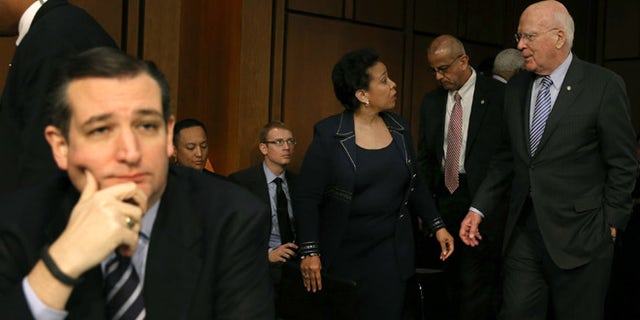 NEWYou can now listen to Fox News articles!
WASHINGTON (AP) – Republican presidential candidate Ted Cruz delivered an impassioned speech on the Senate floor against confirming Loretta Lynch as U.S. attorney general, calling her unsuitable for the position.
Then he was the only senator to skip out on the confirmation vote.
"We have a nominee who has told the United States Senate she is unwilling to impose any limits whatsoever on the authority of the president of the United States," Cruz said. "In the next 20 months, we are sadly going to see more and more lawlessness, more recklessness, more abuse of power, more executive lawlessness."
Cruz said that based on Lynch's answers at her confirmation hearing, in which she supported President Barack Obama's executive actions on immigration, "in my opinion render her unsuitable for confirmation as attorney general of the United States."
He concluded his remarks at 11:23 a.m. Eastern time, and then he cast a procedural vote against moving ahead on her nomination. But when the roll was called at 1:37 p.m. for the final vote, Cruz was gone.
The Senate confirmed Lynch 56-43, with 10 Republicans joining 44 Democrats and two independents in backing President Barack Obama's nominee.
The Texas senator's office argued that the procedural vote was more important.
"Senator Cruz voted no on cloture which was the vote that mattered," said his spokeswoman, Amanda Carpenter. "His opposition to the nominee is clear, and he has encouraged his Republican colleagues to stop the nomination at every step in the process."
Cruz also had a campaign fundraiser in Dallas on Thursday night, according to his campaign website.
It was the second day in a row that Cruz missed a major Senate tally. On Wednesday, he was absent for the vote on a bill expanding law enforcement tools to target sex traffickers and creating a new fund to help victims. That bill passed 99-0.
As attorney general Lynch assumes a portfolio that includes fighting terrorism, preventing cyberattacks and dealing with police and race — issues strikingly similar to what she's dealt with as top federal prosecutor for much of New York City and its eastern suburbs.
She inherits a Justice Department consumed by efforts to stop the flow of Islamic State recruits to Syria and prevent destructive computer crimes against American corporations. And she arrives with the department at the center of an ongoing national dialogue on relations between police and minority communities, something she pledged at her confirmation hearing to address.
The Senate's confirmation Thursday of Lynch, 55, makes her the first African-American woman to hold the position. She's expected to be sworn in next week to replace Eric Holder following his six-year tenure.