Sen. Menendez weighs in on death of Argentinian prosecutor Alberto Nisman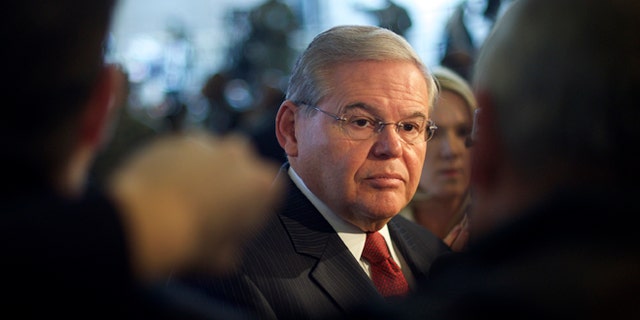 NEWYou can now listen to Fox News articles!
Sen. Bob Menendez, the ranking member of the Senate Foreign Relations Committee, is calling for a full investigation into the death of Alberto Nisman, the Argentinian special prosecutor assigned to look into the 1994 bombing of the AMIA Jewish community center in Buenos Aires.
Menendez is requesting that the U.S. State Department and the U.S. Embassy in Buenos Aires press the Argentinian government to provide answers regarding the death of the 51-year-old lawyer.
Nisman was found dead late Sunday in his Buenos Aires apartment. He was lying on the bathroom floor next to a .22-caliber handgun and a bullet casing.
While his death was originally ruled a suicide, family and friends of Nisman – as well as President Cristina Fernández de Kirchner - rejected the finding and protesters took to the streets demanding justice for the prosecutor, who had spent 10 years investigating the nation's deadliest terror attack ever.
"President Fernández de Kirchner's announcement that Mr. Nisman's death was not a suicide raises troubling new questions," Menendez said in a statement. "The increasingly suspicious conditions surrounding Mr. Nisman's death, just hours before he was scheduled to testify before the Argentine Congress, demand a thorough and transparent investigation."
Nisman's report on the AMIA case, which was released Tuesday night, revealed intercepted conversations between representatives of the Iranian and Argentinian governments that point to a long pattern of secret negotiations between the two nations. The transcripts appear to reveal that Argentina struck a deal to receive oil from Iran and in return would shield the Iranians involved in the bombing from prosecution. Iran would also receive beef and grains from Argentina.
The deal, however, never materialized as Argentina was unable to persuade Interpol to lift its "red notices" for the arrest of five of the Iranians, and the government said trade with Iran had diminished in recent years.
In an interview Friday with Fox News Latino, Menendez said he is pursuing briefings about the Iran-related allegations.
"The circumstances around the prosecutor and my longtime concerns about what has happened to the Jewish community in Argentina make me seriously concerned about all of these reports [about Iran's role] that are out there," Menendez said.
He added that Iran's forays into the Western Hemisphere in order to expand its influence is in itself worrisome.
"This is a state sponsor of terrorism in our own hemisphere," Menendez said about Iran.
"If the reports are true, it would not only be shocking but seriously disturbing," Menendez said about an Iran-Argentina secret deal. "We would need to respond. It would need to be vigorously pursued with the Argentinian government. We would have to look at all of our diplomatic arsenal to think about how to respond to that."
From the beginning, on social media and throughout the world, many questioned whether Nisman killed himself.
No suicide note was found and a test of Nisman's hand showed no gunpowder residue, though investigators said that may have been due to the small caliber of the gun.
Also feeding suspicion was the rapid appearance of national Security Secretary Sergio Berni at the apartment, since he is a government – and not a judicial -- official. He denied allegations that he altered the crime scene.
Then the locksmith who opened the back door to give investigators access to Nisman's apartment said it hadn't been properly locked, raising speculation about whether a killer might have entered or exited the 13-story dwelling.
Four days before Nisman was found dead the prosecutor gave a judge a 289-page report alleging that Fernández de Kirchner secretly reached a deal to prevent the prosecution of former Iranian officials accused of involvement in the 1994 car bombing of Argentina's largest Jewish center.
"I was shocked to learn about the tragic circumstances surrounding the death of Mr. Nisman, who worked tirelessly in pursuit of justice for the 85 victims of the devastating 1994 terrorist attack against Argentina's Jewish community," Menendez said in his press release.
"My thoughts are with Argentina's Jewish community as it once again suffers the frustrations of not seeing justice served for the victims of the brutal 1994 attack," he added. "It has been said that Mr. Nisman is now the 86th victim of the AMIA terror attack and we must ensure that all questions surrounding their deaths are answered and that justice prevails."
To be sure, he said to Fox News Latino, Argentina has plenty of red flags already.
"You already have a country that defaults on its debt, and has been involved in cover-ups on actions that were taken against the Jewish community. So it's a country where we already have concerns."
In recent days, other lawmakers, including U.S. Sen. Marco Rubio and U.S. Rep. Ileana Ros-Lehtinen, both of Florida, also have called for a special investigation into Nisman's death.