Sen. Lincoln's Past Support of Health Care Puts Her in Tea Party's Cross Hairs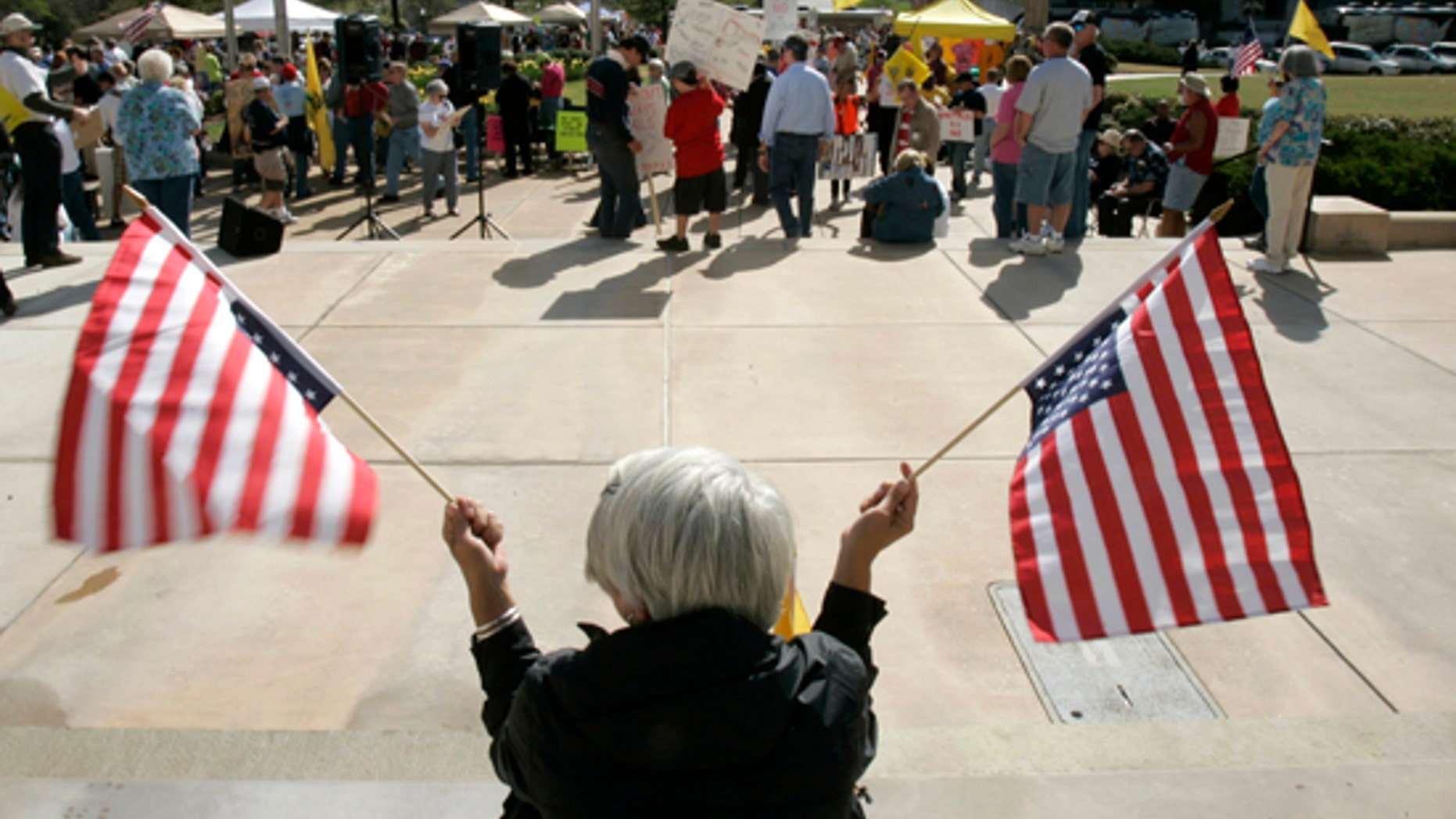 Little Rock, Ark. – Sen. Blanche Lincoln has become the latest target of the Tea Party Movement as the conservative activists take aim at her support for President Obama's health care legislation last year.
The Tea Party Express barreled into the state Capitol on Saturday to rally against the Arkansas Democrat whose last-minute support helped pass the Senate version of the health care legislation Christmas Eve. But Lincoln voted against a companion bill last month that reshaped parts of the new law.
That didn't deter Tea Party activists Saturday who held signs reading "Bye, bye Blanche" and "Repeal Obamacare," and sought to portray Lincoln as a chameleon who panders to both parties at her own political convenience.
Lincoln, a conservative two-term Democrat, is facing a tough battle in her bid for reelection—a critical midterm race that could upset the balance of power in the U.S. Senate.
The rally was sponsored by the Tea Party Express, which has launched a cross-country bus tour targeting a number of incumbent Democrats, including Senate Majority Leader Harry Reid of Nevada and House Speaker Nancy Pelosi of California.
The influence of the Tea Party Movement can be seen in Republican primaries across the country, including Florida, Utah, California, and Arizona.
Now Lincoln is feeling the wrath of Tea Party anger in Arkansas.
"She straddled the fence all the way up to the list minute when she became the 60th vote in the Senate," said John Allison, a high school math teacher and outspoken member of the Arkansas Tea Party. "She knew full well the people of Arkansas opposed this bill."
Disapproval of Obama's massive health care legislation runs deep in Arkansas. A Rasmussen poll released Thursday found that 60 percent of likely voters in Arkansas think the health care law is bad for the country—despite the state's relatively high percentage of uninsured, which stands at 17.8 percent.
But Lincoln's supporters say the Arkansas Democrat has stood solidly behind her party in voting to support Obama's measure, and has prided herself in her centrist voting record.
"Sen. Lincoln spent about two years working from her seat on the Senate Finance Committee to shape health care reform legislation that's going to benefit Arkansas," said Katie Laning Niebaum, a spokeswoman for Lincoln. "The bill she voted for on Christmas Eve does just that."
Lincoln, who threatened to join a Republican filibuster if the health care bill included a government-run insurance plan, voted in favor of the $938 billion legislation that passed the Senate in December. But the moderate Democrat later became one of three in her party to vote against a companion bill, also signed into law, which sought to reshape parts of the new health care overhaul law.
Lincoln argued that the package of amendments sent over by the House "did not undergo the same scrutiny and transparency as the Senate health bill that is now law," adding that her vote against the reconciliation measure did not undermine her "commitment to ensuring the implementation of health care reform."
"She's a flip-flopper," said Arkansas Republican party chairman Doyle Webb, "and voters see her as disingenuous."
Not so, says Niebaum, noting that the senator favored a number of individual provisions in the measure, including the removal of at least $100 million of federal government Medicaid payments given to Nebraska in the Senate bill. Her vote against the reconciliation bill was "entirely an issue of transparency," she said.
Still, Lincoln's political fate remains uncertain in Arkansas, where she is viewed unfavorably by 42 percent of voters and favorably by only 18 percent, according to the same Rasmussen poll released Thursday.
The survey, which polled 500 likely voters in the state, also shows her liberal Democratic challenger, Lt. Gov. Bill Halter, gaining momentum in the May 18 primary race. And four of Lincoln's eight Republican opponents, including Rep. John Boozeman, R-Ark., and state senator Gilbert Baker, have more than 50 percent of the vote in a match-up against her, according to the poll.
But political observers say Lincoln's unorthodox voting record is vital to her political survival in Arkansas, where the constituency is overwhelmingly conservative.
Roughly 60 percent of the electorate voted for McCain in the 2008 presidential election, giving the Arizona senator a 20-point margin of victory over then-candidate Barack Obama.
"She has to nuance her position on issues of salience," said Richard Wang, chairman of the political science department at Arkansas State University. "That's the tried and true approach for Democrats in Arkansas."
"She's damned if she does and damned if she doesn't," Wang said of Lincoln's positions, adding that he believes she'll prevail in the primary. "Running as a Democrat in Arkansas means that you have to be in the middle, which puts you out of sync with the national party."