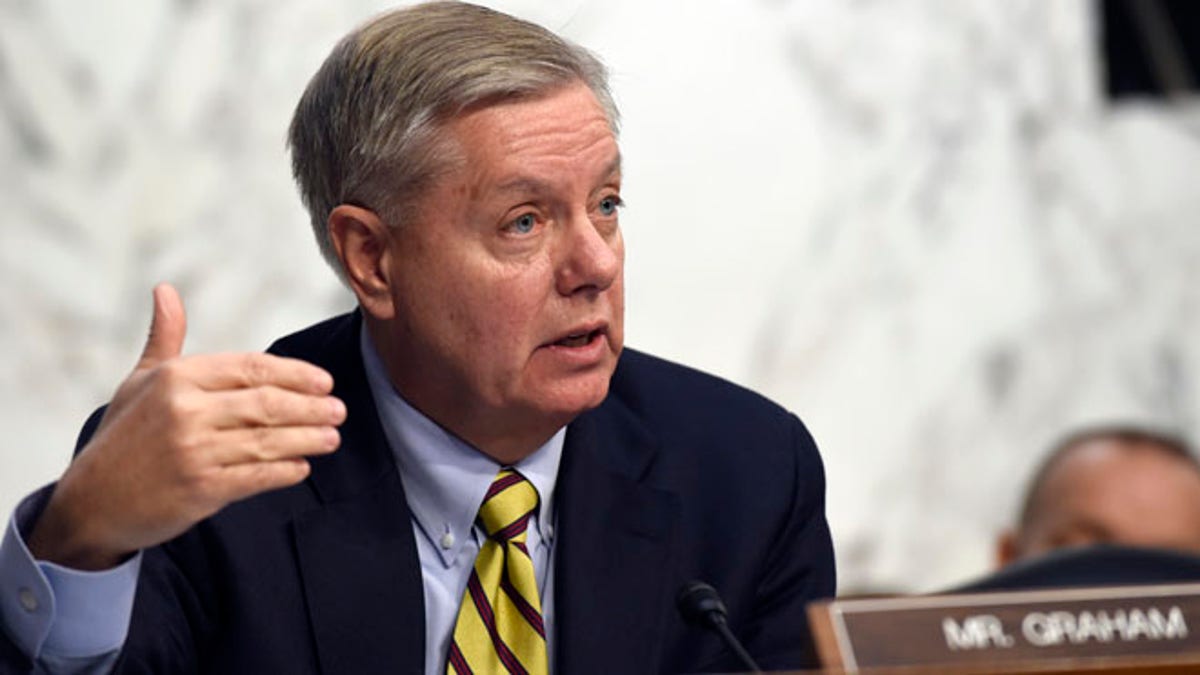 COLUMBIA, S.C. – South Carolina voters often think of themselves as presidential tie-breakers, enjoying their prime role as the next to cast ballots after Iowa's caucuses and New Hampshire's primary.
But what if there's a ringer in the race?
The state's senior senator, Republican Lindsey Graham, is flirting with running for president, an idea some initially saw as so unlikely that many thought his longtime Senate buddy John McCain was joking when he mentioned it the first time.
Graham is serious, launching a campaign-like organization and starting to lay the groundwork for a bid. He gave a well-received speech to the influential Republican Jewish Coalition last week in Washington. Next week, he is scheduled to visit California to meet with donors and then head to Iowa.
His potential entry into the race has put his state's political talent into a holding pattern. As they wait for Graham to decide whether to run in a state carried by every GOP nominee since 1980, with Mitt Romney's loss to former House Speaker Newt Gingrich in 2012 the lone exception, they're debating among themselves whether he can -- or should -- mount a national campaign.
"Everything's kind of frozen here right now, waiting to see what he'll do," said Warren Tompkins, a longtime Republican operative who ran South Carolina campaigns for President George W. Bush and Romney in 2012.
Added Tompkins' sometimes adversary, Richard Quinn, who ran McCain's 2000 campaign in the state: "I've been with (Graham) since he ran for Congress in `93, and whatever Lindsey does this cycle, I'll be in his corner."
Such loyalty shouldn't be viewed as a harbinger of Graham coasting to an easy win in South Carolina, however. Iowa Gov. Tom Vilsack was one of the first candidates to enter -- and then leave -- the 2008 campaign, and Romney, who owns a vacation home in New Hampshire, came up short that same year in his adopted state's primary.
South Carolina is deeply conservative in the "upstate" around Greenville and Spartanburg, less so near the state capital of Columbia, with a coastline that's home to thousands of retirees and members of the military who have moved from elsewhere, bringing their brand of GOP politics with them.
"When you come to South Carolina and win, it means you've checked off all the boxes: social conservative, fiscal conservative, strong defense, all of it," said Katon Dawson, a former state party chairman who backs former Texas Gov. Rick Perry in 2016.
Graham has not faced a serious challenge on his home turf in years. Dawson, who ran a super PAC that helped Graham easily dispatch a bevy of tea party challengers on his way to an easy re-election last fall, summed up the challenge: "Can he get folks here at home to look at him as something bigger than a senator?"
Graham has said he plans to assess his viability outside South Carolina, suggesting he will not run if he can't raise money and establish a network of support in Iowa and New Hampshire.
"I know him pretty well, and I don't think he would get into this if he weren't giving it serious thought," Quinn said. "He would do extremely well in South Carolina, and I think he would exceed expectations elsewhere."
A fierce critic of President Barack Obama's foreign policy, Graham could have his biggest impact in forcing his Republican rivals to discuss foreign policy and military affairs. Vague assessments of foreign threats, such as that posed by Islamic State militants, will not be sufficient in head-to-head debates with Graham, who is a skilled debater after years of frequent appearances on the television networks' Sunday political talk shows.
"I am still standing, talking directly to the people at home and to the nation about what I think we need to win," Graham said in an interview this week, discussing the threats from Islamic State fighters in Iraq and Syria. "I'm not trying to calculate my answers and find some middle ground politically. I'm trying to win."
Graham's potential entry into the race may have stalled the state's talent from taking sides in the presidential sweepstakes for the moment. But the rest of the large GOP field is eager to contest the state.
Perry has made several trips to South Carolina. Louisiana Gov. Bobby Jindal, Wisconsin Gov. Scott Walker and New Jersey Gov. Chris Christie all helped their South Carolina colleague, Nikki Haley, raise money for her successful re-election campaign last year, and Christie returned for her inauguration in January.
Texas Sen. Ted Cruz recently addressed the state tea party convention, while Walker and Florida Sen. Marco Rubio are both planning trips soon.
"It's still early," Tompkins said. "There's time for all of this to play out."
Pushed on his timeline for deciding on the race, Graham turned away from a reporter this week on Capitol Hill and walked away with a chuckle. "You'll be the first to know," he said with a broad smile.