Sen. Byrd Viewing Goes into Wee Hours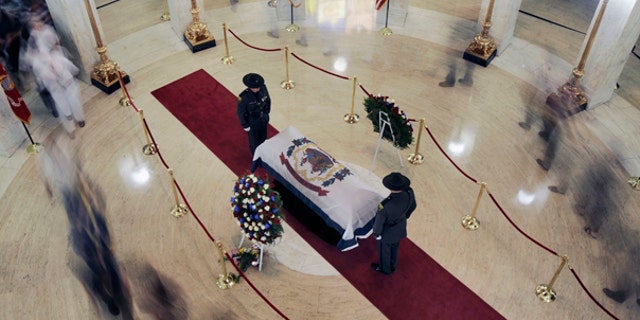 CHARLESTON, W.Va. -- They came by the thousands to pay their respects to U.S. Sen. Robert C. Byrd, and they kept trickling in past midnight and into the early morning hours Friday to honor a statesman, a scholar and, above all, a proud West Virginian.
Under a shadow cast by a sprawling walnut tree, Janet Artrip, 67, wiped away tears for the man who played fiddle for her and her late husband and who chatted with them in Huntington.
Like Artrip, many visitors had a personal remembrance of the man who had served in the U.S. Senate for 51 years and who died Monday at the age of 92.
But most didn't have a direct connection to Byrd, who was known for enriching West Virginia during his unprecedented tenure.
John Hamon, 50, of Charleston stood outside the Capitol after midnight to simply honor "a great man" he had never met.
"The state has lost a good man. The whole country has, actually," said Hamon, a medical technician.
Byrd's body lay in repose for six hours in the U.S. Senate chamber before he was returned to West Virginia on Thursday for a processional through the capital city. His casket, a West Virginia flag draped over it, was carried to the lower rotunda of the statehouse under a glittering chandelier and encircled by 16 marble columns. The public viewing continued until the building was prepared for a Friday morning visit by President Barack Obama, Vice President Joe Biden and a who's who of national political figures.
On a perfect summer night, thousands of visitors quietly lined up along the corridor of the west wing lined by portraits of former governors, snaking outside the building hundreds of feet beyond the doors of the Capitol.
Only after midnight did the crowd thin to a scattering of people, some holding children in blankets against the chill night air. Many hustled in after working a late shift. As the morning drew closer, the line had dissolved to small knots of bleary-eyed people walking into the building every few minutes.
Julie Davis, 55, of the tiny town of Kermit left the Capitol at 2:30 a.m. with her son, Doug. They made the late 90-minute drive from Mingo County's coal country to Charleston to avoid the crowds. She has diabetes and can't stand for long periods.
"He was one of what I would call a dying breed. He was a true gentleman," the retired school teacher said.
Gov. Joe Manchin mixed it up with the crowd, posing for pictures and reflecting on what Byrd had meant for his state. He lingered on well past midnight before retiring to the governor's mansion nearby.
"West Virginia's just like a family," Manchin said. "There's less than 2 million of us and we take care of each other in times that are difficult. We cry together, laugh together. This is a time where we're a little bit of both -- a little bit of mourning and celebrating at the same time, that we're so fortunate to have him in West Virginia."
In the governor's reception room, across from a bank of 11 guest books filled with thousands of signatures, the scent of roses arranged in huge bouquets filled a room crowded with mementoes. Guests could take a postcard-sized photo of Byrd with his beloved Shih Tzu "Trouble" on his lap. Below the photo were the words: "When I am gone and opened, they will find West Virginia on my heart."
The reverse side contained the 23rd Psalm, which opens with: "The Lord is my shepherd; I shall not want."
Elsewhere in the Capitol, a young Byrd was shown in photos with President Richard Nixon, Hubert Humphrey and in a coal mine with a hard hat sitting at a jaunty angle on his head. Few lingered over the displays, and instead quietly moved up the long corridor to view Byrd's casket.
A group that drove five hours from Shepherdstown lingered outside the west wing after paying their respects early Friday.
Jenny Allen, 39, a fundraiser, had met Byrd many times but still felt the tug of history in his presence.
"When you were around him, it felt like you were meeting a giant in history," she said. Still, despite his stature, he was a gentle presence and he was "lovely to my son," Allen added.
"I think a lot of people feel like they've lost someone in their family tonight."