Seeing red: DC mayor makes good on pledge to cover city in traffic cams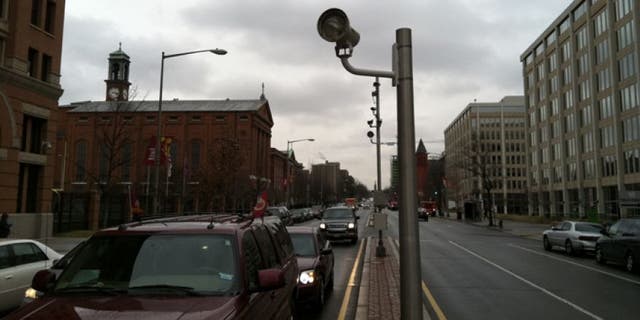 WASHINGTON – The mayor of the nation's capital wasn't kidding last year when he said he wanted to "cover the entire city" in traffic cameras.
The District of Columbia -- which in 2012 hauled in roughly $85 million in traffic-ticket revenue -- has doubled its dragnet of cameras to nearly 200 with a "new generation" of devices which critics say also take aim at law-abiding motorists blocked in crosswalks and intersections. The move has sparked concern from driver-advocacy group AAA that municipal leaders may be going to new lengths to monitor and punish motorists.
"Some cities will have some of these new cameras," Lon Anderson, AAA Mid-Atlantic's director of public and government relations, said. "But none will have this full of an arsenal."
The 100 so-called "new generation" cameras turned on Saturday will take pictures of vehicles running stop signs (32), stuck in crosswalks (16) and intersections (20), of oversized vehicles on restricted roads (8) and of motorists accelerating through intersections (24) -- even if they're trying to avoid getting a camera-generated red-light ticket.
The District already had 47 red-light and 43 fixed and mobile speed cameras that last year generated roughly $85 million in revenue -- $72 million from the speed cameras and nearly $13 million from the red-light cameras, according to AAA Mid-Atlantic.
"Eventually, we would like to be able to cover the entire city," Mayor Vincent Gray, a Democrat, said when answering questions in March 2012 about his budget and how many cameras he wanted to add to the District's then web of 90 devices.
Gray argued then that the goal was to improve bike and pedestrian safety but conceded his proposed additions could generate at least an additional $25 million toward closing a $172 million budget gap.
Police officials in announcing the program on Friday echoed Gray's concerns about pedestrian and cyclist safety, adding cameras "combat aggressive and dangerous driving" and suggesting they were put in places too dangerous for traffic cops.
John Townsend, a AAA Mid-Atlantic spokesman, doesn't argue that people who break traffic laws shouldn't be punished. But he takes issue with the intersection or so-called "gridlock" cameras.
"You cannot anticipate a commercial truck pulling over to unload coffee or liquor at Old Ebbitt Grill, especially if you're driving through an intersection in a car with an SUV in front of you. … The District has some of the worst gridlock in the country, and you're going to ticket somebody for a problem they didn't create?"
To be sure, police in announcing the D.C. Street Safe plan said the District ranks No. 3 in traffic congestion among the country's largest urban areas.