Secure Communities: Latinos Take Immigration Battle to Obama's Footstep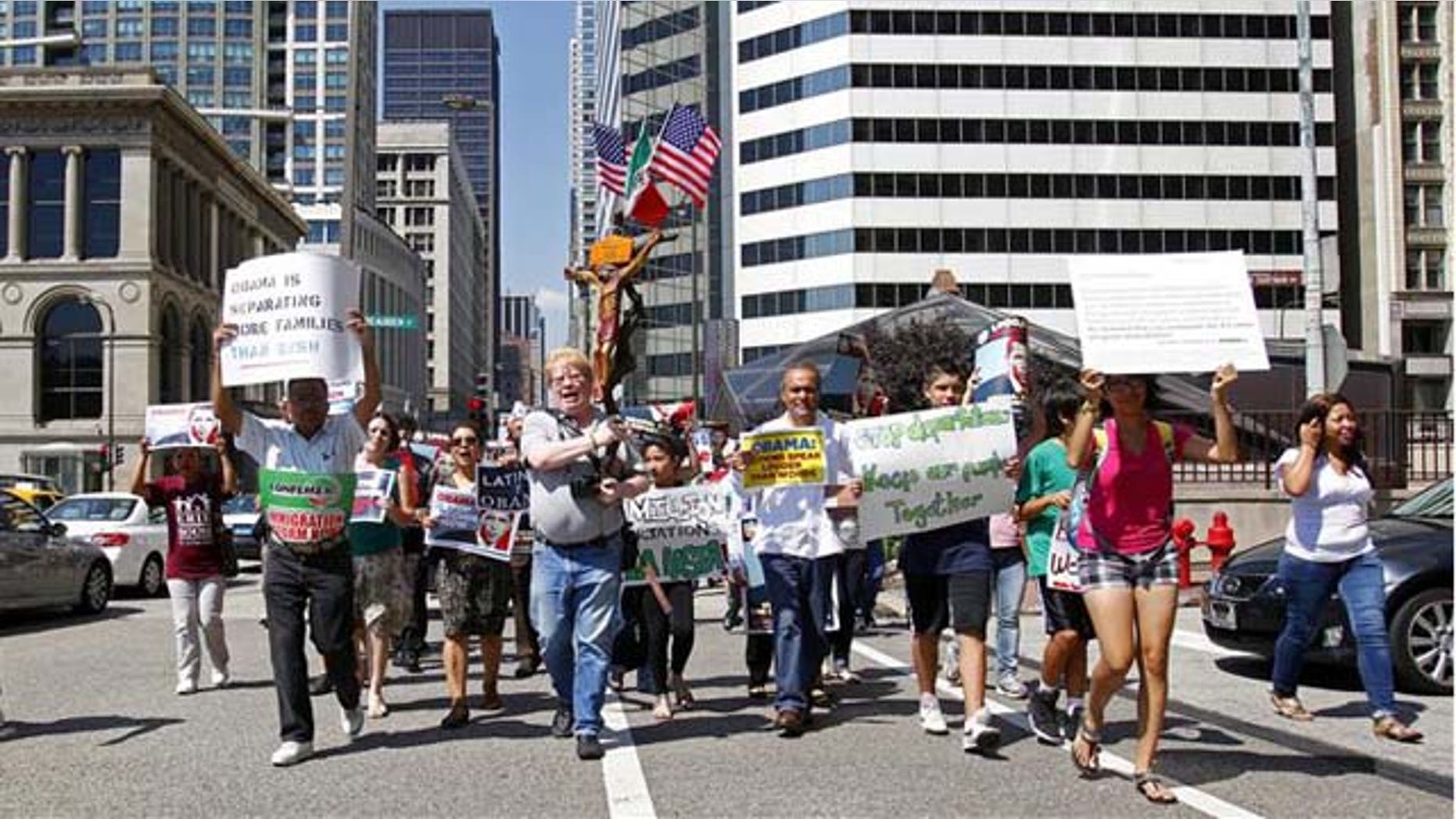 Latinos in six cities railed against President Obama's immigration policies Wednesday – and threatened to turn their backs on him come Election Day.
The protestors criticized the president for his record on deportations and Secure Communities, the controversial program that requires local law enforcement to share information of people arrested with immigration officials. The Department of Homeland Security said earlier this month that it would expand the program nationwide by 2013.
The coalition of Latino groups simultaneously rallied in the following six cities: Chicago; Houston; Boston; Miami; Atlanta; and Charlotte. Organizers said they delivered petitions signed by tens of thousands of supporters.
Some 200 protestors even went to Obama's campaign office in Chicago to deliver the message, organizers said.
"We are here to try to save the Obama campaign from itself," said Roberto Lovato, one of the organizers. "If he continues with these massive deportations and Secure Communities, he's going to lose the election."
In a lengthy response, the White House said that DHS has for the "first time has prioritized the removal of people who have been convicted of crimes in the United States. It further defended its record of deportations, saying more than half of all removals are people with criminal records.
It said it was proud of Secure Communities, too.
"The Secure Communities Program is a powerful tool to keep the government's immigration enforcement resources where they belong – on those who fit within DHS's highest enforcement priorities, such as those who have committed crimes in the United States," said Cecilia Muñoz, the director of intergovernmental affairs for the White House.
The controversy over the program and its implementation has been criticized by politicians. Governors in New York, Massachusetts and Illinois – not to mention officials in other localities – wanted to withdraw from program.
In Los Angeles, meanwhile, The Associated Press said 200 people – carrying signs that read "Terminate Secure Communities" and waving Mexican and Brazilian flags – attended a public hearing on Secure Communities held by U.S. Immigration and Customs Enforcement (ICE) and called for an end to the program.
"Every day I live the nightmare of this program," Blanca Pérez, 38, who said she was arrested in February for street vending without a permit, told The AP. "Now I am facing deportation for the simple act of selling ice cream in the street."
On Tuesday, the National Day Laborer Organizing Network released a report condemning Secure Communities and calling for its termination.
"This report confirms what immigrant communities have long known. The program called Secure Communities results in the opposite," the National Community Advisory Commission said in a statement.  "Entangling local police in immigration enforcement is not just bad policy as the experts testify.
"Conscripting local police into immigration enforcement has provoked a massive civil rights crisis our country now faces," the statement continued. "The only suitable approach is to end Secure Communities."
The Department of Homeland Security, meanwhile, said in a statement that it has recently developed additional training for local law enforcement along with a new policy to protect domestic violence victims.
It also said it created the task force to make recommendations for other changes, recognizing "that there is room for improvement in the operation of the program."
ICE is currently running the program in 44 states and plans to achieve nationwide coverage in 2013.
Local law enforcement agencies routinely send fingerprints to the FBI for criminal background checks when an individual is arrested. Under Secure Communities, the FBI shares the fingerprints with Homeland Security to look for potentially deportable immigrants.
President Obama, whom the Latino community overwhelmingly supported in the 2008 election, has gotten mixed reviews. In recent months, he has made an effort to woo Hispanics, like visiting Puerto Rico and El Paso, and giving a speech before the National Council of La Raza.
At the Chicago rally, Oscar Chacón, executive director of the National Alliance of Latin American and Caribbean Communities, said the White House has his priorities mixed up.
"Secure Communities doesn't contribute any tangible benefit to anyone, it has to disappear," he said. "What makes the communities unsafe is the bad state of the economy."
The Associated Press and Efe contributed to this story.
Follow us on twitter.com/foxnewslatino
Like us at facebook.com/foxnewslatino