Secret Service seeks $8 million to build fake White House for training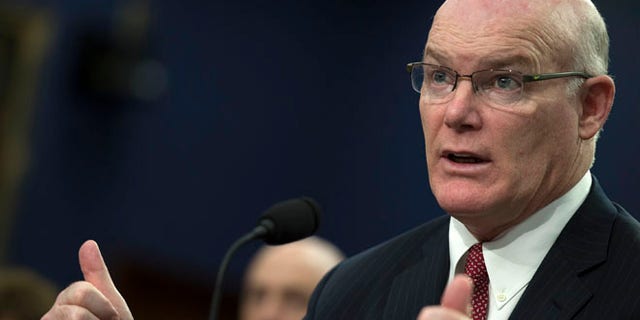 NEWYou can now listen to Fox News articles!
WASHINGTON – Still smarting from a string of embarrassing security incidents, the Secret Service is asking Congress for $8 million to build a replica of the White House to better train its agents.
Secret Service Director Joseph Clancy made his pitch for the fake White House Tuesday before a House Appropriations subcommittee.
Currently, agents are trained at a parking lot in Beltsville, Md., about 20 miles from the White House -- Clancy argued in written testimony that the facility is not enough.
It's a "rudimentary, not-to-scale simulation of the north grounds of the White House, using bike barricades to act as the fencing," he said. "There are no structures, vehicle gates, lighting, or other aides to enhance the training simulations at the JJRTC (training center)."
Clancy said the "mock-up," which he wants to build on that Maryland site, would allow for a more "realistic" training environment. This would include mock-ups of the White House residence, East and West Wings, guard booths and surrounding grounds, he said. The $8 million would cover design and initial construction.
But the request was met with skepticism from lawmakers at Tuesday's hearing.
"You want to build a $8 million White House replica for training?" Rep. Henry Cuellar, D-Texas, asked. "I have concerns about that. Not that I don't want to be supportive, but I have concerns about $8 million for a replica White House."
The Secret Service leadership has had an increasingly contentious relationship with Congress. During his testimony, Clancy was forced to defend the Secret Service's latest misstep involving two agents driving through a suspicious package investigation scene at the White House after a night of partying. Clancy said it took five days before he even found out about the incident.
Clancy said he would take action after an inspector general investigation – a move Rep. Harold Rogers, R-Ky., called "hogwash."
"Unfortunately, this is the last in a long line of episodes somewhat similar – drinking, carousing on and off duty that this agency suffered these last few years," Rogers said.
The incident is the latest in a series of embarrassing episodes for the agency that have raised questions about its leadership and ability to do its job.
In September, a man carrying a knife climbed over the White House fence, ran to the front door and made it to the East Room before being stopped by an agent.
This followed other incidents where agents were accused of drinking while on assignment, including ahead of a presidential visit to the Netherlands. Agents were also sent home from an assignment in Colombia in 2012, after some were accused of hiring prostitutes. The incident led to three employees returning to duty, six resigning or retiring and four having their clearances revoked and being removed from their posts.