Secret Service agent in scuffle with photographer at Trump rally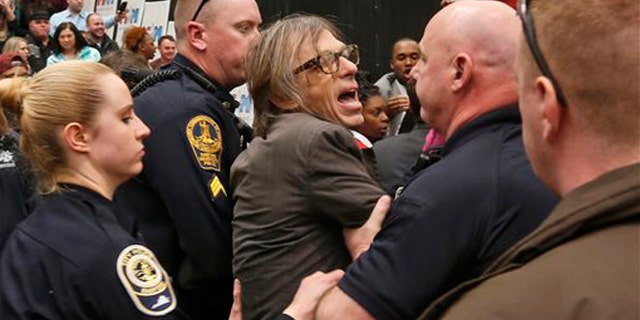 A Secret Service agent was filmed body-slamming a photographer amid a rowdy and protest-ridden Donald Trump rally on Monday, after the photographer cursed at the agent while trying to cover the commotion.
Chris Morris, the photographer who is contracted to cover the campaign for TIME, was escorted out of the tense rally in Virginia amid an anti-Trump protest, and detained before being released. The Secret Service says it is investigating "the exact circumstances." Trump's hour-long speech at Radford was interrupted multiple times by protesters — some individual, others acting in groups.
Videos of the incident taken by reporters and attendees show Morris attempting to secure a better position to photograph some of the many protesters kicked out of Trump's Radford event. Rebuffed, Morris is heard cursing at the agent, who then grabs Morris and takes him to the ground.
Seconds later, Morris touched the agent to demonstrate his version of what happened. He was then escorted out.
Trump's campaign says it is not aware of all the details surrounding the incident.
Aides to the GOP presidential front-runner say the Trump campaign knows nothing of the details, and the widespread tensions did nothing to dampen the enthusiasm of Trump supporters ahead of Tuesday's primary slate that could give the billionaire businessman an prohibitive delegate lead over his top rivals.
Trump did not acknowledge the scuffle as it happened, and it's not clear whether he noticed at all, although at several other points throughout his one-hour speech, he commented directly on protesters.
"Are you from Mexico?" he asked one who protested his talk of building a wall at the U.S.-Mexico border.
He mocked another, saying: "Are you protesting, darling? Get 'em outta here. Get 'em outta here."
TIME released a statement Monday saying it has "contacted the U.S. Secret Service to express concerns about the level and nature of the agent's response," adding that Morris has expressed remorse "for his part in escalating the confrontation."
The news organization also noted that "Trump has a strict policy requiring reporters and cameramen to stay inside a gated area, which the candidate often singles out for ridicule during his speeches."
Separately, about 30 black students reportedly were escorted out of a Trump rally in Georgia on Monday by Secret Service agents. The agents reportedly said the candidate requested their removal, but the campaign denied the claim.
The Associated Press contributed to this report.