Seattle's 'democracy voucher' under fire: 'Clear violation of 1st Amendment rights,' critics say
The City of Seattle is experimenting with a first-in-the nation program that potentially makes every adult a campaign donor.
Under the democracy voucher program, every resident who is a registered voter has been mailed four $25 vouchers. Only candidates can redeem the vouchers for cash, but first they have to convince people to sign them over, which is why Jon Grant rarely meets someone without asking them for their vouchers.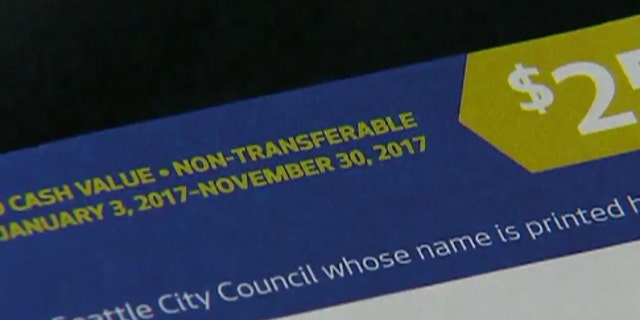 "We're funding our campaign through the democracy voucher program," Grant tells a homeowner in the Georgetown neighborhood of Seattle. So far Grant's strategy has worked. His campaign has collected more than $200,000. Grant says 95 percent of the money has come from vouchers.
SEATTLE SEDNING VOTERS TAX-FUNDED VOUCHERS – TO SPEND ON CAMPAIGNS
"I think what's really exciting about this is every voter now has kind of a level playing field," said Grant, "each has $100, which is essentially a coupon, that you can give to a candidate that matches your values."
Not everyone is thrilled with the program. It's funded by a property tax worth $30 million over 10 years, which the city calculates will cost the average homeowner $12 per year.
But it's not about the amount of money for Mark Elster, a Seattle resident who along with another resident and help from the Freedom Foundation, a conservative think tank, has sued to stop the program. Elster does not support any of the candidates running for office and feels his money is providing political speech to those with whom he vehemently disagrees.
"It's a clear violation of First Amendment rights," said Elster. "With free speech comes the right not to speak."
SEATTLE GUN TAX FAILURE? FIREARM SALES PLUMMET, VIOLENCE SPIKES AFTER LAW PASSES
Wayne Barnett, executive director of the Seattle Ethics and Elections Commission, would not comment directly on the lawsuit, but defends the voucher program.
"Most people have never had a candidate knock on their door and ask them to make a campaign contribution," Barnett said. "It's empowering to people in a way they've never been empowered before."
About 500,000 registered voters were mailed vouchers, but many more people are eligible to receive them if they apply. Non-citizens who are in the country legally can't vote, but they can get $100 worth of vouchers.
Jon Grant makes no apologies for seeking vouchers from everyone. The former director of the Tenants Union, who has been endorsed by the Democratic Socialist party, has collected vouchers from government-subsidized renters, new immigrants and some people living in illegal homeless camps. It's pushed Grant into the fundraising lead and has allowed him to have six paid campaign staffers. Two years ago, when he ran for the same seat against the incumbent, he raised only $75,000 through November and he could pay only one person.
One goal of the democracy voucher program is to reduce the amount and influence of money in politics. In exchange for receiving vouchers, candidates agree to a spending cap. The primary the cap is $150,000, from any combination of vouchers and private donations.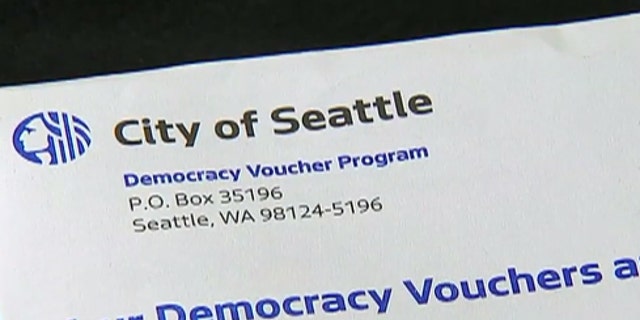 But the Elections Commission has already lifted the spending cap.
Candidate Teresa Mosqueda, who has raised $100,000 in vouchers and another $85,000 in private donations, asked that the limit be lifted because an opponent who has opted out of the voucher program is raising a lot of private donations. Sarah Nelson, a brewery owner, is supported by the Seattle Chamber of Commerce. Her biggest donor is Amazon.
Four other candidates for City Council want to access vouchers, but haven't qualified to receive the money. The bar to qualify is collecting 400 donations of at least $10 and matching signatures. Dr. Hisam Goueli is several dozen signatures short and is frustrated by the system.
"I believe in its original intent," Goueli said. "The problem is the program has become so cumbersome that it's basically tanked our campaign."
With three weeks to go before the primary, only 4 percent of the vouchers have been returned and cashed in by candidates who qualify. Any voucher money that goes unused this year will roll over to the next election cycle.