Schumer tells raucous crowd 'the sooner the better' on Trump impeachment, later claims he misheard the question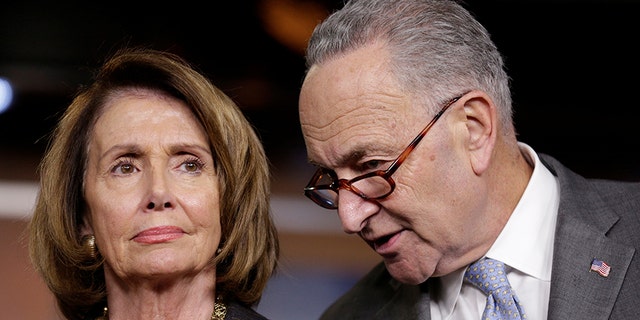 In an off-the-cuff moment caught on video during a Labor Day parade in Brooklyn Monday, Senate Minority Leader Chuck Schumer, D-N.Y., told a bystander who asked when President Trump would be impeached, "The sooner the better."
Schumer's comment appeared to be a sharp break from his own previous rhetoric and that of other party leaders, who have avoided discussing impeachment proceedings for fear of alienating moderate voters ahead of November's midterm elections.
"When are y'all going to impeach Trump?" someone calls out in the footage from behind a barricade as Schumer, carrying a megaphone, walks past with his security detail in the West Indian-American Day parade.
"The sooner the better," Schumer quickly replies. The same bystander apparently counters: "'The sooner the better?' That's not answering the question."
"We gotta get a few Republicans," Schumer responds. "Democrats are on your side." Impeaching the president requires a majority of votes in the House of Representatives, which Democrats do not currently have; removing the president would then require a two-thirds vote of the Senate.
TRUMP IMPEACHMENT PUSH EMERGES AS NEXT MAJOR DEMOCRATIC LITMUS TEST
But Schumer's office, reached by Fox News, claimed that Schumer had simply misheard the bystander's question.
"After a number of questions along the parade route about the fate of President Trump's Supreme Court nominee, the Senator believed he was being asked, 'when will you defeat Trump,' and responded, 'the sooner the better,' noting that we need Republicans to defeat the nomination," Schumer spokesman Matt House said. "As he has said many times and continues to believe, talk of impeachment is premature, and Special Counsel Mueller's investigation should be allowed to continue without any interference."
Previously, Schumer and other top Democrats, including House Minority Leader Nancy Pelosi, have demurred when asked whether they support impeaching Trump ahead of the midterm elections.
Asked just last month what the consequences would be if Trump pardoned his former campaign chairman, Paul Manafort, after his conviction on several federal charges, Schumer told reporters only, "I've said what I'm gonna say."
Pelosi, for her part, has said impeachment is "not a priority." In an interview with the Associated Press, she said 'impeachment has to spring from something else," and not any issues surrounding Manafort or former Trump attorney Michael Cohen.
However, some Democrats have broken rank to support Trump's impeachment. In perhaps the most dramatic sign that the impeachment fight may go mainstream, Texas Rep. Beto O'Rourke -- who is running to unseat GOP Sen. Ted Cruz in November in the deep-red, pro-Trump state -- has both advocated impeaching Trump and downplayed the Democratic consequences of such an effort.
"Impeachment, much like an indictment, shows that there is enough there for the case to proceed," O'Rourke said earlier this year, "and at this point there is certainly enough there for the case to proceed."