Schumer Stands by Description of Tea Party as 'Extreme' After Hot Mic Moment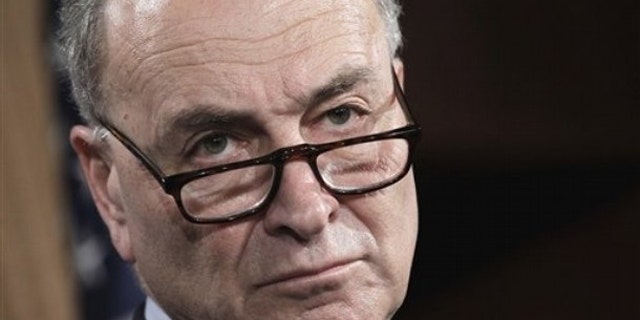 NEWYou can now listen to Fox News articles!
Democratic Sen. Charles Schumer on Sunday stood by his characterization of the Tea Party movement as "extreme" -- though he was overheard on a conference call last week describing the term as a political talking point.
The New York senator, speaking on ABC's "This Week," reiterated his claim that the Tea Party is "standing in the way" of a compromise between Republicans and Democrats over a budget for the remainder of the fiscal year.
"The American people are seeing the Tea Party for what it is -- extreme," Schumer said.
He was then asked about an incident last week when, before a conference call with reporters was set to start, he was overhead telling others on the call that he uses the word "extreme" because "that's what the caucus instructed me to do the other week."
Schumer said he has no regrets.
"I have no problem with reporters hearing that," Schumer said. "The Tea Party is the group standing in the way. ... I believe they're extreme."
Sen. Jeff Sessions, though, decried Democrats' persistent use of the word to describe those rallying for deep spending cuts.
"It's absolutely false," Sessions, R-Ala., said. "Millions of Americans participate in the Tea Party. Tens of millions support and believe what they're saying. And they are right fundamentally. Maybe they don't understand all the realities of Washington politics, but fundamentally, they know this country is on a path to fiscal disaster."
He said Democrats should not "attack" the people trying to put the country on a stable fiscal course.