Schumer Asks Arizona to Delay Immigration Law for a Year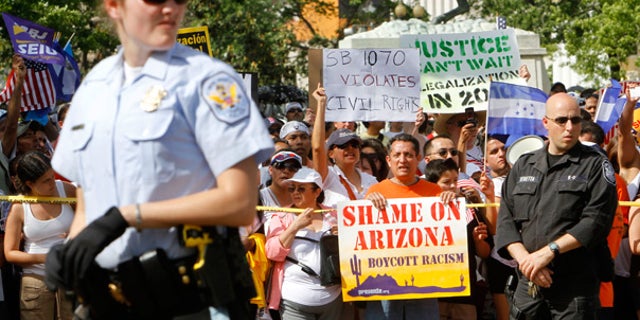 NEWYou can now listen to Fox News articles!
WASHINGTON -- New York Sen. Chuck Schumer is asking Arizona Republican Gov. Jan Brewer to delay the start of her state's controversial new immigration law for a year while Congress tries to come up with a federal plan.
In his letter, Schumer notes that Brewer has said that the law is part of plan to "finally inspire the politicians in Washington, D.C., to stop talking and to start action now."
"I cannot agree more that urgent federal action is necessary this year to address our broken immigration system -- which currently produces an unsustainable situation where thousands of people cross our southern border illegally each day. I fully appreciate that, as governor of Arizona, you felt duty-bound to take action to address the security concerns in your state," wrote Schumer, the chairman of the Senate Judiciary Subcommittee on Immigration, Border Security and Refugees.
"But I simply do not believe the remedy Arizona has enacted will succeed in resolving the problem it is designed to address. I oppose SB 1070, not only because it is wrong-hearted and is likely unconstitutional, but also because it will almost certainly fail to reduce illegal immigration into Arizona," Schumer wrote.
Last month, Brewer signed into law the bill that makes it a state crime to be in the U.S. illegally and allows police to question people about their immigration status. At the time she signed it, she noted that the state was forced to act because Congress hadn't. The law doesn't go into effect until July 1.
As a candidate, President Obama promised to reform immigration policy. But last week he acknowledged that Congress is unlikely to pass a plan this year.
Schumer's proposal includes broad new federal policies that he says would implement "a tough but fair path to legalization for those already here." It would also require high-tech, non-forgeable Social Security cards; would "strengthen" federal commitments on border security and interior enforcement; and create a process for admitting temporary workers.
He asked Brewer to prod Arizona Sens. John McCain and Jon Kyl to join the negotiating table.
The Republican senators have both said that controlling the border is priority one, a sentiment shared by several Democratic Arizona House representatives. McCain, who in 2006 backed a bill criticized as "amnesty" for allowing a path to citizenship but faces a tough primary challenge this year, has backed away from negotiations.
"A bipartisan bill would be a 'border-first' bill, but it would not be a 'border-only' bill because securing the border is a necessary but insufficient remedy for fixing our broken system," Schumer wrote.
The senator sent his letter as civil rights and union leaders spoke in Washington about their plans for an economic boycott The Granite State over the law they say essentially condones racial profiling.
Fox News' Trish Turner contributed to this report.