Schumer and top Dems seek ethics probe of Al Franken groping allegations
NEWYou can now listen to Fox News articles!
Senate Minority Leader Chuck Schumer on Thursday called for an ethics probe of Sen. Al Franken in the wake of allegations that he groped and kissed a Los Angeles TV host without her consent, as fellow Democrats on Capitol Hill condemned the Minnesota senator.
"Sexual harassment is never acceptable and must not be tolerated," Schumer, D-N.Y., said in a statement Thursday. "I hope and expect that the Ethics Committee will fully investigate this troubling incident as they should with any credible allegation of sexual harassment."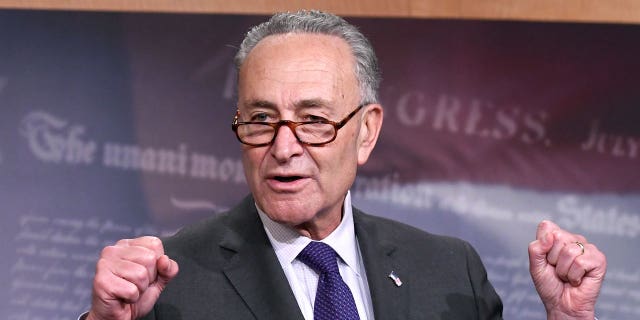 Senate Majority Leader Mitch McConnell, R-Ky., first called for the ethics probe, and encouraged Schumer to do the same.
"As with all credible allegations of sexual harassment or assault, I believe the Ethics Committee should review the matter," McConnell said on Thursday. "I hope the Democratic Leader will join me on this. Regardless of party, harassment and assault are completely unacceptable –in the workplace or anywhere else."
Other Democrats joined Schumer in condemning Franken, D-Minn.
Senate Democratic Whip Dick Durbin, D-Ill., called for the Ethics Committee to review the Franken allegations as well.
"There is never an excuse for this behavior—ever," Durbin said in a statement, adding that what Franken did "was wrong."
House Democratic Leader Nancy Pelosi, D-Calif., supported calls for an investigation, and said any "credible allegation" should be subject to an ethics probe.
"We are at a watershed moment and now is the time for Congress to overhaul how it deals with the issue of sexual harassment," Pelosi told Fox News.
Sen. Kirsten Gillibrand, D-N.Y., said the allegations were "deeply concerning."
"I expect to hear more from Sen. Franken," Gillibrand said Thursday.
"I'm shocked and concerned," Sen. Claire McCaskill, D-Mo., said. "The behavior described is completely unacceptable. Comedy is no excuse for inappropriate conduct, and I believe there should be an ethics investigation."
Sen. Amy Klobuchar, Franken's fellow Democrat from Minnesota said she "strongly condemn[s]" Franken's "behavior" and called for an ethics probe.
"This is another example of why we need to change work environments and reporting practices across the nation, including in Congress," Klobuchar said in a statement.
Another Democrat from Minnesota, Rep. Betty McCollum, joined calls for an ethics probe and described the "account and photo released" as "completely inappropriate."
Sen. Tammy Duckworth, D-Ill., also called for an investigation.
"Women across America should be able to feel safe in their workplace, and they deserve our support when coming forward with allegations of misconduct."
Also Thursday, the National Republican Congressional Committee said Democrats who received donations from Franken should return them.
"These allegations are disgusting and Democrats who took Senator Franken's campaign money need to take action," NRCC Communications Director Matt Gorman said. "Return his donations and do it immediately."
Franken apologized Thursday and said he welcomed an ethics investigation and would "gladly cooperate."
"I am asking that an ethics investigation be undertaken, and I will gladly cooperate," Franken said in a lengthy statement. "And the truth is, what people think of me in light of this is far less important than what people think of women who continue to come forward to tell their stories. They deserve to be heard, and believed. And they deserve to know that I am their ally and supporter. I have let them down and am committed to making it up to them."
The allegations facing Franken come in the wake of several others hitting the political world this week.
Alabama Republican Senate hopeful Roy Moore is accused of sexually assaulting and making unwanted advances toward teenage girls when he was in his 30s. Senate Republicans have rallied together and called for Moore to end his Senate campaign, though Moore denies the claims.
Franken's accuser, Leeann Tweeden, said Thursday she accepted Franken's apology, and was not calling for the senator to step down.