Scalise released from ICU; remains in 'serious condition'
NEWYou can now listen to Fox News articles!
House Majority Whip Steve Scalise was released from ICU on
Wednesday after nearly a week, Fox News confirmed.
Scalise, R-La., has been treated at MedStar Washington Hospital since June 14, when he and four others were shot during a congressional baseball practice, and remains in "serious" condition at the facility.
Scalise was returned to the ICU last week after contracting
an infection from his gunshot wounds.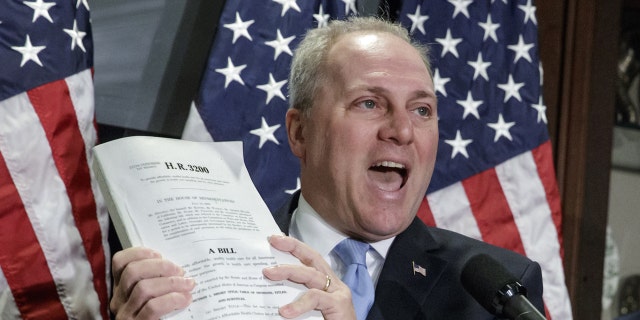 Scalise, prior to going back to the ICU on July 5, was
listed in "fair condition," but the hospital downgraded that to "serious" last week after infection concerns and a subsequent surgery. According to people close to the matter, Scalise faces at least two more surgeries, which have yet to be scheduled.
"Congressman Steve Scalise underwent surgery for the management of infection. He tolerated the procedure well,"
MedStar Washington released on behalf of the Scalise family after his July 6 surgery. "He remains in serious condition. We will provide updates as appropriate."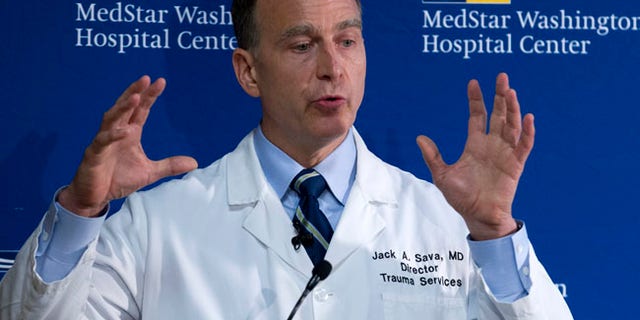 SHOOTING SPURS CALLS FOR NEW LAWMAKER SECURITY MEASURES
Despite being released from the ICU on Wednesday, Scalise still is fighting the infection, and physicians are treating him with antibiotics. Scalise must first overcome the infection before doctors can discuss plans to move him to an in-patient rehabilitation facility.
Scalise was injured along with four others on June 14 when gunman James Hodgkinson opened fire at a Republican congressional baseball practice in Alexandria, Va. He was later shot and killed by police.
Lobbyist Matt Mika, House GOP aide Zack Barth and Capitol Police Officer Crystal Griner also were wounded in the rampage, and Capitol Police Officer David Bailey and Texas Rep. Roger Williams were injured.
Scalise sustained a single rifle wound, entering his left hip and passing through toward his right hip, also known as a trans-pelvic gunshot wound. The round did substantial damage to bones, internal organs, and blood vessels, according Dr. Jack Sava, the director of trauma at MedStar Washington.
Fox News' Chad Pergram contributed to this report.