Sarah Palin backs Moore in Alabama Senate race
In a break from President Trump, former Alaska governor and 2008 Republican vice presidential candidate Sarah Palin has endorsed Roy Moore in Alabama's U.S. Senate race.
The president has endorsed Moore's opponent, incumbent Luther Strange.
Breitbart News broke the news of the Palin endorsement of Moore on Thursday.
Moore and Strange will face off Sept. 26 in a runoff after they finished first and second in the Republican primary earlier this month. The winner will face Democratic nominee Doug Jones, a former U.S. attorney, in the Dec. 12 general election.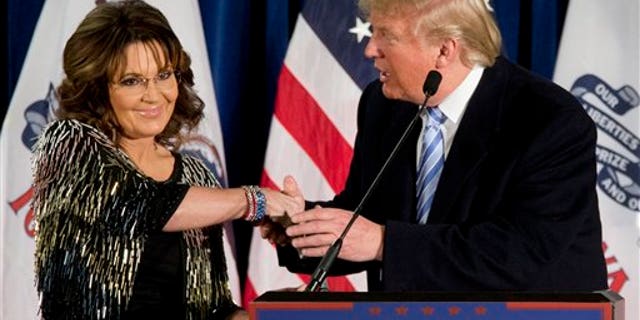 Moore is leading most polls in Alabama, AL.com reported.
Perhaps taking a jab at the president, Palin invoked his "make America great again" slogan in her endorsement statement about Moore:
"Glad he's running and am honored to endorse Judge Roy Moore for the US Senate. Judge Moore has shown he has what it takes to stand up to the out-of-touch political establishment. The Judge has proven he's not afraid of a fight for what is right, and he's ready to take on DC's swamp monsters and help make America great again. We need more bold leaders like Judge Moore who will fight for all of us in the US Senate."
Strange was appointed to the Senate after former Sen. Jeff Sessions was named U.S. attorney general.
Moore was Alabama's chief justice but was removed from office for defying a federal order related to same-sex marriage.
In a statement, Moore thanked Palin for her support.
"Governor Palin has a strong record of speaking out for conservative causes and standing up to the Washington establishment. Having her support shows how conservatives across the country are uniting behind our campaign to send a message to Mitch McConnell and the Washington elites who are trying to buy this election," he said.