Santorum, Romney spar over conservative principles as Michigan race tightens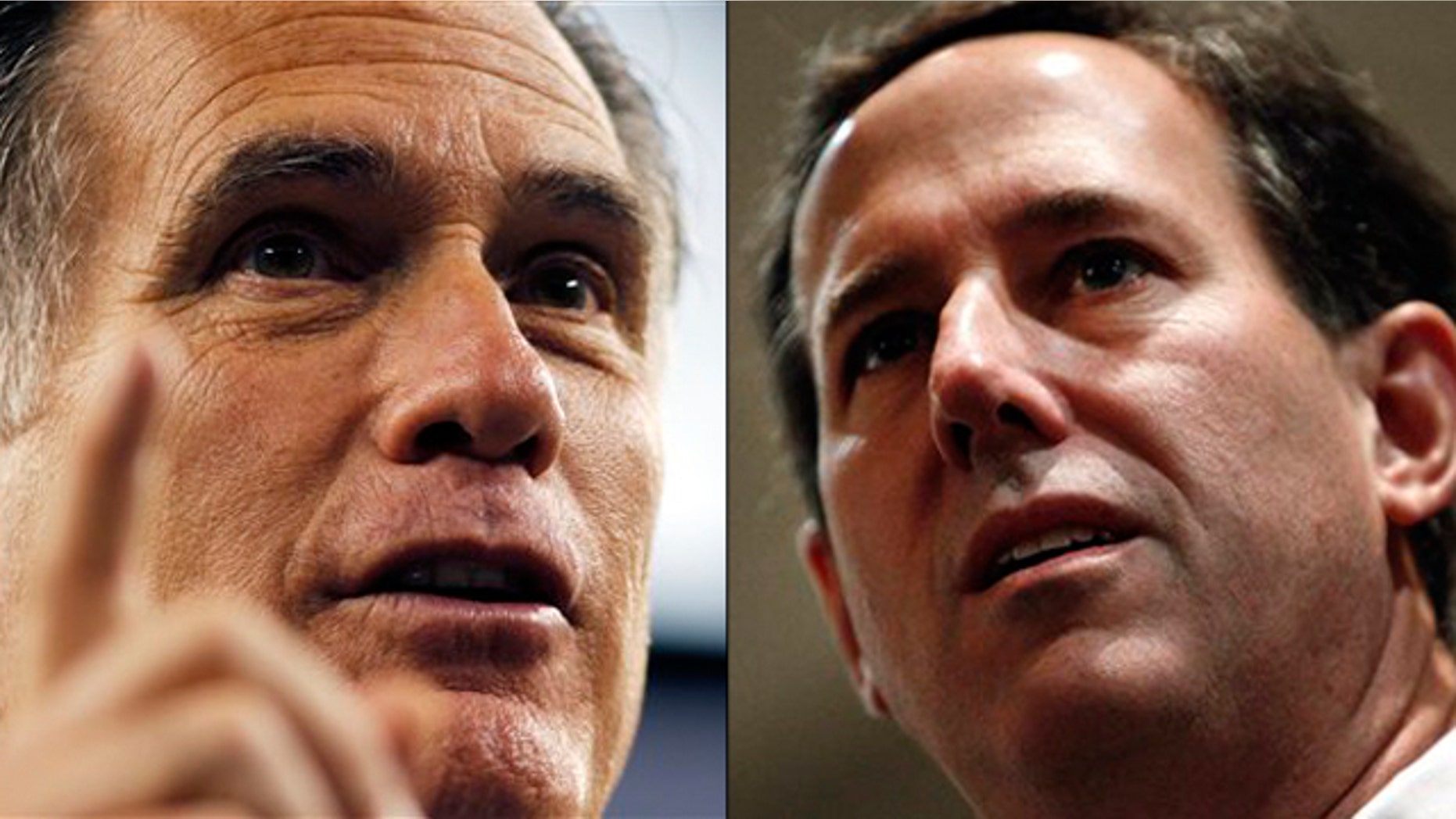 Rick Santorum and Mitt Romney are sharply challenging one another's conservative principles as they charge into the airtight primary contest in Romney's home state -- a critical election that has compelled Santorum to drop a bit of his nice-guy demeanor.
Santorum, who campaigned across Michigan Saturday, has used campaign and media appearances to lambaste Romney as a big-spending, big-government, "pro-choice gay-rights supporting" candidate -- at least when he was governor of Massachusetts.
"It's laughable for Governor Romney to suggest that I am not a conservative. It's absolutely laughable for a liberal governor of Massachusetts to suggest that I am not conservative -- the man that provided the template for Obamacare, the man who supported the Wall Street bailouts," Santorum said Saturday.
While assailing the wealthiest candidate in the race for his support of Wall Street, Santorum also continued to test a new line of attack, suggesting Romney's tax plan smacks of "Occupy" movement politics. Santorum complained about proposals to limit deductions and exemptions for wealthy earners.
"We have a Republican running for president who is campaigning as an Occupy Wall Street adherent. What's he going to do? He's going to limit charitable deductions on the top 1 percent," Santorum said.
It may be difficult for Santorum to make that charge stick. If anything, Romney has struggled to shed the image that he's anything but the 1 percent -- having run into trouble a day earlier for casually noting how his wife drives "a couple of Cadillacs."
Romney, meanwhile, is targeting Santorum's credibility.
In Lansing, Mich., on Saturday, he swiped at his opponent over his comment at the last debate that he only voted for No Child Left Behind because he had to "take one for the team."
"Um -- the team has got to be the people of America," Romney said.
His campaign has also released web videos challenging the former Pennsylvania senator's principles.
Romney spokeswoman Gail Gitcho suggested the "desperate and false attacks" by Santorum were a response to recent poll figures.
"This sounds like another case of Rick Santorum abandoning his principles for his own political advantage," she said in a statement.
Recent polling shows Santorum holding onto the lead nationally, but losing the edge to Romney in Michigan.
The latest Rasmussen Reports poll showed Romney leading Santorum in the state 40-34 percent. Santorum had been ahead in most Michigan polls for the past couple weeks.
Arizona, where Romney has held the consistent lead in polling, also holds its primary on Tuesday along with Michigan. But Michigan has emerged as a vital contest, and a veritable must-win state for Romney. It was the state where he was born, where his father was governor and where he won in the 2008 GOP presidential primary.
Romney, along with his wife Ann, will be campaigning across the state on Saturday in the competition with Santorum for voters.
The other two candidates, Newt Gingrich and Ron Paul, are far back in the polls in Tuesday's contests and looking ahead to subsequent primaries and caucuses.
Gingrich told Fox News he expects to "get some votes" on Tuesday but acknowledged the frontrunner status held by Romney and Santorum.
"I think Santorum is discovering, in Michigan, where he was ahead a week ago, that when Romney goes negative and when he buys enough advertising, that he's very formidable," Gingrich said.
Gingrich noted that he's been campaigning in Washington state, which holds its caucuses shortly before the Super Tuesday primaries on March 6, when 10 states hold elections.
Paul is holding a rally in Oklahoma on Saturday, before making his way to Michigan.
Even if Santorum beats Romney, Romney will emerge with a healthy share of delegates to add to his lead in the count, never mind fundraising and campaign organization in a race that was designed to carry into the spring.
And there is the chance for a split decision if Romney wins the popular vote but Santorum emerges with more delegates. Most of the state's 30 delegates are awarded two at a time to the winner in each of the state's 14 congressional districts.
The Associated Press contributed to this report.