Santorum presses Gingrich to bow out as Southern primary results loom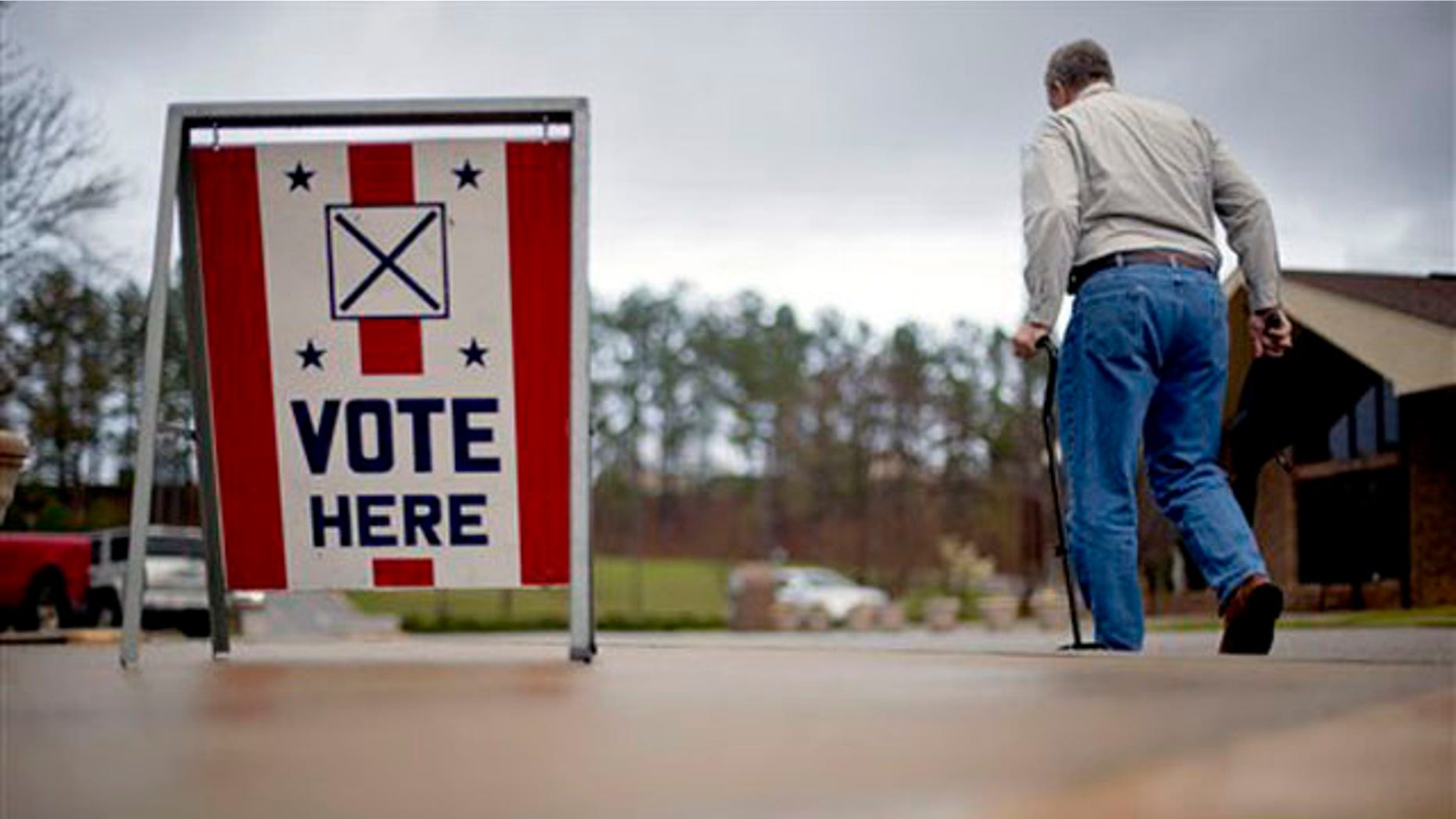 Rick Santorum put pressure on Newt Gingrich to bow out of the presidential race Tuesday, telling Fox News the former House speaker is making it "hard for me" to win primary contests without having much of a shot at the nomination himself.
The comments come as the four remaining Republican contenders face off Tuesday night in a duo of Southern contests.
Polls have shown the candidates in a tight race for Alabama and Mississippi, and the stakes are high for Mitt Romney's rivals. A win for Romney in the deep South would help the former Massachusetts governor prove he has broader appeal. But his competitors are unquestionably in need of the delegates and momentum, which victory on Tuesday would provide.
Santorum, in an interview with Fox News, prodded Gingrich, claiming "conservative voters across the country have pretty much made a decision." Santorum noted how he won the Kansas caucuses over the weekend with more than 50 percent of the vote.
"Newt finished well under 20 (percent)," Santorum said. "In most of the states, he is finishing fourth. He is getting enough votes to make it hard for me to win those states, but I don't think that he is in the mix for getting the nomination at this point."
Santorum has 217 delegates to Romney's 454, according to the latest Associated Press tally. Gingrich has 107 and Ron Paul has 47.
After Tuesday's primaries, roughly half the states will have voted -- and Romney still will not have the 1,144 delegates needed to clinch the nomination, though he will be in a far better position to reach that threshold.
Mississippi and Alabama have 37 and 47 delegates up for grabs, respectively. Hawaii and American Samoa are also holding GOP caucuses on Tuesday.
Exit polls, as they have in prior races, show Romney doing best among moderates on Tuesday. In exit polls out of Alabama, Santorum was pocketing 41 percent among those who describe themselves as very conservative. Gingrich was pulling 36 percent among that group.
Santorum said he thinks his campaign has an "excellent chance of getting to the number we need."
He suggested that so-called uncommitted delegates could still sway to his camp, and added that he would be open to the idea of an "open convention" in Tampa - where delegates would make the decision about their nominee on the spot.
"They will nominate the most electable conservative, and I think that'll be us," Santorum said.
Earlier in the day, Santorum told Glenn Beck on his radio show that "it would be great if (Gingrich) would get out of the race." He again claimed Gingrich was pulling votes from the Santorum campaign.
Primary Coverage: Track the Results in Real-Time: Mississippi | Alabama
Gingrich's campaign has not responded to a request for comment from FoxNews.com.
But the campaign circulated a memo late Tuesday afternoon claiming the candidate is "well positioned" to win the nomination, citing the numerous Southern contests still on the horizon.
"This race is not going to be won or lost over backroom deals or endless and mind-numbing discussions in the media over delegate counts. This race is going to be decided by a big debate -- a big choice -- among GOP primary voters about the future of the Republican Party; what it stands for, and which candidate has the most compelling vision and most credibility to carry forward a conservative governing agenda," they said. "That is the debate Newt is going to win, and with it, the nomination and the election."
Gingrich told Fox News on Monday night that Romney has "fewer delegates than he needs" and that plenty can happen in the second half of the race.
"I think when you look at the second half -- think of Louisiana as the equivalent of halftime in a football game," he said. "The first half was actually better territory for Romney than the second half. And I think as we go through the second half, it gets harder and harder for him to finally get to a majority."
Romney, while shooting for victory on Tuesday, made clear that he doesn't consider those contests to be must-win for his nomination chances.
"John McCain didn't win either of these states, Alabama or Mississippi," he told Fox News. "We are delighted that we are doing so well there. The polls are suggesting it is kind of a three-way tie. It is an away game for me."
Fox News' John Roberts contributed to this report.