Sandra Day O'Connor was proposed to by late Supreme Court chief justice, biographer reveals
Before Sandra Day O'Connor and William Rehnquist sat on the Supreme Court, they both had a different kind of decision to make: would she marry him?
Rehnquist, who would eventually become chief justice of the United States, dated O'Connor when the two attended Stanford Law School. Although they broke off the relationship, it turns out Rehnquist sent O'Connor a letter in the early 1950s, telling her he needed to talk to her about "important things," biographer Evan Thomas told NPR.
"To be specific, Sandy, will you marry me this summer?" Rehnquist asked.
Thomas uncovered the written proposal as part of the research for his new book, "First," set for publication next March.
Although O'Connor and Rehnquist never wed, they remained close friends – and even neighbors – throughout their lives, according to NPR.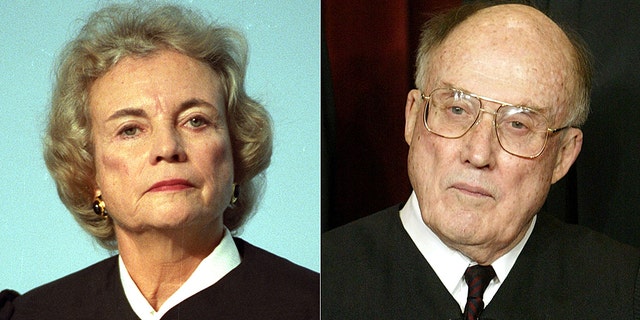 Rehnquist joined the nation's highest court first in 1971. He was chief justice from 1986 until his death in 2005.
O'Connor – who eventually married John O'Connor, another law school classmate – served on the Supreme Court from 1981 until 2006. She is the first woman to have served on the Court.
She said her husband, who was suffering from Alzheimer's disease, was a significant part of her decision to retire from the bench.
SANDRA DAY O'CONNOR SAYS SHE HAS 'BEGINNING STAGES OF DEMENTIA'
Earlier this month, O'Connor, 88, announced she has the "beginning stages of dementia, probably Alzheimer's." She said her doctors diagnosed her with the disorder, which has forced her to retire from public life "some time ago."
"While the final chapter of my life with dementia may be trying, nothing has diminished my gratitude and deep appreciation for the countless blessings in my life. How fortunate I feel to be an American and to have been presented with the remarkable opportunities available to the citizens of our country," she said.
Jay O'Connor, her son, told NPR he was "surprised" to learn about the marriage proposal from Rehnquist although he and his siblings knew the two justices had once been a couple.
WHO ARE THE SUPREME COURT JUSTICES?
"Dating was pretty innocent in the 50s," Jay O'Connor said. He added, "multiple men proposed to my mom when she was in college and law school, and ultimately my dad was the one who was the real deal."
"It was just an amazing accident of history that … my mom and her friend and law school classmate ended up on the Supreme Court together," he said. "Not only did they have a wonderful working relationship for over 25 years on the Court, they had a wonderful friendship their entire life."
Fox News' Katherine Lam contributed to this report.