Ryan Makes Appeal to Cuban-Americans in Miami as Obama Aims for Wisconsin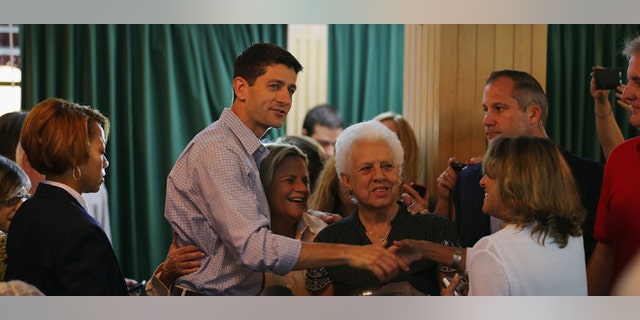 Miami – Pushing a strict stance toward the Castro regime in Cuba, Republican vice presidential nominee Paul Ryan made his appeal to Cuban-American voters Saturday during a stop in Miami.
Ryan campaigned in Miami's Little Havana neighborhood and planned a town hall at the University of Central Florida in Orlando later in the day.
Former Florida Gov. Jeb Bush, Miami's Cuban-American congressional representatives and Republican presidential nominee Mitt Romney's son Craig touted Ryan's credentials in English and Spanish for the breakfast crowd.
Ryan said he and Romney would help get Latinos back to work. He also said America offered a better life to immigrants seeking freedom and prosperity. Cubans benefit from the so-called wet foot, dry foot policy that provides those who literally step on U.S. soil with temporary visas and a path to legal citizenship.
Meanwhile with a breeze of momentum on his side, President Barack Obama was trying to shore up support in a pivotal state Saturday while he and rival Mitt Romney argue over who can change the country's political culture and best protect the financial and health security of older Americans.
Obama was traveling to Wisconsin, which his campaign had considered safely in his column, for his first visit since February. Obama aides seem eager to fortify that hold in case Romney's running mate, Ryan, can erode some of the president's support as the candidates' first debate, on Oct. 3, fast approaches.
Why do we send presidents to the White House in the first place?...We send presidents to change and fix the mess in Washington, and if this president has admitted that he can't change Washington, then you know what, we need to change presidents
Facing some second-guessing within his own party over his strategy, Romney planned to raise money in California in hopes of recovering his fundraising advantage. Last month, for the first time, Obama and the Democratic Party raised more than Romney and the Republican Party, $114 million to $111.6 million.
Romney has opened a new line of attack against Obama, saying the president has failed to deliver on his promise of change. Ryan, campaigning Saturday in Miami, reinforced that message by poking at Obama's recent comment that it's hard to change Washington from the inside without mobilizing public pressure on Congress from the outside.
"Why do we send presidents to the White House in the first place?" Ryan asked. "We send presidents to change and fix the mess in Washington, and if this president has admitted that he can't change Washington, then you know what, we need to change presidents."
Obama is hitting back by portraying Romney as an insider beholden to partisan and corporate interests. Vice President Joe Biden seconded his boss during a Saturday appearance before an audience of Teamsters kicking off an effort to canvass for votes in Manchester, N.H.
Biden said it was because of unions that the U.S. has a strong middle class, and he accused Romney and Ryan of having "a completely different value set, a completely different vision."
"They're doubling down on everything that caused the economic crisis in the first place," he said.
Romney on Friday tried to put an end to an old sticking point by releasing his 2011 tax returns and his past tax rates. The disclosures reinforced his status as one of the wealthiest candidates ever to seek the presidency. Obama tried to gain an edge with older voters and near-retirement baby boomers by renewing his criticism of Romney's Medicare proposals.
Obama entered the weekend with polls showing him in a near tie with Romney nationally. But the latest Wall Street Journal/NBC News/Marist Poll shows the president with leads among likely voters of 8 percentage points in Iowa and 5 points each in Colorado and Wisconsin, some of the most competitive states. Polls published earlier this week pointed to leads for Obama in closely contested Virginia and Ohio.
In a potential opening for Romney, fresh state-by-state unemployment numbers show rises in August unemployment in five critical states.
Romney, responding to Obama's comments about how hard it is to change Washington from the inside, said Friday in Las Vegas: "Over history there have been people that have changed Washington from the inside," Romney said Friday in Las Vegas. "And they've done it effectively by showing leadership from the top."
Obama countered with a new line of his own: "What kind of inside job is he talking about?" He suggested that Romney would rubber-stamp the agenda of congressional Republicans or let oil companies run the country's energy policy.
"We don't want an inside job in Washington," Obama said. "We want change in Washington."
As some Republicans urged Romney to re-energize his campaign, the candidate headed to San Diego and Los Angeles to raise money Saturday. His schedule for Sunday put him in Colorado, a state where polls show Obama with a narrow lead. Starting Monday, Romney and Ryan will spend three days altogether in Ohio.
In Wisconsin, public polls still show Obama with a lead, and his campaign recently began airing ads. Vice President Joe Biden has visited the state twice this month. Ryan has held events back home three times, once with Romney along.
Obama won Wisconsin easily in 2008 but Ryan is popular. Some Republican pollsters detected a bump for Romney in the state shortly after Ryan was named his running mate. Wisconsin's 7.5 percent unemployment rate is below the national average, but the state's manufacturing industry has been hit hard in recent years.
Obama's campaign is focused on running up big margins in Milwaukee and Madison, both Democratic strongholds. Obama and Romney will be closely watching the Green Bay region, a swing area that could tip the balance in a close contest.
On Friday, Wisconsin's Republican governor, Scott Walker, said that immediately after Romney chose Ryan, the campaign displayed a new sense of enthusiasm, excitement and adrenalin.
"I haven't seen that as much lately," he said, "and I think they need to get back to that if they're going to win this election."
Based on reporting by the Associated Press.
Follow us on twitter.com/foxnewslatino
Like us at facebook.com/foxnewslatino