Russian lawyer who met with Donald Trump Jr. denies Kremlin connection
The Russian lawyer whose meeting last year with Donald Trump Jr. has renewed Democratic allegations of collusion is denying she had any Kremlin connection, despite a new report claiming President Trump's eldest son was told in advance of the sit-down that the Russian government had material meant to help his father.
Natalia Veselnitskaya denied any connection to the Russian government in an interview with NBC News. Raising even more questions, she also denied having any damaging information about 2016 Democratic presidential nominee Hillary Clinton.
"I never had any damaging or sensitive information about Hillary Clinton. It was never my intention to have that," Veselnitskaya said.
Trump Jr., however, has confirmed that he originally went into the meeting with the impression the attorney might have information on Clinton useful to his dad's campaign.
There are conflicting claims over how he might have gotten that impression.
"It's quite possible that maybe they were looking for such information, they wanted it so badly," Veselnitskaya said through a translator. She also told NBC she went to Trump Tower after getting a phone call from a man she didn't know and being told to meet with Trump Jr.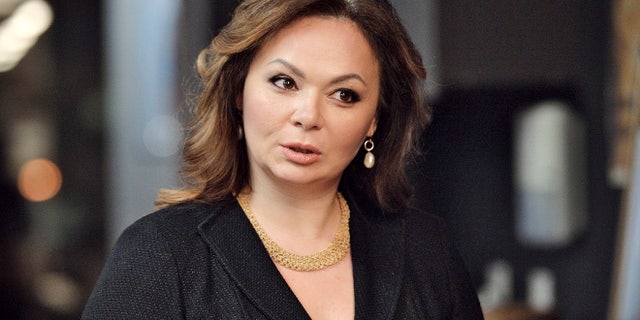 The Times reported overnight that music publicist Rob Goldstone had first indicated in an email to Trump Jr. that the Kremlin was the source of information about purported illegal campaign contributions to the Democratic National Committee provided by Veselnitskaya.
Yet Goldstone told the Times earlier that he had no knowledge of Russian government involvement. And he said Veselnitskaya only offered a "vague, generic statement about the campaign's funding" – describing it as "inane nonsense" – before moving on to talk about a U.S. law that blacklists alleged Russian human rights abusers.
Trump Jr., his attorney and the White House have all downplayed the significance of the meeting.
Attorney Alan Futerfas, in an interview with Fox News, stressed that Veselnitskaya was "not a government official."
Futerfas said she "claimed to have information" but "she had no information at all" and instead wanted to talk about opposition to the U.S. blacklist law.
"In my view, this is much ado about nothing," Futerfas said in a separate written statement, adding that Goldstone had contacted Trump Jr. late in the Republican primary campaign and "suggested that people had information concerning alleged wrongdoing" by Clinton.
"The meeting [with Veselnitskaya] lasted about 20-30 minutes and nothing came of it," Futerfas went on. "His father knew nothing about it. The bottom line is that Don Jr. did nothing wrong."
Trump Jr. on Tuesday called the meeting issue "nonsense."
"Media & Dems are extremely invested in the Russia story. If this nonsense meeting is all they have after a yr, I understand the desperation!" he tweeted.
The White House referred questions to the president's son. Mark Corallo, a spokesman for the president's outside legal team, would not comment on the Times story, reiterating only that the president "was not aware of and did not attend the meeting."
A White House spokeswoman said Donald Trump Jr. "did not collude with anybody."
And earlier Monday, Trump Jr. tried to brush off the significance of the meeting, tweeting sarcastically, "Obviously I'm the first person on a campaign to ever take a meeting to hear info about an opponent ... went nowhere but had to listen."
The Veselnitskaya meeting, which was also attended by Trump's then-campaign manager Paul Manafort and adviser Jared Kushner, is the first confirmed private meeting between members of President Trump's inner circle and a Russian national.
Dmitry Peskov, a spokesman for Russian President Vladimir Putin, said Monday the Kremlin doesn't know Veselnitskaya and "cannot keep track" of every Russian lawyer who holds meetings in Russia or abroad. Although she has not been publicly linked with the Russian government itself, Veselnitskaya represented the son of a vice president of state-owned Russian Railways in a New York money-laundering case settled in May before a trial.
Lawmakers on the committee from both parties said they wanted to talk with the president's son. Sen. Susan Collins, R-Maine, said the panel "needs to interview him and others who attended the meeting." Sen. Ron Wyden, D-Ore., agreed, saying, "Based on his own admissions, this is an attempt at collusion."
Fox News' Serafin Gomez and The Associated Press contributed to this report.