Russia probe: Senate investigators want ex-Trump adviser's records dating back to 2010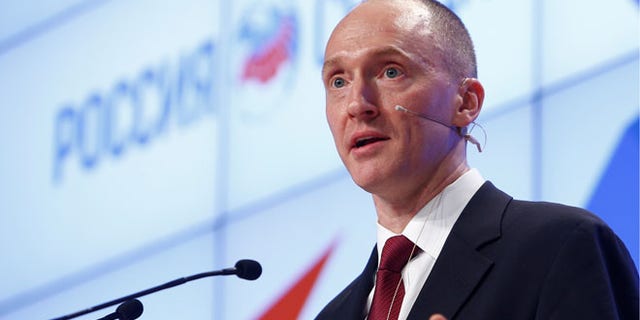 Senate investigators are seeking records from a former Trump campaign adviser dating back to 2010, ahead of a planned closed-door interview as part of the Russia meddling investigation.
The interview with Carter Page is one of 25 additional interviews being lined up for the Senate Intelligence Committee, whose leaders made clear in a statement to the press earlier this week that their investigation will go on.
In an Oct. 4 letter reviewed by Fox News, the committee asked Page for any records documenting communications or contacts with Russians going back seven years.
Page, a former foreign policy adviser to then-candidate Trump, wrote back to the panel voicing concern about the possibility for "entrapment," claiming the request "virtually insures some level of false testimony." He likened the request for documents to a computer strip-search.
"What we are dealing [with] is an adversarial part of the law," Page, who is representing himself legally, told Fox News on Thursday.
While the committee is looking for evidence of Russian contacts, the ex-adviser continues to insist he was targeted by members of the Obama administration via an illegal FISA (Foreign Intelligence Surveillance Act) warrant in the run-up to the 2016 presidential election.
Page also insists that allegations made about his ties to Russian officials in a now-infamous anti-Trump dossier are false.
The dossier was authored by former MI-6 British intelligence officer Christopher Steele under contract with the U.S.-based Fusion GPS firm.
Page, who is managing partner of Global Energy Capital LLC, called the investigation a "14-month witch hunt," saying, "I am not intimidated."
Several federal investigations, including the one led by Special Counsel Robert Mueller, are ongoing into Russian meddling in the 2016 election.
Efforts to compel Steele to appear before any committee have failed thus far, including an August 2017 trip to London made by Senate staffers. However, CNN reported Thursday that Mueller's investigators were able to meet over the summer with Steele. In an email to Fox News on Friday, the press office for the special counsel declined to comment on the Steele story.
During a joint news conference this week, Senate Intelligence Committee Chairman Richard Burr, R-N.C., and Vice Chairman Mark Warner, D-Va., updated the public on the committee's investigation.
"It's safe to say the inquiry has expanded slightly. Initial interviews and document review generated hundreds of additional requests on our part for information," Burr said.
He said the panel has conducted more than 100 interviews lasting more than 250 hours in its nine-month probe. But the chairman acknowledged the committee is still probing any possible collusion between Trump associates and the Russians.
The Senate Intelligence Committee has given Page until Oct. 18 to comply with its request.