Russia not attacking midterms on same 'scale or scope' as in 2016, Nielsen says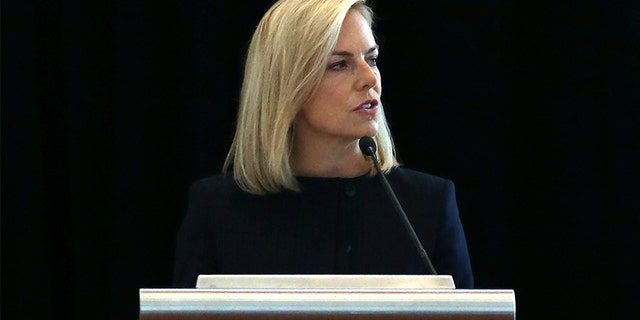 One day after 12 Russian intelligence officers were charged with allegedly hacking emails during the 2016 election, Department of Homeland Security Secretary Kirstjen Nielsen said there was no indication that the coming midterms were being attacked by Russia in the same way.
Nielsen made the remarks Saturday while addressing a convention in Philadelphia for states' secretaries of state.
While she said there was no suggestion that Russia was aiming to interfere with the 2018 elections on the same "scale or scope" as they allegedly did in the Donald Trump-Hillary Clinton campaign two years ago, she promised government assistance to help state and local election systems safeguard themselves against cyberattacks.
RUSSIAN OFFICERS INDICTED FOR ALLEGEDLY HACKING CLINTON CAMPAIGN, DNC EMAILS
She said U.S. intelligence officials are seeing "persistent Russian efforts using social media, sympathetic spokespeople and other fronts to sow discord and divisiveness amongst the American people, though not necessarily focused on specific politicians or political campaigns."
Her comments came on the heels of an announcement from the Justice Department about a federal grand jury's indictment of multiple Russian intel officers. A dozen members of the GRU, the Russian intelligence agency, stand accused of hacking emails from the Clinton campaign and Democratic Party during the 2016 election cycle.
The charges prompted some Democrats -- among whom included Sens. Chuck Schumer and Ron Wyden -- to pressure President Trump to cancel his highly anticipated summit with Russian President Vladimir Putin. That summit is to be held in Helsinki on Monday.
MCCAIN SAYS HELSINKI SUMMIT 'SHOULD NOT MOVE FORWARD' UNLESS TRUMP TAKES FIRM STAND AGAINST RUSSIAN MEDDLING
GOP Sen. John McCain also offered stern guidance to the president amid the announced indictments. The veteran Arizona lawmaker said Friday that the meeting with Putin shouldn't proceed unless Trump is willing to hold Russia accountable for political meddling.
"President Trump must be willing to confront #Putin from a position of strength & demonstrate there will be a price to pay for his ongoing aggression. If President Trump is not prepared to hold Putin accountable, the #HelsinkiSummit should not move forward," McCain tweeted.
Trump has previously pointed to Putin's denials of election interference and has said that he would like the two countries to get along.
Fox News Alex Pappas, Brooke Singman, Paulina Dedaj and The Associated Press contributed to this report.