Rumsfeld Cancels New York Times Subscription Over Krugman 9/11 'Shame' Blog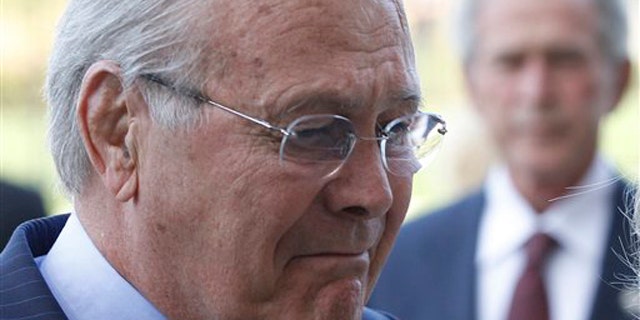 NEWYou can now listen to Fox News articles!
Paul Krugman just lost a reader.
After the Nobel-winning economist wrote a blog for The New York Times in which he called America's post-Sept. 11 behavior "deeply shameful" and assailed then-President George W. Bush and others for being "fake heroes," former Defense Secretary Donald Rumsfeld said Monday he's canceling his subscription.
"After reading Krugman's repugnant piece on 9/11, I cancelled my subscription to the New York Times this AM," Rumsfeld tweeted Monday morning.
Krugman's been taking a lot of heat for the blog posted Sunday morning as the nation marked 10 years since the Sept. 11 attacks -- though he tried to build a digital barrier against the backlash, saying in his post that he would not allow comments on it "for obvious reasons."
Joseph Burgess, in the office of The New York Times' public editor, told FoxNews.com that the office has so far heard from about 100 readers regarding Krugman's post.
"Most readers have taken exception with Mr. Krugman's blog post to this point," Burgess wrote in an email. He noted the office does not pass judgment on Krugman's opinion writing.
In the six-paragraph post, Krugman speculated that the Sept. 11 ceremonies would be "subdued" because of a national shame over the U.S. response to the tragedy, which he said became a "wedge issue."
"Fake heroes like Bernie Kerik, Rudy Giuliani, and, yes, George W. Bush raced to cash in on the horror. And then the attack was used to justify an unrelated war the neocons wanted to fight, for all the wrong reasons," Krugman wrote.
He wrote that the memory of the attacks "has been irrevocably poisoned" and become "an occasion for shame."