Rubio among lawmakers vowing to repeal Obamacare following Supreme Court ruling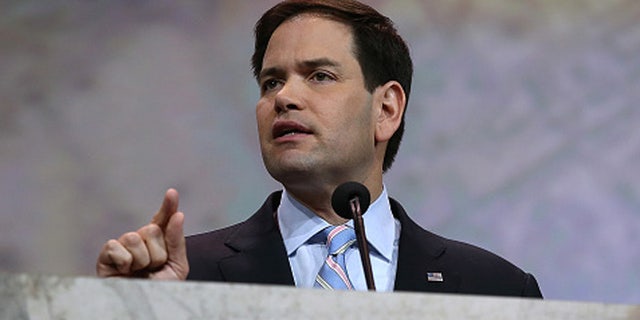 NEWYou can now listen to Fox News articles!
Thursday's Supreme Court ruling validating federal health insurance subsidies for nearly 6.4 million Americans had consumers breathing a sigh of relief that they would be able to afford their policies, but the reaction was markedly different from governors and lawmakers in states that have fought against the Affordable Care Act.
Many of them strengthened their calls to repeal the act, setting the tone for what will likely be a common GOP refrain during next year's presidential campaign.
Florida would have been ground zero for the aftermath, with more than 1.3 million people relying on the federal subsidies. Setting up a state exchange was a political non-starter. Republican Gov. Rick Scott and House Republicans strongly opposed a Senate bill that would have created one as well as expand Medicaid.
Scott and Florida Sen. Marco Rubio, a Republican presidential candidate, both reaffirmed their commitment to repealing the law Thursday.
"It's a bad law," Scott told reporters. "It's made promises after promises."
Texas, like many of the 34 Republican-led states relying on the exchange, had no backup plan if the court had struck down the subsidies. Texas Gov. Greg Abbott had no interest in setting up a state exchange for the 832,000 Texans relying on the federal tax credits that lowered their monthly premiums.
"The Supreme Court abandoned the Constitution to resuscitate a failing health care law," Abbott, a Republican, said in a statement. "Today's action underscores why it is now more important than ever to ensure we elect a President who will repeal Obamacare and enact real health care reforms."
He and other GOP governors said it would have been up to the president and Congress to fix it.
At issue in the case were the subsidies given by the federal government to consumers in the 34 states that relied on the federal health insurance exchange. A handful of words in the Affordable Care Act suggested the subsidies were to go only to consumers using exchanges operated by the states. In its 6-3 ruling, the high court said those subsidies did not depend on where people live.
The court's decision to allow the subsidies to continue was a relief to many who had purchased health insurance policies through the federal exchange.
Among them is Jennifer Greene, a 58-year-old from Boca Raton, Florida, who feared she would have to go without insurance if she lost her $547-a-month tax credit.
She had insurance through her job at a large grocery store chain but lost it because she missed too much work following surgery to remove part of her colon, which required lengthy follow-up care.
Greene signed up for a mid-level insurance plan in February, paying $25 a month after the tax credit. She was able to keep her primary care doctor and has relied heavily on the insurance to cover follow-up appointments with specialists and a hernia surgery.
"Those things are not affordable without insurance," she said Thursday. "Having the insurance makes the difference of staying healthy or ignoring your health issues."
With the coverage expansion under the law, about 90 percent of Americans now have health care. After the Supreme Court ruling, the focus will shift to those who remain uninsured. But closing the gap will mean convincing some 20 states that have resisted the law's Medicaid expansion to drop their opposition.
The biggest payoff could come if Texas and Florida expand their programs, but governors and legislators in those states have blocked all Medicaid expansion efforts.
Wisconsin Gov. Scott Walker, a potential Republican presidential candidate, called on Congress to repeal and replace the law, saying Obama's signature domestic policy achievement had failed the American people. Some 183,000 Wisconsin residents are getting health insurance through the exchange.
New Jersey Gov. Chris Christie, another potential GOP presidential contender, said in a Twitter message that "leaders must turn our attention to making the case that ObamaCare must be replaced."
Gov. Phil Bryant was among several Mississippi Republican leaders who criticized the Supreme Court's decision.
"Today's decision does not change the fact that Obamacare is a socialist takeover of health care forced down the throats of the American people without proper review, and it does not slow the massive and unprecedented transfer of wealth that is at the heart of the subsidy system," Bryant said.
Pennsylvania was one of the few states that had applied to set up a state exchange, but Democratic Gov. Tom Wolf said he would withdraw those plans given Thursday's ruling.
As the law's opponents regroup, consumers say they are grateful the court allowed the federal premium subsidies to continue.
Shawn Turner of Cisco, Illinois, finished chemotherapy for uterine cancer last summer and relies on the $830-a-month in tax credit she and her husband receive for regular follow-up scans to make sure the cancer is gone. If the court had struck down the subsidies, she said they would have had to dip into their savings or start selling their possessions to pay for their insurance.
"I'm just so relieved and happy, not just for me but for everyone who's being helped by this," said Turner, 55.
Cindy Williams, a 63-year-old breast cancer and liver cancer survivor from Texas, receives a federal premium subsidy of more than $500 a month. She said she would not be able to afford to go to the doctor or buy her medications without it.
Williams, who lives in the Austin suburb of Pflugerville, said she was thrilled to hear about the court's ruling.
"I am so happy because that means that I can keep my insurance, that I can stay healthy and move on with my life," she said.
Based on reporting by The Associated Press.
Like us on Facebook
Follow us on Twitter & Instagram