Rubio among GOP Senators to skip Cleveland convention, Cruz set to speak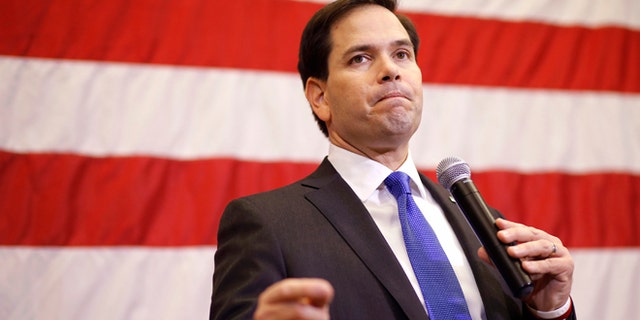 Sen Marco Rubio won't be there when Donald Trump accepts the Republican Party presidential nomination in Cleveland.
The Florida senator, who ran against the billionaire candidate until he dropped off in June, is among the number of GOP senators who will be skipping next week's convention. Rand Paul of Kentucky and Sen. Lindsey Graham of South Carolina won't be attending either.
Of the Senate also-rans in the White House chase, only Texas Sen. Ted Cruz will attend the convention and deliver a speech.
It's not unusual for lawmakers to skip their party's convention, especially if they're up for re-election, but the level of rank-and-file congressional defections from this year's Republican convention is unusually high.
Perhaps that's unsurprising, given the GOP establishment's well-documented discomfort with the man who stands on the cusp of becoming their presidential standard-bearer.
Sen. Steve Daines of Montana says he will be fly-fishing with his wife, while Sen. John McCain of Arizona will be visiting the Grand Canyon. He joked that Graham would be coming along and might even fall in (just kidding, an aide later clarified).
In the halls of the Capitol this week, some senators seemed to visibly squirm when asked about their convention plans.
Sen. John Thune of South Dakota, a member of the party leadership, gave a lengthy series of responses to questions earlier this week that ultimately left his plans unclear.
"I think it's going to be a different and unique convention experience. You know I've been to a number of them in the past, and this year is different, and we'll see how it goes," Thune said. "For most people they go because it's the Republican convention, and it's our party's effort in a presidential election year to talk about what we're for and what we're about. So that will go on."
The next day, Thune said he was still "firming up" his plans.
Confronted for months with uncomfortable questions about Trump, some senators can still seem aggrieved to get asked about the presumptive nominee, and uncomfortable giving an answer. But at this late date, just days from when the convention will start on Monday, nearly all have at least decided whether or not they're going to Cleveland.
Nearly all, but not quite all.
"I'm not sure yet," Idaho Sen. Jim Risch said Wednesday, adding there are "other things going on and I've got to weigh where I can do the most good."
For the nearly two dozen GOP senators up for re-election this year, the considerations are particularly sensitive, and that's especially true for the handful of vulnerable Republican senators in swing states. They must weigh sharing a convention hall with a nominee whose comments have offended women, minorities and others who can decide general elections. There are also concerns that given the "Never Trump" sentiments still nursed by some delegates, the convention could go off the rails and turn into a chaotic spectacle.
But few senators were interested in wading into such considerations on the record.
"No," Sen. Roy Blunt of Missouri said tersely when asked if he was staying away from the convention out of a desire to distance himself from Trump.
Murkowski said she had only a month to visit the remotest areas of Alaska by plane before her Aug. 16 primary.
"For me this was an easy choice" and "nothing to do" with Trump, Murkowski said.
Sen. Ron Johnson of Wisconsin, one of the most vulnerable members, said he could not go to Cleveland because "I've got to spend as much time in Wisconsin as possible."
As for his views on Trump, Johnson said: "I support all of the areas of agreement ... I'm supporting him. Let's put it this way, I will not vote for Hillary Clinton."
Even Sen. Rob Portman of Ohio, a vulnerable senator whose state is playing host to the convention, said he will only be dropping into the convention hall from time to time, but not delivering a speech or staying to watch speeches from others.
Instead he'll be spending his time on his own campaign events in and around Cleveland, including building a Habitat for Humanity home and holding a kayaking charity fundraiser, "Paddling with Patriots on the Cuyahoga River."
"I'm not going to have much time to listen to 'em because I'll be out and about," Portman said of the convention speakers.
Based on reporting by the Associated Press.
Like us on Facebook
Follow us on Twitter & Instagram