Romney: All You Need is Love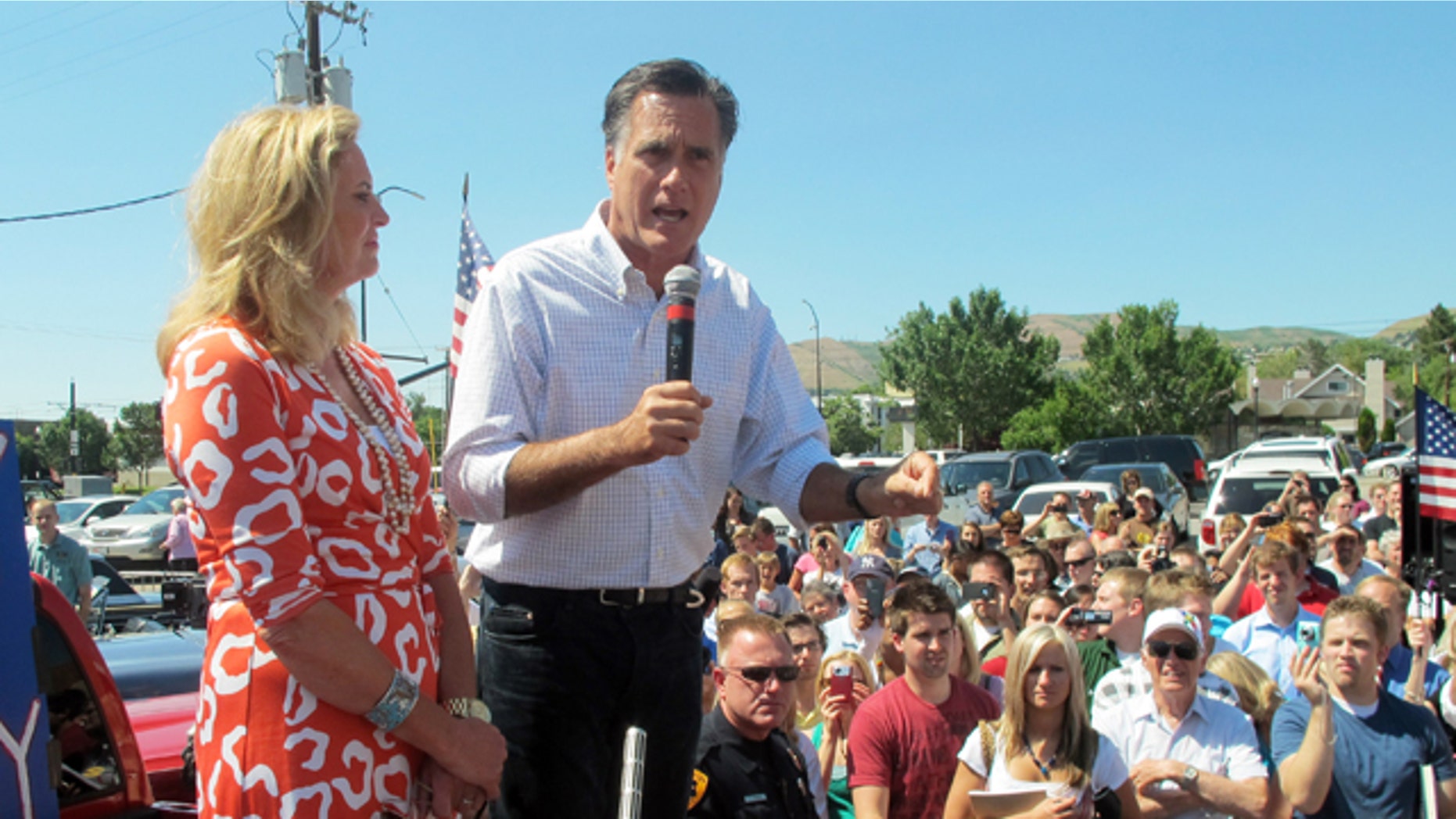 When Ann Romney was diagnosed with multiple sclerosis, her first concern was whether she would be able to take care of her family. But husband Mitt Romney said his biggest concern was her survival.
"If you think about what makes a difference to you in your life, it's people," the Republican presidential candidate told "Fox News Sunday" in his first Sunday interview in more than two years.
"I'm happy in life as long as I've got my soul mate with me," he said.
The former Massachusetts governor has often been labeled stiff and detached, so much so that his wife was put out on the campaign trail with the intent to humanize her candidate husband.
But Romney said he's actually an "emotional guy" with deep feelings about the country and his family. Those emotions were on high when the doctors told them in 1998 that Ann was suffering from MS.
"Probably the toughest time in my life was standing there with Ann as we hugged each other and the diagnosis came," Romney said. "And I was afraid it was Lou Gehrig's disease. As we came into the doctor's office, the brochures on his table there were Lou Gehrig's -- ALS -- and multiple sclerosis. And he did these neurological tests and then he and we could see that she had real balance problems. And she didn't have feeling in places she should have feeling, and he stepped out of the room and we stood up and hugged each other," he said.
Romney said that wife, whom he met when she was as sophomore and he was a senior in high school, had no energy, couldn't climb the stairs in the house and couldn't make dinner. They were trying to find solutions to make her day-to-day activities easier to manage, he said, but she was most concerned about not being able to take care of her family.
"I said, look, I don't care what the meals are like. You know, I like cold cereal and peanut butter sandwiches. We could do fine with that as long as we have each other," Romney said.
"Life is all about the people you love. And you know, we can handle disease.  Death, that's a different matter. Death, I don't know that I can handle death."
Ann Romney has regained most of her strength since the initial diagnosis. In 2008, Ann was also diagnosed with breast cancer. Thanks to a mammorgram, she detected it early and had a lumpectomy.
Mitt Romney, who described how he kissed Ann at the door after driving her home from a party that fateful night in high school, said even in the worst days of her illness their relationship was never in question.
"You know, this marriage thing, it's about bringing two people together in a way that nothing else compares with," he said. "My  feelings and passion for Ann haven't changed in the slightest over the years, other than to become stronger ... She feels the same way about me, I hope, as I feel about her. And she knows that if I were to be afflicted with some kind of condition at some point, that she would feel the same way about me."