Rogues Gallery? Human rights concerns raised in wake of US-Africa summit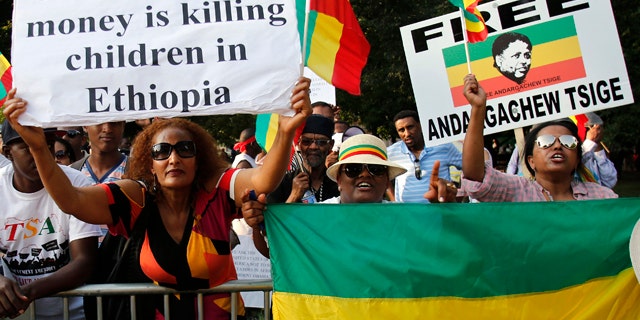 NEWYou can now listen to Fox News articles!
The high-profile U.S.-Africa summit held last week in Washington is raising concerns among advocacy groups, given the red-carpet treatment for leaders with troubling records and the summit's relatively minor focus on human rights.
The White House, which hosted the event, is pushing to hold the U.S.-Africa Leaders Summit every four years, describing it as a success. It was promoted as the largest-ever gathering of African heads of state at the White House with over 50 countries represented.
But while some of the continent's most brutal dictators, like Zimbabwe President Robert Mugabe, were intentionally not invited by President Obama, the human rights records of some of the others in attendance are hardly stellar.
The attendance of South Sudan's president, Salva Kiir, at the summit raised particular concern, with both pro- and anti-government protests in Washington during the summit.
[pullquote]
"The White House made a mistake with the invitation to President Kiir at the summit given his role in the violence plaguing South Sudan," Jimmy Mulla, president of Voices for Sudan, said in a written statement. "The population and the country would be better served if the government and the opposition groups are all stationed in the region and focused on the peace negotiations."
South Sudan -- which has been an independent nation since 2011 -- has seen a large increase in conflict with neighboring Sudan and within its own borders. Kiir has helped to fan the flames of conflict by taking aggressive actions against the political opposition.
Ten-thousand people have been killed in the nation since fighting broke out between Kiir's forces and opposition forces led by Riek Macher, a longtime rival of the president. The country is also facing famine, and a ceasefire between the two groups collapsed for a second time since January with both sides unable to come to terms on forming an interim government.
"For the majority who want to see peace in the country, the timing was not right," Mulla told FoxNews.com. "In countries where there is conflict such as South Sudan, the embattled president sees this invitation as vindication of his position and an opportunity to promote his image internationally and back at home."
Kiir wasn't the only attendee to raise eyebrows. Some of the other state leaders with a questionable rights record include:
Teodoro Obiang Nguema Mbasogo, president of Equatorial Guinea, who became the small West African nation's leader after seizing power from his uncle in 1979 and has since allegedly killed or jailed opponents in his way. Despite running one of Africa's largest producers of oil, most citizens in Equatorial Guinea live on $2 a day, while he has amassed a personal fortune that is estimated to be around $600 million.
Blaise Compaore, who seized the presidency of Burkina Faso in 1987 in a bloody coup. In 2011, protests broke out in the streets in which demonstrators called for his resignation over allegations of police brutality and government corruption.
Gambian President Yahya Jammeh, who has been accused of numerous human rights violations. In 2009, he allegedly imprisoned 1,000 Gambian citizens on accusations of practicing witchcraft and forced them to drink hallucinogens. A year earlier he threatened to decapitate any homosexuals living in the country.
According to an article on Advocate.com, gay rights supporters are trying to find out whether gay rights were discussed in any depth at the summit, amid concerns about other African leaders' record on that front.
The summit was largely used to tackle economic and security and governance issues.
"We are here to take action -- concrete steps to build on Africa's progress and forge the partnerships of equals that we seek, tangible steps to deliver more prosperity, more security, and more justice to our citizens," Obama said at the gathering.
But some find the lack of discussion on human right violations at the summit troubling.
"There's been a little bit of push-back," Cameron Hudson, director of the Center for the Prevention of Genocide at the U.S. Holocaust Memorial Museum and a former director for African Affairs for the National Security Council, told FoxNews.com. "An even bigger pushback was that human rights issues were ignored and that's what got people riled up."
Hudson adds that the lack of discussion about human rights issues may have been an attempt to squash past criticism, as it was established by the White House that there would be no individual meetings between Obama and any of the African leaders.
"The White House decided very early on that they weren't going to have any bilateral meetings," he said. "It's hard to have a human rights discussion at a table of 30-40 leaders. Those types of discussions are best one-on-one."
"The president has been criticized in the past, especially by Africans, as being too preachy regarding issues there," Hudson added. "So this might have been attempt for course correction, but it was a missed opportunity. ... The absence of discussion on human right issues sends out a message that it is not a top priority for the U.S."