Roberts refers ethics complaints against Kavanaugh to federal judges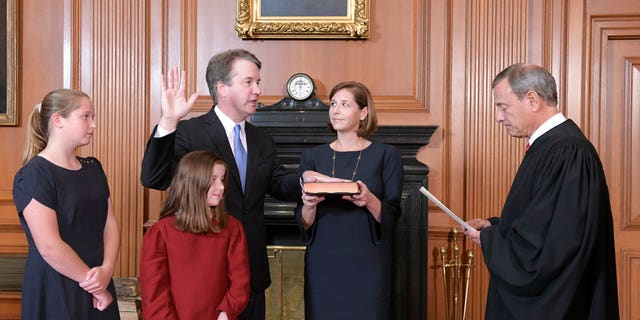 NEWYou can now listen to Fox News articles!
Chief Justice John Roberts is referring complaints about statements made by new Supreme Court Justice Brett Kavanaugh to federal judges outside the Beltway.
In a letter posted Wednesday on the D.C. Circuit Court of Appeals website, Roberts announced that he has asked judges who handle ethics complaints for the 10th Circuit Court of Appeals to deal with the claims.
Roberts said in his letter that he was initially notified of complaints against Kavanaugh on Sept. 20. The complaints deal with statements Kavanaugh made during his confirmation hearings and were initially filed with the D.C. Circuit, where Kavanaugh served for 12 years before joining the high court.
In a statement issued Saturday, D.C. Circuit Judge Karen Henderson said the complaints only "seek investigations ... of the public statements [Kavanaugh] has made as a nominee to the Supreme Court." Kavanaugh was confirmed to the high court that same day after a contentious nomination process that included allegations of sexual misconduct dating back to his days as a high school and college student.
Roberts received the first three of 15 eventual complaints a week before Kavanaugh's angry denial of a sexual assault allegation by Christine Blasey Ford.
The Denver-based 10th Circuit handles appeals of cases that originate in Colorado, Kansas, New Mexico, New Mexico, Oklahoma, Utah and Wyoming.
The judiciary's rules allow members of the public to lodge complaints about federal judges. They typically are dealt with by experienced judges in the courthouse or region where a judge serves. Judges who receive complaints have a range of options that include dismissing them out of hand, having local judges investigate them or asking Roberts, in his capacity as head of the federal judiciary, to assign the complaints to judges in a different part of the country.
It's possible the complaints will never be investigated if the lower-court judges determine they have no jurisdiction over a Supreme Court justice under the judiciary's ethics rules.
Merrick Garland, the chief judge of the D.C. Circuit, typically deals with ethics complaints, but he apparently stepped aside from complaints against Kavanaugh. Garland had been nominated to the Supreme Court by President Barack Obama, but Senate Republicans never acted on the nomination.
Roberts' letter was sent to Judge Timothy Tymkovich, the 10th Circuit's chief judge. Tymkovich was on President Donald Trump's list of possible Supreme Court nominees.
The Associated Press contributed to this report.