RNC Calls Out Eva Longoria-Sponsored Latino Victory Project, Branding It 'Partisan'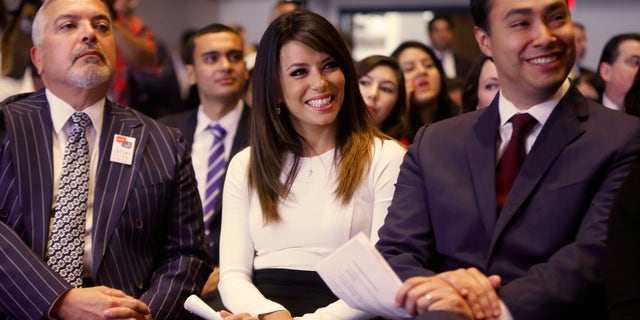 NEWYou can now listen to Fox News articles!
The Republican National Committee (RNC) is calling into question whether the Eva Longoria-sponsored campaign's mission to boost Hispanic-American political candidates is in fact just a ploy to get Democrats elected.
In a letter to the Latino Victory Project, the RNC said a bipartisan initiative to boost Latino candidates and give a greater voice to Hispanics in the United States is a worthy cause, but that it would seem that's not quite the intention here.
Izzy Santa, RNC Hispanic Communications Director, said they support the group's premise to recruit, train and build the next generation of leaders, but that initiative loses credibility when all of its founders are prominent Democrats.
"They have to be honest if they are a bipartisan group or a Democrat front group. People don't like wannabes," she told Fox News Latino. "This is no embellishment. You can't go to a press conference and say you are a bipartisan group and will support candidates from both sides of the isle when your leadership is all Democrats."
The Latino Victory Project, launched earlier this month, was co-founded by Longoria and Henry Muñoz III, the finance chair for the Democratic National Committee, with the purpose of elevating Latino political participation.
"We seek to find solutions to important issues like immigration reform, education, a clean environment, and access to quality health care," said LVP president Cristóbal Alex in a statement sent to Fox News Latino.
"Any candidate who shares these values, regardless of party affiliation, shares in the mission of the Latino Victory Project. It would be helpful if the RNC would make its case on the merits. We hope that the RNC shares our broad goal of increasing Latino political power, and that it will not hold our members to a different standard than those involved in other 501(c)(4) organizations," Alex added in his statement.
Longoria and Muñoz had previously teamed up to lead the Obama campaign's Futuro Fund in 2012, which raised $32 million — mostly from first-time donors.
This is presumably part of the reason why the RNC says the group is "acting like a front group for the Democratic National Committee, which has been unable to raise sufficient funds to get rid of their debt and compete in this year's midterm."
The letter also calls out Muñoz's recent appearance on MSNBC where he had the DNC banner in the background while promoting a supposed bipartisan group. Meanwhile, Longoria is being criticized for her interview with prominent Latino journalist Jorge Ramos, from Univision, on which she names a number of Hispanic-American candidates the Latino Victory Project will support and none of them were Republicans.
"You failed to name a single Republican. You didn't highlight the leadership of Marco Rubio and Ted Cruz, who are two of only three Hispanic U.S. Senators," the letter said. "Nor did you mention either of the nation's Latino governors – Brian Sandoval of Nevada and Susana Martinez of New Mexico – both of whom are Republicans. This list goes on."
Santa said the truthfulness of the initiative is at stake.
"We welcome the fact that we need to increase the representation of Latinos, but they have to be honest," she added.
The Latino Victory Project has already supported several candidates – all Democrats. They include Amanda Renteria, a California Democrat who is running for the House of Representatives; Nevada Assemblywoman Lucy Flores and Texas state Sen. Leticia Van De Putte, who are running for lieutenant governor in their respective states; and Angel Taveras, the mayor of Providence, Rhode Island, who is running for governor.
The group is also supporting Charlie Crist, who is running for his old job as governor in Florida.
On Tuesday, Cristóbal Alex spoke exclusively to BuzzFeed and fired back, questioning whether the RNC wanted to get into a debate about elevating Latino voices.
"It's ridiculous that the RNC would question our mission to raise the political participation among Latinos," said Alex, arguing that this sense of justice does not seem to affect them when it comes to other de facto partisan and conservative groups like Crossroads, Americans for Prosperity, or the Libre Initiative.
"At the same time, the RNC is working to restrict the right to vote and diminish Latino voting power (with controversial voter ID laws)," Alex continued. "Instead of attacking organizations such as ours, they should be looking at ways to attack these disparities."
In response to Alex's comments to BuzzFeed, Santa said the attacks solidifies their concerns that the Latino Victory Group is more preoccupied with pushing for more Democrat politicians instead of supporting Hispanics overall.
"His response makes our case," she said.
As to the charge on voter ID laws, Santa said they are not trying to restrict minority voters from participating in elections, but instead they are trying to protect the integrity of the vote.
"We believe every voter has a right and we are protecting our vote," she said.
Follow us on twitter.com/foxnewslatino
Like us at facebook.com/foxnewslatino