Ricin suspect pleads guilty in Mississippi court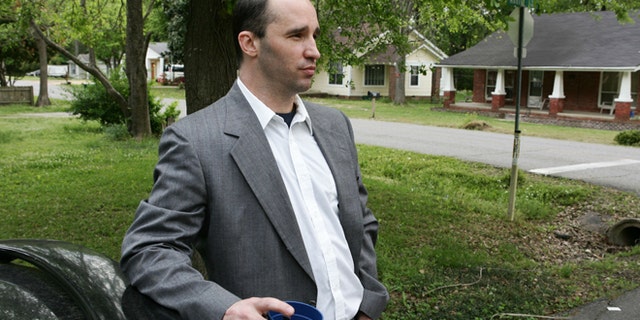 James Everett Dutschke did an about face Friday and pleaded guilty in federal court to sending ricin-laced letters to President Obama, U.S. Senator Roger Wicker and a Mississippi judge.
Since he was arrested in April, the 42 year-old had proclaimed his innocence and even denied a later charge that while in prison, he had tried to recruit someone else to send more letters containing ricin.
Dutschke is likely to be sentenced to 25 years in prison. The plea agreement stipulates that his sentence on federal charges will run concurrently with any state charges he might face. He will be incarcerated in federal prison.
The case exploded into the headlines on April 16, 2013 when alarms went off in an off-site facility that sorts mail destined for the Capitol and Congressional offices. It was discovered that a letter addressed to Wicker, R.-Miss., contained a white powder that tested positive for ricin.
The next day, a similar letter was intercepted at the White House sorting facility, addressed to Obama.
Both letters were postmarked in Memphis, which led investigators to believe that the culprit was either from western Tennessee, or northern Mississippi.
Several days later, police closed the noose of their dragnet around Kevin Curtis, a Tupelo-based Elvis impersonator. Curtis was arrested after police found postings on his Facebook page that mirrored language in the ricin letters. Curtis had also written extensively about an organ-trafficking network he believed existed at a Tupelo medical center.
Curtis had barely been arraigned in court before the U.S. Attorney's office in Oxford suddenly dismissed the charges against him and turned him loose.
They then zeroed in on Dutschke, a Tupelo karate instructor who allegedly had a long-running feud with Curtis. Prosecutors suspected that Dutschke had sought to frame Curtis for the crime.
Dutschke, professing innocence, cockily invited investigators to search his home and karate studio, while he conducted interviews with television and print reporters. The next day, he disappeared to a friend's home to escape public scrutiny, prompting police to issue a BOLO alert. He was arrested on April 27 after federal authorities wearing hazmat suits found traces of ricin at the karate studio.
According to a Department Of Justice press release, Dutschke "purchased castor beans or seeds, a key ingredient for the manufacture and production of ricin, from vendors via eBay and PayPal. Additionally, he purchased other tools and implements such as latex gloves, grinders and masks from area vendors to develop the toxin."
In the plea agreement, Dutschke admitted to developing a biological agent for use as a weapon and to mailing the letters to the president, Wicker and the judge.
His attorney, Ken Coghlan, told Fox News that a few considerations played into Dutschke's decision to plead guilty. If he had gone to trial and was found guilty of producing a biological weapon, he could have faced life in prison. Even if he escaped a conviction in federal court, he was also facing state charges that could have put him away for life.
And while Coghlan said the tiny amounts of ricin found in the letters may have made it difficult for the government to prove its case in court, Dutschke didn't want to take the chance.
"Twenty-five years," Coghlan told Fox News, "was a compromise."
It was not known why Dutschke also targeted Judge Sadie Holland, although in 2007, he was in a bitter political smackdown with her son, Stephen, when Dutschke ran against him for a position as state representative.
It also still is not clear why Dutschke may have tried to frame Kevin Curtis. The two had traded heated comments over the internet, and argued over a fake Mensa membership certificate Curtis had posted on his Facebook page. Mensa says it has no record of Curtis ever being a member.
Dutschke, on the other hand, had met the qualifications to become a Mensa member, though clearly not bright enough to outsmart federal investigators.
Dutschke will be sentenced by U.S. District Judge Sharion Aycock in about two months, if she accepts the plea agreement.
Asked by Fox News how Dutschke is faring, attorney Coghlan said,"As well as can be expected, given the circumstances."