Restaurants, Cafes in Pelosi's District Eat Up Health Care Law Waivers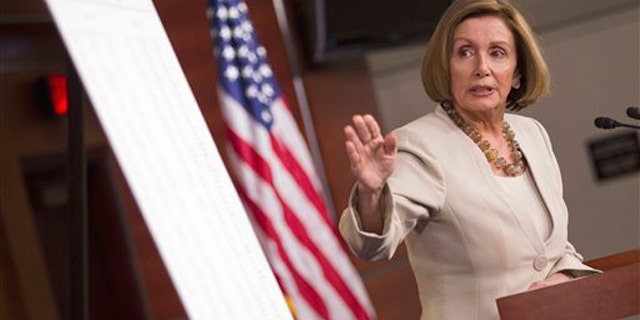 NEWYou can now listen to Fox News articles!
Nancy Pelosi's San Francisco district was the hands-down winner in the latest set of health care law waivers announced by the Obama administration.
More than three dozen businesses with locations in Pelosi's district were granted temporary exemptions from the law in April, according to information released by the Department of Health and Human Services. The businesses -- mostly restaurants and cafes, with a few upscale hotels and clubs mixed in -- accounted for about 20 percent of all waivers granted last month.
Pelosi's office did not respond to a request for comment. It was unclear why so many of the affected businesses were in her district, though the Obama administration, in a statement on the White House blog, said the original waiver requests came from a "third-party administrator" called Flex Plan Services.
According to the administration, the company administers health plans in several states, including California, and made a total of 92 waiver requests in March. Many of them were apparently for businesses in San Francisco.
"HHS applied the same standard to the application from Flex Plan Services that it uses when reviewing any application for a temporary waiver," Richard Sorian, assistant secretary for public affairs at the Department of Health and Human Services, said on the blog, adding that waivers are granted for businesses that prove they need them to avoid "a large increase in premiums or a significant decrease in access to coverage."
Pelosi, though, was among the most vocal champions of the health care law as she and other Democrats helped shepherd it through Congress in 2009 and 2010.
Nevada, the state represented by Pelosi's then-counterpart on the other side of Capitol Hill, Senate Majority Leader Harry Reid, also just received a partial exemption from a provision in the law requiring companies to spend at least 80 percent of premium money on medical care and related expenses. HHS will allow Nevada to keep that rate at 75 percent in 2011, out of concern that major insurers could otherwise withdraw.
The waivers in Pelosi's district pertained to a different requirement in the health care law dealing with annual benefit limits. The latest set brings the total number of such exemptions since the law's implementation to 1,372 nationwide. More than 3 million people are enrolled in plans affected by these waivers.
On the list of San Francisco businesses with a reprieve were The Stinking Rose, an Italian restaurant; TRU Spa, a day spa in the city; and the upscale Hotel Nikko. Daily Caller first reported on the exemptions in Pelosi's district.
Steve Larsen, director of the administration's Center for Consumer Information and Insurance Oversight, said in a statement that the waivers were deemed vital to workers in the service sector. "These temporary waivers are necessary to help ensure that the waiters, dishwashers, maids, home health aides, and other hardworking people can keep the health coverage they have, while we transition to 2014, when they will have access to affordable coverage in a competitive marketplace," he said.
But the latest list quickly raised questions among Republicans. Rep. Fred Upton, R-Mich., chairman of the House Energy and Commerce Committee, said in a statement that the waivers are a "tacit admission that the health care law is fundamentally flawed."
"Despite the president's promise, it appears that just because you like your health care plan does not mean that the administration will allow you to keep it," Upton said.
Newly seated Nevada Sen. Dean Heller also said the Nevada waiver exposes the law's flaws. "It is clear that the unique health care needs of individual states were not taken into consideration, and this is why Obamacare will not work for Nevada," he said in a statement.
The waivers are not intended to be permanent. The waivers granted to the San Francisco businesses last for one year at a time, and are meant to exempt certain companies from rules that restrict annual benefit limits. For 2011, the law prohibits most health plans from setting an annual benefit limit lower than $750,000 per individual policyholder. The law would eventually end annual limits, but in the meantime allows companies to apply for a waiver if they still have limits lower than the law allows.
White House Press Secretary Jay Carney stressed Tuesday that the waivers "will no longer exist" by 2014. "It's basically a bridging mechanism," Carney said. He also said that fewer than 100 waiver applications have been denied so far.
The exemptions are meant to "protect coverage for these workers," according to HHS.