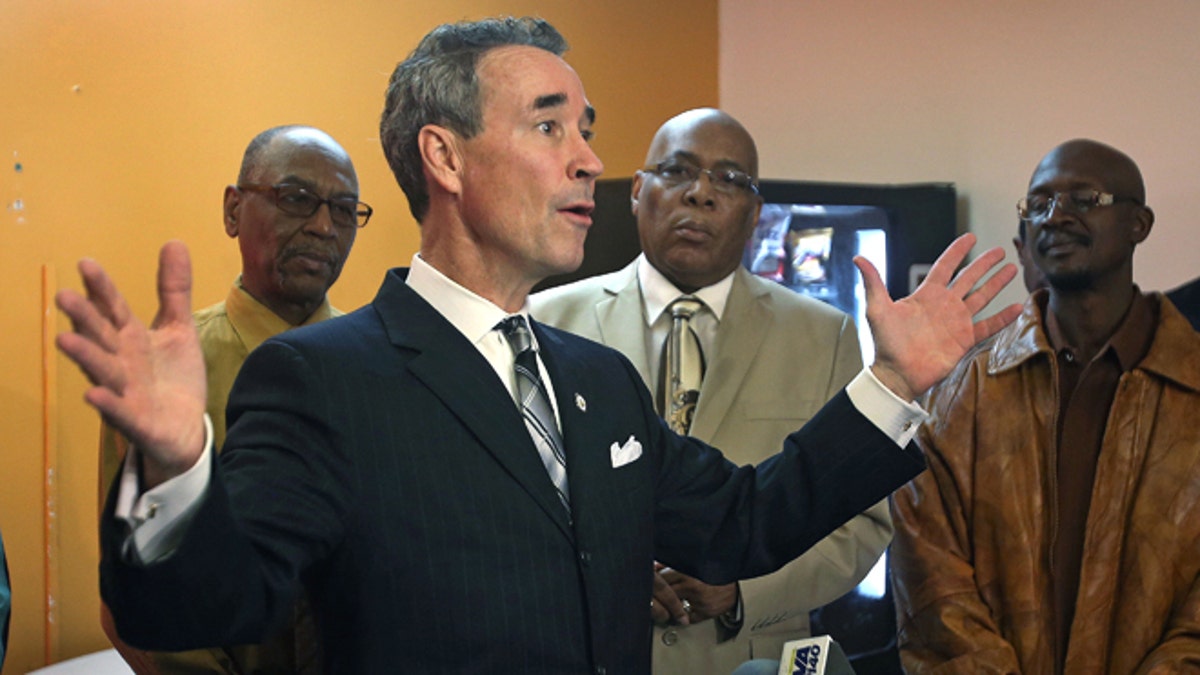 A salacious sex scandal involving a state delegate has Virginia Democrats rushing to move past the controversy by replacing the lawmaker -- but he's not making it easy.
Democratic state Delegate Joseph Morrissey, of Richmond, earlier this month accepted a plea on a misdemeanor count of contributing to the delinquency of a minor.
The 57-year-old Morrissey and a 17-year-old girl who worked for him as a receptionist had sex multiple times at his law office in August 2013 and texted their friends about it, according to prosecutors. Morrissey was sentenced to 12 months in jail with six suspended and will ultimately serve three months, according to one of his attorneys.
Morrissey is now in a work-release program that allows him to work as a legislator and lawyer by day while spending nights in a county jail.
Last week, Morrissey said he would resign from office. But, even as he spends nights in jail, he declared he would try to return to his seat by entering the Jan. 13 special election to fill it.
"It is the voters and not political pundits and not partisan caucuses that should decide who serves in office," he said.
The move has rankled party leaders. Morrissey had indicated to House Speaker William J. Howell, a Democrat, that he would resign but had not revealed plans to seek his seat again, a Howell spokesman said.
"This is a despicable, arrogant political stunt that should disgust each and every citizen of Virginia," Howell said in a statement.
On Monday night, the Democratic Party of Virginia nominated Kevin Sullivan, a former political coordinator for the Teamsters, to run for Morrissey's seat in the January special election. The Richmond Times-Dispatch reported that Morrissey's law partner, Paul Goldman, unsuccessfully challenged the constitutionality of the meeting and nomination process because it was only open to around 100 Democratic Party members "in good standing," but not to the general public. The paper reported that approximately 40 eligible voters turned out to make their selection.
Sullivan defeated two other Democratic opponents over two rounds of balloting. Morrissey was not on the ballot and did not attend the meeting. Nevertheless, he could get on the ballot for January as an independent by getting 125 signatures by Tuesday evening.
As he pushes to return to office, he still has to serve out his jail time. And his work-release privileges could be revoked because Morrissey called a press conference to announce his re-elections plans without the required notice.
Morrissey has a long history of courting controversy.
A 1991 courthouse fistfight with a defense attorney earned Morrissey, then Richmond's chief prosecutor, a five-day jail sentence.
After losing his re-election bid in 1993 under the cloud of bribery and perjury charges on which he was later acquitted, Morrissey went into private practice. He capitalized on the widely reported courthouse brawl by calling himself a "fighter" for his clients on ads plastered on city buses and decorating his office with boxing gloves.
Fisticuffs with a building contractor led to a misdemeanor assault and battery conviction and suspension of Morrissey's law license in 2000. Three years later, the state bar revoked his license for failing to tell clients about the suspension. Unable to practice law, he taught in Ireland and then Australia before returning to Virginia in 2006 and winning four House elections in a row.
The Associated Press contributed to this report.